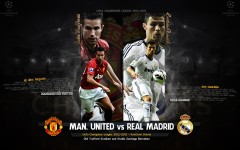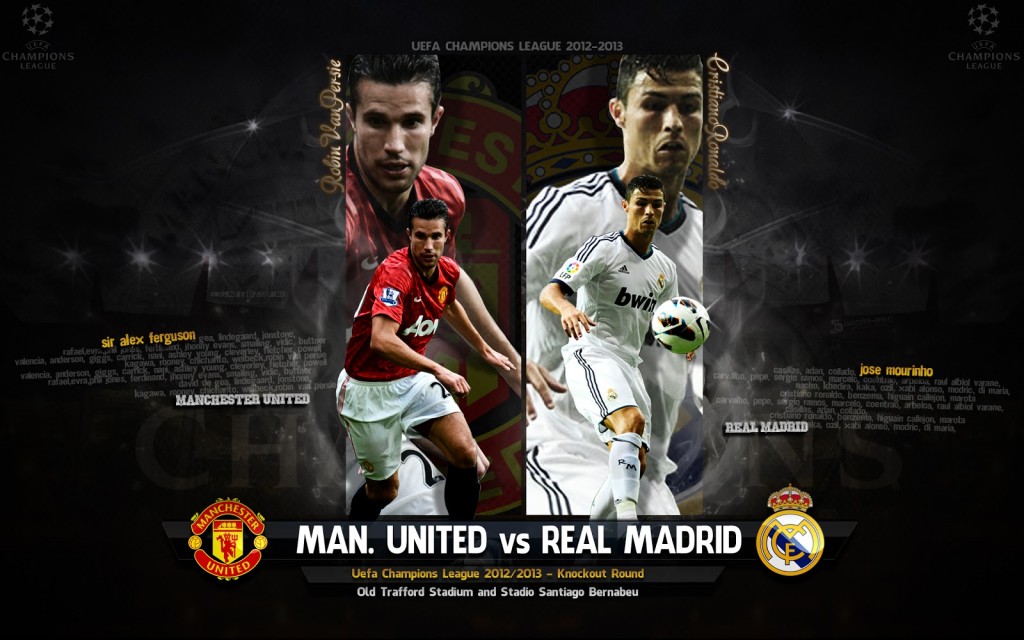 The return leg of the massively anticipated battle between two of the World's most appreciated and successful clubs goes down tonight at the Theatre of Dreams. With the tie in the balance at 1-1, the war is expected to be keenly contested and excellently played out.
Visitors, Real Madrid have been unbelievable in the past week, comprehensively beating fierce Clasico rivals, Barcelona in two consecutive matches. Mourinho would have taken 1 win, 1 loss but his boys had other ideas and he himself was the master strategist. The Portuguese genius took his boys to the Nou Camp seven days ago and returned with a 3-1 defeat of Barcelona, sending them packing out of the Copa Del Rey in the semis and setting up a mouthwatering Capital derby final meeting with Atletico Madrid. He did not end there.
Back at the Bernabeu for the League match, Jose rested 7 of the players who made him proud in Catalonia and brought in the likes of Castilla campaigner, Alvaro Morata and co. The soldiers were different, but victory was attained. Five of the regular starters remained on the sidelines with the exception of Angel Di Maria who was suspended for the game. The match ended 2-1 in favour of Real and it condemned the Blaugrana to their second defeat in about 67 hours to their great rivals.
The Merengues also became only the 2nd team in the history of football to defeat Barcelona in the space of approximately four days since its formation. The win at Camp Nou was also significant. It was the first time in 10 months that they lost on their home turf, although the last time was also to Madrid in April of last year. In his press conference yesterday, Jose stated that his team would have been just as motivated to come to Manchester and win outright even if they had lost both games v Barcelona. That man.
Premier League leaders, Manchester United welcomed Norwich to Old Trafford on Saturday evening. The result was a battering for the Canaries who were soundly beaten 4-0. The spanking was sweet revenge meted out on a Norwich side that accounted for the red devils last defeat in the EPL till date.
Japanese star, Shinji Kagawa came through, scoring a spectacular hat-trick to cap a fine day for Fergie's men. Wayne Rooney also scored a beauty at the end. After leaving Bradley Johnson for dead, he sent a screamer from all of 20 yards to leave the opposition keeper gasping for oxygen. This added to his two assists in the match showed signs that the English superstar is back to form just at the right time with important games coming in thick and fast for the champions elect. Treble dream still alive.
Tonight's encounter has all the makings of a razzle-dazzle affair. The match of ten years ago comes to mind. When a certain Ronaldo da Lima with revenge on his mind, came to conquer Old Trafford with his exceedingly magnificent footballing skills. David Beckham came off the bench that day in an attempt to spark a highly unlikely Manchester United revival.
Hard as he toiled (scored two brilliant goals), he couldn't turn the aggregate scoreline in his side's favour, but he made sure the red army won the match 4-3 (eventually lost the tie 6-5 after losing 3-1 in Madrid) and restored some pride. Sir Alex will want none of that drama.
He has set up his side in a way that they must look for a win, focus more on its strengths and care less about what Real Madrid and returning Legend, Cristiano Ronaldo will/can do. Being scared of the threat Ronaldo carries will do more harm than good according to the great Scot whose 26+ years at the helm have been nothing short of extraordinary. While defending to its maximum, the team must also attack well and take most if not all of chances created.
Cristiano Ronaldo dos Santos Aviero is a familiar name in this parts. The Portuguese living Legend took Manchester by storm when he arrived from Sporting Lisbon in 2003 to replace the equally Legendary David Beckham. After six years and 118 special goals, he left Old Trafford to seek pastures new. Quite rightly, he chose the beautiful city of Madrid to continue his football development. He left Manchester United with fantastic memories, most especially his elevation to the status of best footballer in the World in 2008.
Since transferring to Real, he has seen Lionel Messi claim the award four consecutive times and he is not in the least happy about it. His scoring record for the Bernabeu side is incredibly phenomenal. 185 goals in 184 games including 20 hat-tricks explains it all. His goal against his former team three weeks ago was reminiscent of the one he scored for Manchester United v Chelsea in the UCL final five years ago.
Fergie told the press after the match that he was critical of Evra at half-time on why he allowed Ronaldo to out jump him for that glorious goal. Well,after watching the replays, he had nothing more to say. CR7's knees were above the Frenchman head when he headed past David de Gea. A repeat might be consequential.
Wayne Rooney disappointed me in the first leg. I wrote about his importance to the MUFC cause and how the match would be decided by him and not RVP as most people felt. He was absent throughout the game and misplaced more passes than ever before. His shambolic display must have to be transformed to one that can cause the Madrid defence all sorts of problems. When he is on fire, his teammates come alive.
RVP has to wear his scoring boots tonight, his scuffed shot in the closing minutes of the first leg hurt a lot of people. He usually puts those away.
Sir Alex announced during his presser that Phil Jones won't take part in the game as he hasn't fully recovered from the foot injury that has seen him miss the last two games. I wouldn't buy that. Mourinho decided to match Fergie wit for wit by stating that Iker Casillas is out of contention for the match as well. Mind games. If they both start tonight, It won't be a surprise at least to me.
People might ask why Casillas should be thrown into the starting 11 in place of the very impressive Diego Lopez. Simple. San Iker is way more experienced than his Spanish counterpart. Experience counts more than anything in these type of matches.
Ryan Joseph Giggs who started his Manchester United adventure 22 years ago, is set to appear in his 1000th official game as a professional tonight. It may have been better if he did it against Norwich at the weekend and it was against the same team he made his debut and on 2nd March as well which would have been a perfect historic achievement.
SAF has explained that he feels the game against the 'Whites' is the perfect time for him to reach the incredible milestone. Real Madrid fans rose up in applause of the Welsh legend when he came on at the Bernabeu. This will be even more rapturous. Whether he will start or appear as a sub is what Fergie has kept close to his chest.
Predicted Lineups
Manchester United- DDG, Rafa, Rio, Evans, Evra, Jones, Carrick, Kagawa, Welbeck, Rooney, RVP
Real Madrid- Casillas, Arbeloa/Ramos, Ramos/Pepe, Varane, Coentrao, Alonso, Khedira, Ozil, Di Maria, CR7, Benzema
Ryan Giggs might have to make do with a place on the bench alongside his fellow veteran Paul Scholes, who hasn't played for a while due to a knee injury. The Ginger Maestro is back and his experience of these kind of games could prove vital. Remember his unstoppable rasping rocket of a shot that was eventually the difference between United and Barcelona in the 2008 semis. He hasn't lost that quality. Once a maestro, always a maestro.
Rafa, Evans and Welbeck return to the starting 11. David de Gea has not conceded a goal in 447 minutes of Premier League football and his form of late has been excellent. If he can put on a similar show like the one at the Santiago Bernabeu, then MUFC are as good as qualified.
For Mourinho's men, all the star names return after sitting out the Barcelona game. CR7, Ozil, Alonso et al are all set to feature from the start.
Written by Ohireime Eboreime
Follow Ohis on Twitter @ohiskaka1990
Please like O-Posts on Facebook
You can follow O-Posts on Twitter @OPosts