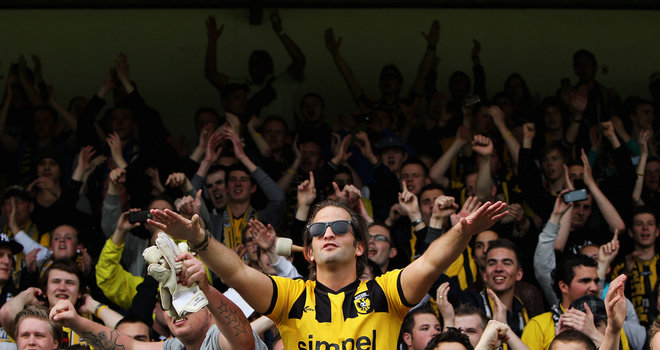 The Eredivisie season 12/13 is drawing to its end, with only three games remaining, Ajax's four point lead seem sufficient to win their third consecutive title. The most exciting Eredivisie title race in years is over, however the season 12/13 did bring some surprises. The most noteworthy one is Vitesse's stable performances and indomitable form. To the surprise of most fans, Vitesse sat on a top-flight position throughout most of the season. Let us look back on their marvelous campaign.
Jordania's wishes to turn Vitesse into the league champions were underlined by a positive transfer period. After last year's successful campaign wherein the club finished 7th , consequently winning the right to play in the Europa League, supporters were ambitious and hopeful for an even better year. Success comes with sacrifices, due to his good performances, Alexander Buttner moved to English giants Manchester United for an amount estimated at around €5million. Vitesse needed to bolster their squad if they wanted to seriously challenge the traditional top three in the Netherlands.
Jordania is a smart director and thinks long term, instead of splashing cash, the Georgian business owner decided to put his signifant network to work. His close ties with Chelsea owner Roman Abramovich allowed him to loan three players from the Blues. Tomas Kalas and Patrick van Aanholt stayed for another season, and Gael Kakuta came to strengthen the wings. The squad seemed competitive on paper, but with an average age of around 22, the team was in dire need of a leader. Former club icon and captain Theo Janssen was signed from Ajax for €500k, along with experienced midfielder Simon Cziommer.
The season started quite negatively for Vitesse, after advancing to the final play-off round in the Europa League after beating Lokomotiv Plovdiv on a 7-5 aggregate score, the team faced Guus Hiddink's FC Anzhi. Vitesse were unable to cope with the likes of Samuel Eto'o, Yuri Zhirkov, Lassana Diarra and Boussoufa - and the club from Arnhem were sent losing 4-0 on aggregate.
The start of the national campaign gave a better perspective; the first five games were converted into four wins and one draw against ADO Den Haag, resulting in a temporary first place in the Eredivisie. The away victory against Feyenoord [0-1] was utmost surprising, and an awakening call of the traditional top three that Vitesse might prove to be a potential treat in the near future. The team looked sharp and defensively very stable, only conceding two goals in the first five games. With Piet Velthuizen known as a very reliable goalkeeper and the centre back duo: Kashia and Kalas, the defensive line gave an impressive performance of four consecutive clean sheets.
Vitesse's form would drop after their notable season start. The following six games resulted in two draws against Heracles Almelo and sc Heerenveen, three wins against FC Groningen,FC Utrecht, NAC Breda, and their first loss against AZ Alkmaar, ending their 11 match unbeaten run.
The precarious results could have been far worse, the team struggled in most matches, but it was the rise of Wilfried Bony securing most points for Vitesse. After his dramatic, yet brilliant game winner against Feyenoord, his confidence skyrocketed and the striker netted 8 goals in 5 matches, including a hat-trick against SC Heerenveen.
In the remainder of the first half of the Eredivisie season, Vitesse would earn the nickname: Giant killers. After their last minute victory against Feyenoord, on the third of November, Ajax was brushed aside in their own Amsterdam Arena! Wilfried Bony single-handedly brought down Ajax with a brace.
FC Twente were held off with a draw and a heroic 4-1 victory over neighboring rivals N.E.C made up for their 1-2 loss against PSV. The winter break came by, and Vitesse finished fourth, trailing 6 points behind leaders PSV. Furthermore, the club qualified for the quarterfinals in the KNVB Cup [Dutch National Cup] by demolishing amateur team ADO'10 with 10-1. Vitesse will face Ajax.
Based on last season's performances, the team progressed quite nicely, but was not considered as one of the title contenders amongst the general Eredivisie public.
Moreover Vitesse was forced to let Wilfried Bony participate in the African Cup, after Sabri Lamouchi called up the strong striker to the Ivorian national team. Wilfried Bony scored 16 Eredivisie goals in the first half. All critics agreed, Vitesse would drop form without Bony.
In the month of January without Bony, Vitesse would silence all of the critics. First off AZ was swept aside with a convincing 4-1 score-line, and afterwards honouring its nickname, Ajax came to Arnhem and were sent home without any points 3-2. And the month's highlight: rivals N.E.C were defeated in their own stadium in Nijmegen 2-1.
After losing twice against Vitesse, Ajax would finally get their revenge. The two teams locked horns in the KNVB Cup, and the Dutch giant demolished Vitesse 0-4.
Vitesse, survived the month without Bony, and had proven the critics wrong. Nonetheless, the notion of Bony's skill and goal scoring drift were unquestioned. After Cote D'Ivoire got eliminated in the quarterfinals against Nigeria, Bony returned to Vitesse.
Upon return, his first following match he scored a brace and secured one point against PSV, his team again honouring their nickname of the "giant killers". Under guidance of Wilfried Bony, Vitesse went on a 7 match winning streak, wherein the bulky striker scored 14 goals in 9 matches. Rutten's men established theirselves as title contenders, however after a 3-3 draw against relegation candidates Roda JC, Vitesse dropped out of the race.
However, just last week, league leaders Ajax drew against SC Heerenveen, giving Vitesse, PSV and Feyenoord a glimmer of hope. Vitesse could shrink the gap to three points, but had a tough match up ahead. The surprising side had to travel to Rotterdam, to face Feyenoord in the Kuip. Beforehand, winning would seem impossible, as Feyenoord maintains an impressive 24-match unbeaten run in de Kuip, furthermore troublesome news arose in the Vitesse camp.
Wilfried Bony injured himself during training, and will be unavailable during the match, alongside teenage star Marco van Ginkel. The overwhelming Feyenoord crowd and the loss of Wilfried Bony proved too much to handle for Vitesse. Feyenoord defeated Vitesse 2-0.
Vitesse is now sitting comfortably in fourth position, still fighting strong for the second place [gives right to enter the Champions League play-offs], and although the title is unrealistic, finishing on that second spot would be an extraordinary achievement, and one to be proud of.
This season, Jordania's wish will not come true, but major steps have been taken. The general public's laughter has ended, Vitesse managed to upset the traditional three, and most certainly in the near future, Jordania will get what he wants.
Written by Siew Joe Lee
Follow Siew on Twitter @DutchftLeague
Check out his site on everything Dutch football, Dutch Football-League
Please like O-Posts on Facebook
You can follow O-Posts on Twitter @OPosts