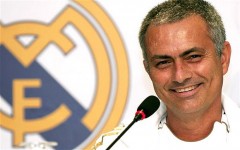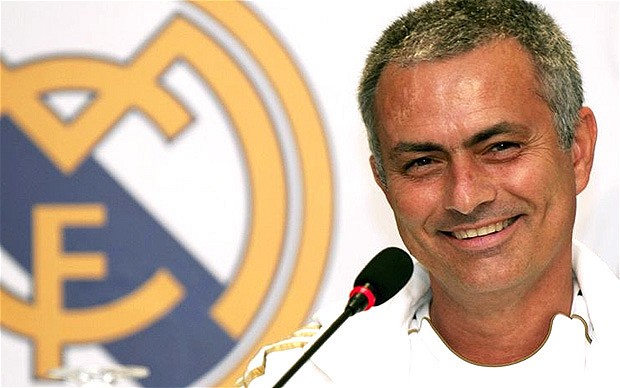 It was a quiet week for domestic football as the World Cup qualifiers took centre stage and Jose Mourinho took advantage of his week off to return to Chelsea, where he took in Russia vs Brazil at Stamford Bridge. The next day, in an interview with Sky Sports News full with a backdrop of the humdrum London weather, he reiterated his well-known desire to return to England, even hinting that he could indeed return to Chelsea as soon as this summer.
The lull of the international break was soon disturbed as speculation over Mourinho's future became rife as he covered the fact he still owns a property in the capital and how his daughter will start at Camberwell Art College in the next academic year. The Portuguese coach has previously made no secret of his desire to return to the Premier League and his affection to London, "we love it here" he said, has sparked inevitable links with the side he left in 2007.
"Every time I come (to London), people start immediately to make the connections that I will return. I fuel it a little bit. I say every day I love it here, I had a fantastic time here, I will return one day", said the Real Madrid coach who is reportedly set to leave the Bernabeau in the summer after a turbulent season. "To be fair, I contribute to that speculation," said Mourinho.
The last utterance is suggestive that Mourinho is fully aware of what he is trying to do. Having achieved his first remit as Madrid boss, to overcome the Barcelona juggernaut of Pep Guardiola, and with the second, to win the European Cup with a third club, still perfectly possible, the Portuguese is weighing up his next move. Perhaps Mourinho thinks that, having fought the attritional war of player power with both Iker Casillas and Sergio Ramos this year, the second aim of his reign, if he does not achieve it this year, may be too far out of reach and he will pack his bags regardless.
His publicised fall-outs with Casillas and Ramos, as well as apparent arguments with defender Pepe and Cristiano Ronaldo, has hinted at mutiny in the squad which has compounded Barcelona's procession to the La Liga title with Madrid trailing their bitter Catalan rivals by thirteen points. Marca, the Madrid-based newspaper, reported that both Casillas and Ramos approached club president Florentino Perez to warn him that some players would leave the club if Mourinho continued past the summer.
Yet, against the setting of conflict and revolt, Madrid have been guided to the final of the Copa Del Rey and past Manchester United to reach the quarter-finals of the Champions League. As the instability of a club riddled with massive egos and powerful influences threatened to engulf him, Mourinho has managed to salvage a season that now raises the prospect of success, quite possibly in the form of a tenth European Cup which would provide the perfect parting gift.
Many classed his recent duel with Manchester United as an audition for the possible inheritance of Sir Alex Ferguson's managerial spot as he ages towards retirement, but it was the killer instinct he displayed upon seizing the sending off of Nani that will provide the Portuguese with the greatest reassurance of his standing in the game.
He ruthlessly dispatched of United, just as he did Barcelona a week previously in the Copa Del Rey with a display of unerring counter-attack and imperious tactics. With everything contriving to go against him, Mourinho possesses the armoury to prove, time and time again, that he is still the "Special One". With Guardiola now Munich-bound, there is nobody in the game more in demand than an unsettled Mourinho and the coach is fully aware of that, it explains why he finds fuelling the fire of speculation so inviting.
Even Massimo Moratti, his ex-employer at Inter Milan, has this week been forced to deny that he has been in touch with the coach regarding a return to the San Siro but given Mourinho's current stock, these stories are unavoidable. Mourinho, such is his proven excellence, can demand nearly any job at an any salary on any terms and should, as is appearing evermore likely, he leave Madrid this summer, he will rely on a confident belief that another offer won't be to far off.
His constant courting of English football maybe tiresome but it is indicative of the clamour the manager now carries, he can now pick where he wants to head next in anticipation that interested clubs will form an orderly queue. He hints at Chelsea and the media goes into overdrive with Chelsea.
That is the effect Mourinho now has and no less than his enigmatic brilliance deserves.
Written by Adam Gray
Follow Adam on Twitter @AdamGray1250
Please like O-Posts on Facebook
You can follow O-Posts on Twitter @OPosts