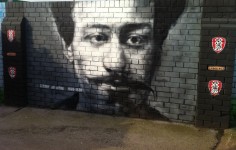 Premier League Results
Premier League 2014/2015 scores, Football England - FlashScores.co.uk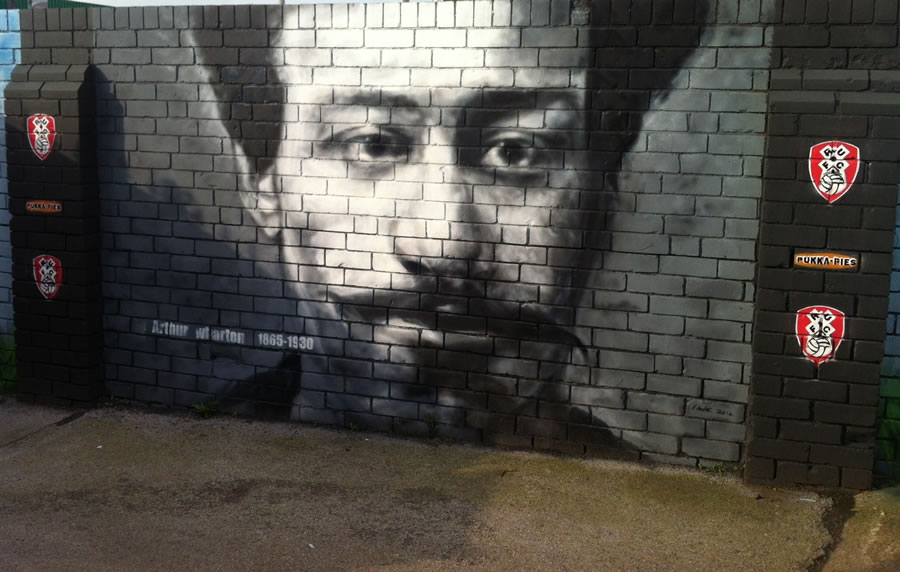 In the late nineteenth century, Arthur Wharton (1865-1930) was an athlete of legendary proportions, competing at the top level in many sports including cycling, rugby, cricket athletics and football.  It was previously believed that Wharton was the first ever black football player; however new evidence has recently come to light that shows this distinction goes to Andrew Watson, who played in Scotland in the 1870s.
Despite this, Wharton was a pioneer in the sporting world, competing in arenas almost universally occupied by white people. He was a well-liked, well respected competitor but unfortunately, his life story did not have a happy ending.
In 1875 Wharton and his father, the Rev Henry Wharton, moved from the West Indies to England.  He attended Dr Cheyne's school in London from 1875 and in 1882, he began training as a missionary teacher at Shoal Hill College and two years later at Cleveland College in London.
In 1886, at the age of 20 Wharton entered the Amateur Athletics Association (AAA) Championships at Stamford Bridge.  As well as becoming the first black athlete to win an AAA championship, he also set a new world record at the event becoming the first man ever to run 100 yards in 10 seconds flat.
Later that year, Wharton signed a professional contract with Preston North End football club, one the top teams in the world at that time.  Ironically, despite being the fastest man on earth, he was to become a highly respected goalkeeper.
Wharton had a reputation as a hard man on the field and when he unleashed his trademark 'prodigious punch', it was said that he always connected with ether the ball, or an opponents head!  In those days a goalie could handle the ball anywhere in his own half and players could barge him whether he was on or off the ball, which explains the logic of having a fast, powerful goalkeeper.
Wharton seems to have relished the more physical side of the game and like many goalkeepers, he seems to have had an eccentric streak.  In a letter to the Sheffield Telegraph and Independent (January 12, 2022), T. H. Smith wrote;
"In a match between Rotherham and Sheffield Wednesday at Olive Grove I saw Wharton jump, take hold of the cross bar, catch the ball between his legs, and cause three onrushing forwards - Billy Ingham, Clinks Mumford and Mickey Bennett - to fall into the net.  I have never seen a similar save since and I have been watching football for over fifty years".
Wharton stayed at Preston North End for three years before signing for Rotherham United in 1889.  Five years later he moved to Sheffield United were he spent a miserable year, finding it difficult to hold a regular first team place.  In 1895 he went back to Rotherham United, where he played in only fifteen league games in six years.
During his time at Rotherham, Wharton was also a pub landlord, running the Albert Tavern and later the Plough Inn in Rotherham then the Sportsman Cottage pub in Sheffield.  During this period, he developed a drinking problem, causing his career to nose dive and eventually forcing him to retire from football in 1902.
He spent the rest of his life as a colliery haulage worker and by the time he died, on the 12th of December 1930, of epithelioma and syphilis, he had fallen into obscurity and was a penniless alcoholic.
In recent years, Wharton's name has been brought out of obscurity and, while he is by no means a household name, a number of articles and a few books have been written about him.
A colourful and well respected all round sportsman, Wharton was a trailblazer for black sportsmen throughout the Western world and deserves his place in history as one of the greatest athletes of his day.
In 1886, Arthur Wharton became the fastest man on earth when he ran 100 yards in 10 seconds flat.  Soon after, he became only the second black man to play top level football.
Despite his blistering pace, Wharton had a successful career as a goalkeeper and left a mark on the beautiful game.
Written by Auron Renius
Like O-Posts on Facebook
You can also follow O-Posts on Twitter @OPosts