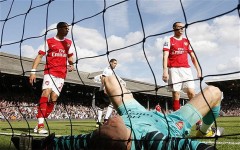 Bayern Munich are primed to hammer the latest nail in the coffin of Arsenal's torrid season that looks like it could fizzle out with a failure, for the first time in 16 years, to achieve a place in the Champions League.
The ease with which the Germans dispatched the Gunners in their 1-3 first leg win, or how Spurs seized upon their defensive vulnerability to strengthen their grip on a top four place, or how League Two Bradford and then Blackburn of the Championship embarrassingly dismissed them from both domestic competitions, there is a long string of evidence gathered from a campaign that has reinforced the feeling that the Wenger era has gone stale.
It has all, barring a miracle over in Bavaria next week, equated to an eighth year without a trophy and relentless calls for the Arsenal hierarchy to abandon their self-inflicted financial caution in order to dip into the transfer market for some serious squad maintenance. A new shirt sponsorship deal compounded with a £150 million renewal with main sponsor Emirates will give Wenger no excuses but to spend significantly on renovating a squad so desperately in need of work.
The shopping list will read a commanding centre-half, a strong defensive midfielder, a reliable goal-scorer and a left-winger to provide the same potency Theo Walcott has offered on the right. Maybe a bit of experience will be added to  bolster a young team that has for so long been an error or two away from complete self-destruction.
Maybe a right-back will be acquired to solve Bacary Sagna's woeful record with injuries. The squad is littered with areas that need tweaking, that much is obvious, but Wenger may have to start his renovation from the back as his age-old problem with goalkeepers as begun to rear its head once again.
Manuel Almunia and Luckasz Fabianski have both been discarded as solutions to the void left behind by Jens Lehmann in 2008 and now Wojciech Szczesny and Vito Mannone, the two keepers currently at the Emirates, are both facing questions over their ability to form an effective claim for the long-term spot.
For Szczesny, read erratic distribution and a lack of command with his defenders while for Mannone, read concentration issues and a penchant for dropping crosses. Few sides are successful without a reliable, solid goalkeeper and it's a maxim Wenger must now be familiar with having not won a thread of silverware since Lehmann produced a superb performance in repelling Manchester United in the FA Cup final of 2005.
Szczesny remains held in high regard at the Emirates for his impressive consistency throughout the 2011 season and is likely to still play a role in the long-term future of the club, but will benefit from a spell away from the spotlight as he continues his progression at the junior age of 22. With Mannone having made just 15 appearances in the seven years he has spent in north London, and too having made some costly errors during that time, there has been little to convince the management that he should be anything more than a reserve option.
There is a suspicion that Szczesny, having been previously unchallenged over the past two years, has seen an element of relaxation creep into his game and an addition of competition will help to eradicate the type of error that was so costly to Arsenal in the Carling Cup final of 2011 and more recently, against Blackburn in the FA Cup.
Wenger has previously explored the availability of Fulham's Mark Schwarzer to provide that competition, as well as being rumoured to the likes of Swansea's Michael Vorm, Liverpool's Pepe Reina and most recently, 20 year old Mattia Perrin who has impressed at Pescara whilst on loan from Genoa.
Wenger has also been linked with Barcelona's Victor Valdes who has voiced his desire to leave Catalonia in favour of experiencing new cultures and would be available in the summer for a fee in the region of £10 million after the club granted his wish to put an end to his 23 year career at the Nou Camp. It is a relative bargain for a keeper who will fit in perfectly with Wenger's philosophy of passing the ball out from the back and, at the age of 31, boasts a wealth of experience in winning trophies, having won 5 league titles and 3 Champions Leagues in during his time in Spain.
His wages of £120,000 a week may prove to be a stumbling block for Arsenal who remain stringent to their sensible wage-structure, but it won't be lost on Wenger that these will be the figures that he will have to stretch to in order to land the standard of player necessary to reacquaint Arsenal with Europe's elite competition.
The prospect of exclusion from the Champions League is imposing itself on Arsene Wenger and to escape from that obscurity, it is increasingly clear that he will have to spend rigourously. He will have the cash to do it, but a new goalkeeper must be high on the wish-list if he is to steer Arsenal back to long-awaited success.
Written by Adam Gray
Follow Adam on Twitter @AdamGray1250
Please like O-Posts on Facebook
You can follow O-Posts on Twitter @OPosts