Premier League Results
Premier League 2014/2015 scores, Football England - FlashScores.co.uk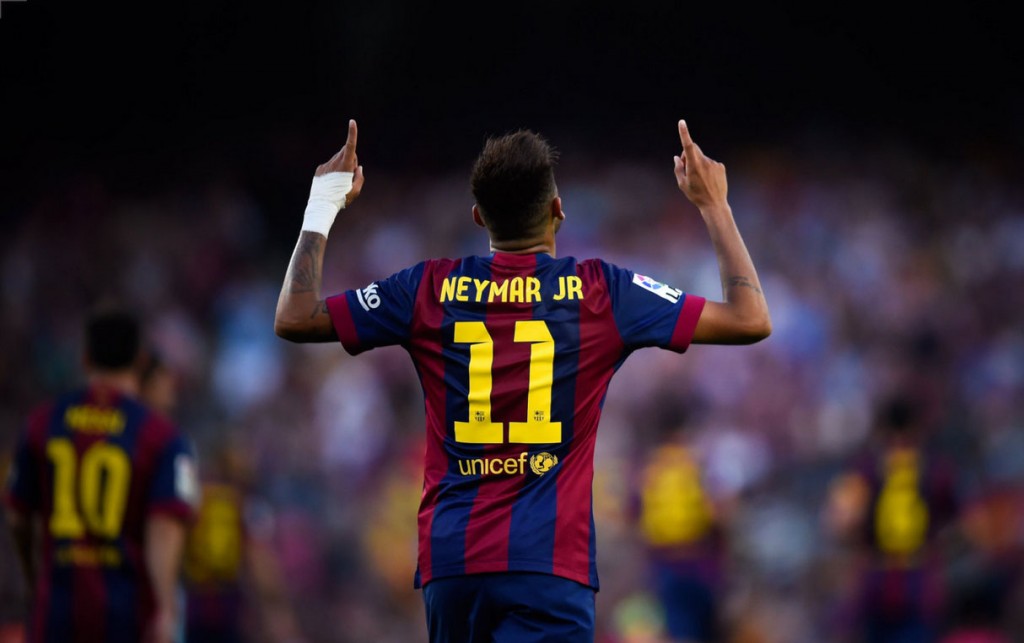 Being a part of the most lethal attacking trio in European football must be thrilling. At the age of 23, Neymar is lining up alongside Lionel Messi and Luis Suarez for Barcelona every week and is thriving on his opportunity. Well into his second season at the Catalan giants, the Brazilian has settled and at the same time slipped almost seamlessly into one of the continent's best teams.
Despite his relatively young age, Neymar has represented Brazil a staggering 60 times already. The move to Barcelona was always going to be pivotal for Neymar's progression, but there were few concerns regarding his playing ability. It was his potential to adapt to Messi's game that worried some.
A huge part of Barcelona's game is based around the Argentine and ensuring he is at his most effective is integral to their entire plan. Accepting this is one thing and normally something that has not proved too trickier sell to potential signings, but the longevity of it is something different. David Villa for instance happily adapted his game to the team initially, but after a while began to resent it and eventually left.
It is not that Messi is demanding or difficult to play with, it is simply that being so good the tactic to use him effectively becomes essential for success. What has been so impressive about Neymar's performances throughout his time playing alongside him is that it has improved him as a player. He appreciates his team mate and instead of resenting him he has used it to spur him on. Clearly a very good technician from the beginning, but his use of the ball has improved dramatically in 18 months.
When he first played for the club he was too individualistic. He would try and beat players when there was a pass to play and just generally seemed a little away from the club's style.
What eased his transition though was the absence of another; during his first few games in the Primera, Messi was not playing which allowed Neymar to be more of a focal point. He enjoyed a successful start at his new club which allowed the confidence to flow. Once Messi returned and the Brazilian was moved away from a central position he adapted perfectly. A relationship both on and off the pitch developed quickly and has flourished.
As the season went along, despite some set backs, the understanding of what was required of him begun to sink in. With a World Cup looming in his home country, along with the added pressure of being the star player, his form dropped off a little towards the end of the season.
However, with all of the varied problems the club was enduring both on and off the field this was to be expected. Following injury, he was unable to help Brazil in their pursuit of the World Cup and he returned to Spain hungry for success.
With the addition of Suarez at Barcelona, the club possess three of the best half dozen attacking players in world football at this moment. The English press always talks of how good players sometimes just don't seem to click together, but this certainly hasn't happened this time. Good players can usually always play together, but sometimes it requires some tweaks to find the correct way. With Messi now playing on the right hand side, the extra space freed up by covering him has resulted in more room for the other two.
Now that the emphasis has drifted away from the middle of the pitch space is once again opening up. With the opposition keen to avoid leaving Messi in one on one situations with the full back, the space afforded to Neymar on the right hand side has been instrumental in his form. His link up play has improved immeasurably since his arrival, but this freedom now allows his to display his full repertoire.
He torments the opposing left back with his agility, speed and technique and with Messi and Suarez alongside him they now sit four points clear at the top of la Primera, are through to the last eight of the Champions League and are through to the final of the Copa del Rey.
There were few real doubts regarding Neymar's ability to adapt to life at Barcelona and it now seems even foolish to think that there were any. He is a phenomenal talent and developing alongside better players will only improve his all round game.
The potential is there as is the stage and so far Neymar has failed to disappoint.
Written by Andy Hunter
Follow Andy on Twitter @hunter67980
Like O-Posts on Facebook
You can also follow O-Posts on Twitter @OPosts