Premier League Results
Premier League 2014/2015 scores, Football England - FlashScores.co.uk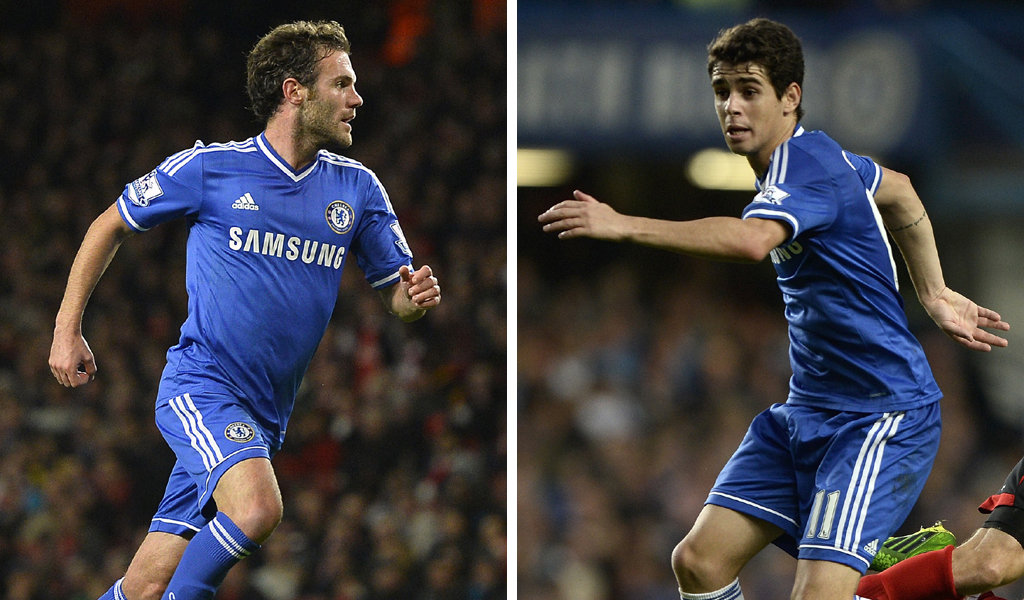 This has been one of the most talked about cases in Chelsea's start to the Premier League season. Who should Jose play at number 10 and the two names that are always brought up are Juan Mata and Oscar.
However, Jose has made it as clear as possible that he wants the Brazilian Oscar as his number 10. Juan Mata, who was in the middle of everything last season and the season before is being totally blanked.
For the previous 2 seasons, Chelsea couldn't cope without the Spaniard in the middle of the park. For his efforts, he won player of the year for both seasons.
But now, he is struggling to get into the side which is baffling Chelsea fans in their whole fan base because of his how popular he has become and an instant impact he has made since joining.
Mourinho's requirements for this role
The bottom line in this debate is that Jose requires someone who is successful in attacking and can create and score goals, but mostly, he wants someone who can also defend with the rest of his team and track back successfully. Oscar does this brilliantly where as Mata struggles.
For example, one of the stats that came up when Chelsea played Fulham is the amount of tackles Oscar successfully performed winning more than any other Chelsea player on the night with most of them being in a defending position.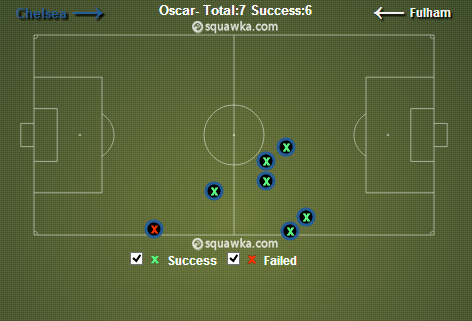 5 of the 6 tackles that Oscar performed were inside the Fulham half, something you don't tend to see from attacking minded players and exactly what Jose Mourinho is looking for. Oscar was giving Fulham players no time on the ball and was pressuring them which resulted to them giving the ball away cheaply.
Many people wouldn't see Mata doing this and this may be what tempted Mourinho to go with Oscar as he tends to consistently comes back and defend. Jose has said he wants his team to be 'proactive' thinking ahead and winning the ball no matter where on the pitch you play. Oscar is very good at this and the picture above shows this.
Mata is more of a quiet player. He doesn't tend to chase the ball down regularly and might not be the quickest, or the most aggressive but likes to play in small gaps just behind the Striker. The main times Mata would drop deep is to collect the ball, not win it for himself.
Mourinho is full of praise for Oscar as he feels he is highly skilled and loves the way in which he pushes opponents to make mistakes.
This makes him the number 10 wants at Chelsea FC and therefore answers the question everyone is asking.
Juan Mata's future

Since has hasn't been playing, the press have been quick to say that Mata is favored for a move away from Stamford Bridge. But Mourinho wants Mata and Oscar to start at the same time and Mata would most probably be on the right wing but Willian is playing very well at the moment.
With Mata on the wing, he can cut in and make chances on press the wing backs. something he isn't doing but Mourinho will make it click. When it works, it will be impossible to stop.
Written by James Spiking
Follow James on Twitter @EuropeanMaestro
Check out James's fine football blog, European Maestro
Please like O-Posts on Facebook
You can follow O-Posts on Twitter @OPosts