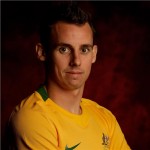 Premier League Results
Premier League 2014/2015 scores, Football England - FlashScores.co.uk
Date of Birth: Oct 2, 2021 (Age 31)
Place of Birth: Wollongong (Aus)
Nationality: Australia
Height: 178 cm
Weight: 72 Kg.
Position: Defender
Luke Wilkshire is probably – or used to be – one of the most under rated Australian footballers in our generation. Since his first appearance as a full team Socceroo member in 2006, he has captured the attention of many keen football pundits around Australia and around the globe, especially in England, Russia and the Netherlands.
Luke Wilkshire was raised in a small town called Albion Park, just 20 minutes south of Wollongong, and started off playing for his local team before joining the Wollongong Wolves as a junior. He then journeyed over to Canberra where he spent a year with the AIS Football program.
Resulting from that, he then departed to England where he was a part of Middlesbrough's youth system. As he never established himself as a first team participant, he made the decision to move to Bristol City where he scored 17 goals in 114 appearances for the club.
His stay in England has said to have developed his game and increase Wilkshire's versatility, enough so to grab Guus Hiddink's consideration when choosing his Socceroos squad for the 2006 FIFA World Cup. Guus Hiddink described Wilkshire as a highly advanced modern player who is one of the most skillful talents in the Socceroos squad.
He made a big leap in his career in 2006 where his diligent work from the World Cup that year was recognized by Dutch club FC Twente. Although he was sent off during his first game for the side, he continued playing there for 2 more years, scoring 5 goals in 59 games for the team. During his two seasons with the Dutch club, Wilkshire also got the chance to play in the UEFA Champions league which is tremendous honor for any Australian footballer.
Moving on from the Netherlands Wilkshire now resides in Russia with super giants Dynamo Moscow. This Russian team is the oldest team in the country and the only one to have never been relegated to a lower division in its history. Wilkshire made the big move in 2008 for a reported fee of 6 million euros. He made his first appearance against FC Moscow and scored his first goal from a penalty against Krylya Sovetov.
From 2008 to the present day, Wilkshire has only scored 3 goals and 10 assists in 114 appearances but has made an enormous impact in the club.
Written by Siobhan Pedroza
Follow her on Twitter @briefcase_wanka
Please like O-Posts on Facebook
You can follow O-Posts on Twitter @OPosts