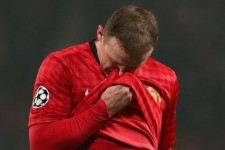 Manchester United were the third English team to be knocked out of the UEFA Champions League after losing at home to Madrid in the most surprising manner,  after winger Nani was sent off for a rash challenge on Alvaro Arbeloa. To most United fans, it wasn't a red card and the referee should have been killed.
They may have a point, but that still doesn't cover the fact that they've been knocked out after two quick-fire goals, with former hero Cristiano Ronaldo scoring the winner and handing the final nail in the coffin to the Red Devils' treble aspirations.
The manner at which English teams are paying full attention to the English Premier League over the UCL has come under full notice, or well, I might be wrong.
Earlier, the English champions Manchester City finished bottom in their group where they were drawn with the likes of Dortmund, Real Madrid and Dutch outfit Ajax. As expected, the lack of experience played a crucial part in Manchester City's poor Champions League adventure. An experienced Champions League team should be able to get points away from home and also be capable of holding on to leads,  especially when playing away from home.
A clear example was the game against Madrid. After taking the lead at the Bernabeu, the Manchester City team as expected went into ghost mode and two quick goals from Benzema and Ronaldo was enough to sink the English champions. Experience, as I said, played a crucial part in their display and from my own point of view I can understand Manchester City's poor run. They have a chance to do better next season.
Chelsea has been the worst English team to take part in the competition this season and are currently number one on my pecking order of the worst teams that took part in this year's Champions League. After winning the Champions League last year, many expected Chelsea to be  one of the finalists of this year's tournament yet again, but that was never the case. Finishing third in their group, they were the second English team to be knocked out of the Champions League in the most embarrassing manner.
For Arsenal, Wenger's  side are currently on the brink of elimination after losing 3-1 to Bayern in the first leg at home. They are expected to do the impossible in Munich by scoring 3 unanswered goals. After watching the display at White Hart Lane sorry 'Hart' last weekend, scoring 3 unanswered goals in Munich is highly impossible with those frequent school-boy defensive errors and a lazy striker at hand.
They all have another chance to improve and show what English football is all about in the Champions League next season, especially with Tottenham likely to be flying the English colors in next season's competition ahead of Arsenal,  who are currently 5th in the English Premier League table.
Maximum attention should be enforced by English teams in the next Champions League, as it is has been the league that has shown the world what English football is all about.
Written by @femi4arsenal
Please like O-Posts on Facebook
You can follow O-Posts on Twitter @OPosts