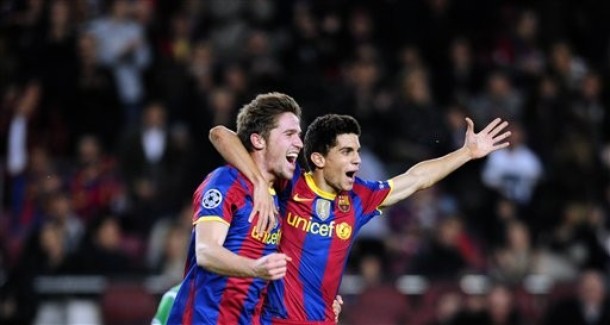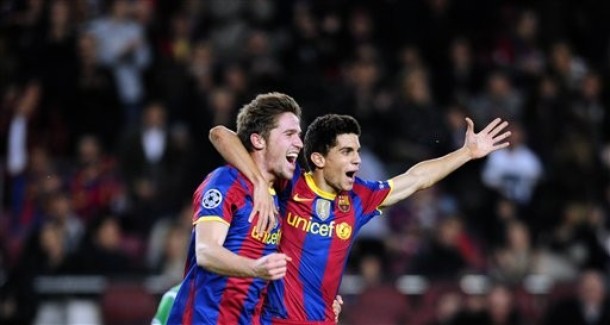 It has been a year of foreboding for Barcelona, sitting comfortable at the summit of La Liga by a margin of 13 points as they close in on the title, while also looking ominously potent in the Champions League, yet the first season post-Pep Guardiola his hinted at some of the problems behind the shield of invulnerability that has characterised the all-conquering Catalan club over the trophy-laden recent years.
Whilst Lionel Messi has continued his habit of smashing records and the midfield trio of Sergio Busquets, Xavi and Andres Iniesta continue their unmovable devotion to the brand of "tiki-taka", questions have been raised over a defence that has, on occasion, appeared worryingly shaky.
This has come with the 31 goals they have shipped in the league, with ten games remaining just four less than the highest amount conceded in Guardiola's four-year reign. In the Copa Del Rey, Real Madrid ruthlessly disposed of them in the Nou Camp with cutting counter-attack while AC Milan leeched on such weakness to establish a 2-0 lead in their Champions League tie, before succumbing to Messi and co. in the second leg.
Even in that game in the Nou Camp, Milan had enough chances to see the job through but were undone by wastefulness in front of goal. However, as Jordi Alba sealed the 4-0 rout from his position of left-back, there was a feeling that his defensive partners would have to tighten up considerably if they are to reach their second Champions League final in three years.
The central defensive partnership of Carles Puyol and Gerard Piqué, that has often been so solid for both club and country, has suddenly appeared insecure. Piqué, as many would point out, has usually relied on Puyol's excellent reading of the game to bail him out from his eccentric positional sense. The latter, at the age of 34, has started just 12 times this season as ageing limbs begin to take effect, leaving Javier Mascherano being asked to play out of position alongside Pique who has a tendency to look weak without his experienced captain alongside him.
Tito Vilanova signed Alex Song for 19 million euros and has fielded him at centre-half on a couple of occasions despite being deployed in his natural centre-midfield berth at Arsenal. Underneath that four, which continues two centre-backs and two stop-gaps, there appears to be nobody able to gain the trust of Vilanova.
The Catalans have been linked with summer moves for Thomas Vermaelen and Daniel Agger as well as Real Sociedad's highly talented 21 year old Inigo Martinez, but it is a prevalent question why the answer hasn't appeared from the conveyor belt of supreme talent of which their success has been founded, the talent chamber of La Masia.
Andreu Fontas and Marc Bartra have both been educated by Barcelona's highly fertile coaching set-up and are waiting in the wings to possibly provide the same defensive security as Vermaelen and Agger without having to pay a considerable fee. However, despite the vast array of appearances they both made for Barca's "B" side, they have made just 16 appearances combined since Fontas was handed his debut by Guardiola as an 18 year old on the opening day of 2009.
Fontas is now 23 and on loan at Mallorca in a quest to find regular football after suffering anterior cruciate ligament damage last winter, but he has also found regular game time hard to come by on the island, making only 8 appearances as he plays back-up to Joao Victor. Bartra meanwhile has been handed 6 substitute appearances by Vilanova, but he hasn't appeared at all since mid-November's defeat of Real Zaragoza when a muscle injury ruled him out for 3 weeks.
Now, with Puyol out for up to 3 weeks after surgery on his knee, it is possibly time for the 22 year old Bartra to step up to prove he can be the heir to the captain's position. Jordi Roura, Vilanova's assistant and stand-in coach whilst the manager recovers from his illness, has indeed suggested he can, "he obviously has a bigger chance to play" he said, "we love his hard work".
In the league, where Barcelona a marching to the championship with consummate ease with ten matches left, there is no better chance for Bartra to prove Vilanova's judgement correct when he, according to Roura, made the decision to block a possible sale last summer.
The La Liga title will be hoovered up barring a miracle but, after experiencing a concerning degree of turbulence in their passage past Milan in the second round, the Champions League may elude them just like it did last year when Chelsea exposed their lack of pace on the break. With Piqué liable to struggle and Puyol hitting the injury-torn autumn of his fine career, there is little doubting the Catalans must renovate their back-line of the summer or risk a serious malaise.
Despite Fontas's injury troubles and Bartra's worrying lack of game-time considering he has remained perfectly fit over the past four months, there will be a hope that at least one of them can join the extraordinary company of La Masia graduates to step up to regularly play in the first team. Barcelona definitely need a new defender or two, but the question is whether they come from within.
Written by Adam Gray
Follow Adam on Twitter @AdamGray1250
Please like O-Posts on Facebook
You can follow O-Posts on Twitter @OPosts