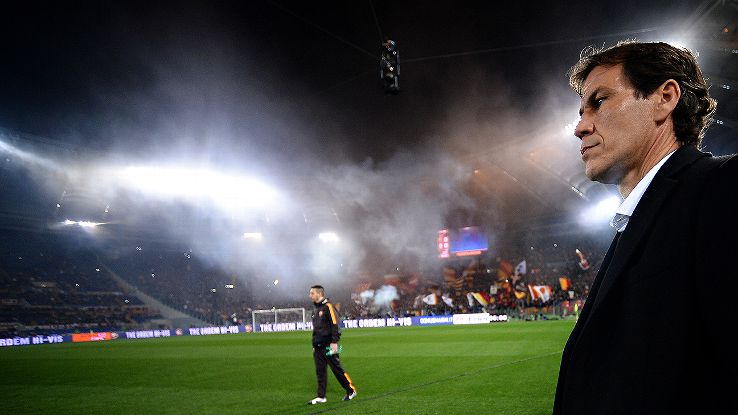 October 5 2014, Juventus beat Roma 3-2. This is what Roma manager Rudi Garcia said after the match;
"This game made me realise who will win the Scudetto. We are stronger than Juventus, Because we are stronger, we have to win tomorrow (versus Chievo), because we have to talk about results."
That was a huge statement to make after just seven matches played, but you could appreciate Rudi Garcia's confidence, his team won all their matches in Italy prior to that loss to Juve, conceding just the once.  Let's not forget that they also held the reigning Premier League champions Manchester City to a draw in the Champions League before they travelled up to Turin. Roma were playing some exhilarating football at the time.
Over 5 months on, the gap between Juventus and Roma is an enormous 14 points, meaning that Juventus are strolling towards a fourth consecutive Scudetto.  So, what went wrong?
Before the Christmas break, Roma were just 3 points behind Juventus, so since the turn of the year, Roma have declined significantly. The side have won just three times in the league since January, as well as being eliminated in the Europa League to rivals Fiorentina.  That form meant that Roma have to look behind them with Lazio, Sampdoria, Napoli and Fiorentina all looking to clinch second place. Lazio have won four of their last five games, which puts them just a point behind Roma.
Rudi Garcia's men have drawn an awful lot this year, 10 draws since the turn of the year. With that many stalemates, you simply can't brush it off as a one off, there are deeper problem which need rectifying.
There is no balance in the team, the passing has been poor, as well as the finishing. Many of their 'top' players who were crucial last year often failed to turn up, which include the likes of Daniele De Rossi, Maicon and Iturbe.
I think there needs to be a sense of realism, Rudi Garcia's statement about winning the Scudetto may have conveyed false hopes to the fans.  Some could argue that the Roma team is weaker than last season.
The side sold one of the best defenders in the league, Medhi Benatia to Bayern Munich last summer. Dutch midfielder Kevin Strootman played a vital role, he made 25 appearances and was a fundamental player last season. Unfortunately, he's been injured for the majority of this season.
Mattia Destro was their top goal scorer last season with 13 goals to his name. Although not suited to Rudi Garcia's style of play, he often came up with the goods when the side weren't playing well. Consequently, the young Italian was sold to Milan in January.
Last year Roma finished second, 17 points behind Juventus. So arguably, the side are weaker – which is why it shouldn't come as a surprise that a large gap is still evident.
Written by Serie A Writer
Follow Serie A Writer on Twitter @SerieAWriter
Like O-Posts on Facebook
You can follow O-Posts on Twitter @OPosts