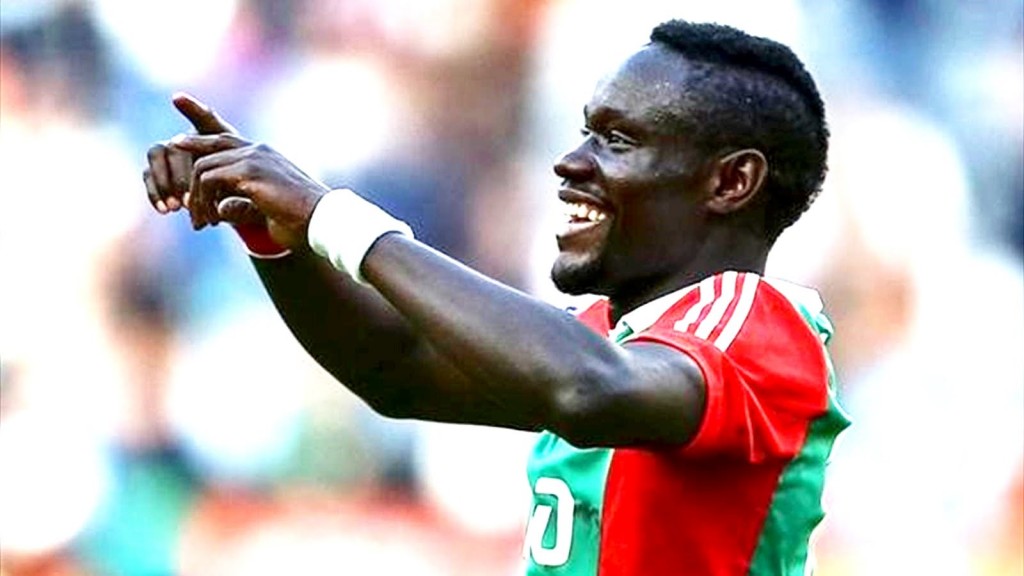 Russian football has been experiencing a successful European campaign so far, and it's not only Zenit who have been impressing. While Saint Petersburg are the only team to win all four games in the UEFA Champions League group stage FC Lokomotiv Moscow have been showing their quality in the Europa League, and the capital club top group H with eight points.
The Russians are on the brink of confirming a European spring, and one forward has particularly been catching the eye.
Lokomotiv are generally regarded as one of Russian football's serial underachievers, as despite always having a strong squad they struggle to compete for the Russian title on a regular basis.
This is indeed their first European campaign for a couple of seasons, and if in 2013 it ended in the summer with an embarrassing exit to Apollon Limassol, this time around they have been making the most of the opportunity.
Having qualified directly for the group stage after winning the Russian Cup they have dominated a tough group, with the highlight result so far being a 3:1 away triumph over Sporting Lisbon.
A sturdy defence complete with a pacy, direct counterattack has been churning out the results, and their efficiency in front of goal has been paying dividends.
Key player
The biggest reason behind their success is 25 year old Senegalese forward Baye Oumar Niasse, a player who has been taking Russia by storm in his second season.
Russia isn't the easiest of places for African players to make their trade, but Niasse has already managed to become a firm fans' favourite.
After six goals last year he has burst into life this campaign, and has been full of goals in all competitions. Seven Russian championship goals have been backed up by three Europa League markers from four appearances, and big name clubs such as Arsenal have been keeping a watch.
Niasse's road to the top hasn't been easy though, and not long ago things weren't looking promising at all. Having won the Senegalese Premier League with his hometown club US Ouakam in 2011 Niasse looked for a move away to Europe, however it didn't really go to plan.
In 12 matches on loan at Norwegian club Brann he failed to hit the back of the net once, and was forced to go back home with an injury. Nevertheless things were about to pick up, and he landed a contract with Turkish team Akhisar Belediyespor in the summer of 2013.
Finally he had a platform to display his talents on, and he earned the respect of the Turkish supporters taking 12 goals from 40 overall games.
Immediate impression with Lokomotiv and his best attributes
Despite that success, one year in Turkey was enough and Russian capital club Lokomotiv Moscow made a move for the striker in the 2014/2015 season.
He immediately made an impression by scoring in each of his first four matches, and he won his second trophy in professional football as Lokomotiv took the Russian Cup. That was just a taste of things to come though, and he has been showing just what he is all about this season.
Standing at 6ft 2inches Niasse is an imposing figure, and his pure physical strength has been proving a nightmare for opposing defenders to deal with. His ability to brush off opponents has been extremely effective, and combined with his lightning pace it's a deadly combination.
Niasse is one of the fastest players in Russia at this moment in time, and if he gets away from you, there's no chance of catching him up.
His finishing skills aren't bad either, and he announced himself on the Russian scene in 2014 with a thunderbolt against Mordovia Saransk. His goals have been crucial for Lokomotiv in this season's Europa League too, and his brilliantly taken finish against Besiktas on Thursday was a perfect showcase of what he can do.
Power and pace are his strongest attributes, but don't get that mistaken with a lack of technical ability.
A move away from Russia likely beckons
With all due respect to Lokomotiv it's hard to see him staying put in Russia for too much longer, and England's Arsenal are a team that are after his services.
Would he be effective in London? His physical strength and quickness across the ground suit the Premier League excellently, and he wouldn't fall under the radar.
Nevertheless despite that interest Niasse himself seems to have other ideas, and was quoted in the Russian media recently as to wanting a move back to Turkey.
Just where he will go remains a mystery, but he certainly does have a bright future ahead of him.
Written by Shaun Nicolaides
Follow Shaun on Twitter @zenitfan93
Like O-Posts on Facebook
You can also follow O-Posts on Twitter @OPosts