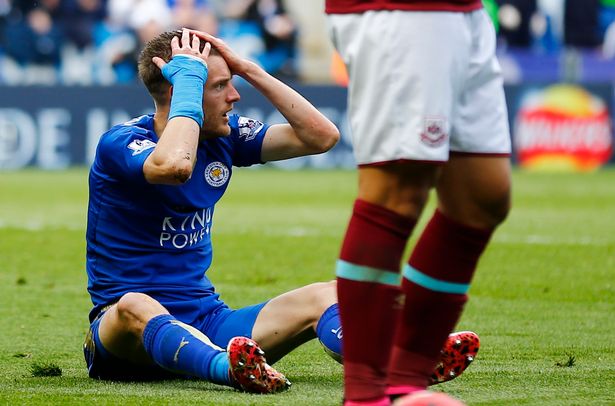 One day you're the cock of the wall and the next, a mere feather duster. Well for Leicester City it was the latter that came first as a day like this a year ago; they were in the full glare of relegation. But the 2015/16 Premier League season in all its glory and grandeur has provided what has very well been the most remarkable period in the club's 132-year old history.
Having accumulated 73 points from 34 games, Leicester City are at the summit of the Premier League standings with a cushioning five points adrift from their closest rivals Tottenham Hotspur.
Although the Foxes are in pole position to carry the day come 7th May, here are three reasons why they could lose the title to Spurs.
Jamie Vardy's suspension
For a guy that was playing Non-league football barely six years ago, Jamie Vardy's goal scoring record has not been as gradual as his rise to prominence. The 29-year old forward has been in crisp form this season, shattering Ruud van Nisterlrooy's record by scoring in eleven consecutive games, a milestone that saw Leicester propelled to Champions League slots during the first half of the season.
Despite having 22 goals to his name thus far, the England international was sent off after receiving a second yellow card for simulation on Sunday against West Ham. Now two yellow cards usually translate to a one match ban but should referee Jon Moss point of a serious case of dissent in his match report, Vardy could face a stretched ban for as many as three matches.
Considering his near-telepathic understanding with Riyad Mahrez on the pitch, no doubt his absence could dent Leicester's title chances more so with the Premier League race on its final homestretch.
Harry Kane's bedazzling form
Dubbed as a one hit wonder after his exploits last season, Harry Kane has yet again given his critics plenty to think about with a series of outstanding performances. His scintillating form has seen Tottenham keep abreast with Leicester in the hunt for Premier League glory.
Albeit their five point gap with the Foxes, Kane is the leading the scoring charts with 24 goals and is tipped by a sizable contingent to win the golden boot at the end of the season.
With Jamie Vardy suspended and Harry Kane in his element for the remaining games, it's hard to see Leicester City hanging on especially now when they need the goals the most.
Tough fixtures ahead
Everybody likes a fairytale ending but unfortunately reality is stranger than fiction. In spite of leading the Premier League log for the longest time, all of Leicester City's season long struggles will culminate in their last four games.
Reaping maximum points from their remaining matches should be a manageable task considering the far they have treaded, but it becomes a sizable endeavor when it's against the Premier League top dogs.
Swansea at home, Manchester United away, Everton at home and Chelsea away will ultimately be the decider for Claudio Ranieri's charges. Whilst Tottenham still have to play West Brom and Southampton at home and Chelsea and Newcastle away, the free scoring Spurs look like outright winners from the remaining matches.
Written by Brian Humphrey
Follow Brian on Twitter @brihum
Like O-Posts on Facebook
You can also follow O-Posts on Twitter @OPosts