Arsenal retained the league leader status after being embroiled in two away stalemates in a trot, but their display at Britannia Stadium last weekend desperately lacked creativity as they created only seven chances throughout the game, whilst they had gone into the very fixture having averaged 13 chances in the Premier League. Was it down Mesut Özil watching the game from his apartment with a minor foot injury?
Arsene Wenger has concocted a team that essentially works on the collective brilliance, with the absence of even one of the strongest eleven often destabilising the harmony. Can you imagine how this side would perform without Nacho Monreal, whose positional awareness often saves their day? Will they still be the same without Olivier Giroud, who effectively brings the midfielders into the final third?
Every player has proved detrimental in the way the Gunners play, with no one being superior to another in terms of contribution, but so unrealistic is the form and influence of the German playmaker that his absence always signifies an undesirable result. With Francis Coquelin and Santi Cazorla pencilled in to return only towards the final stages of the campaign, how could Arsenal lineup if Mesut were to be on the sidelines ever again?
Arsenal will then be left with a target-man, wingers, defensive midfielders and Aaron Ramsey. Without much creativity from the midfield, Olivier Giroud may not have much to offer up front, and Aaron Ramsey shall replace the French striker up top, whilst Alexis Sanchez operates as the secondary striker, with Joel Campbell and Theo Walcott on either side of him.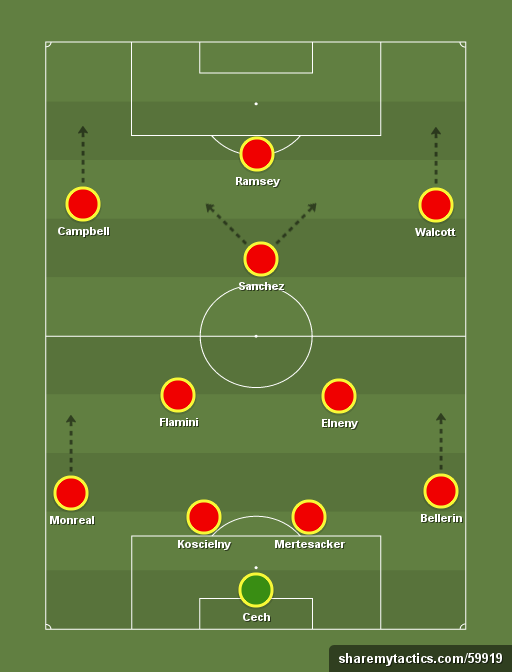 Will this risk be worth taking?
The Welshman often makes late runs that expose the midfield, and we saw Liverpool make optimum use of it as Emre Can bossed the midfield. Besides, Mathieu Flamini has hardly been effective in distributing the ball, despite his defensive acumen being impressive. Given their dearth of midfielders, who can orchestrate their play, they cannot afford to play the same way.
As new signing Mohamed Elneny looks a talented passer of the ball, him forming a double pivot alongside the former AC Milan midfielder could make up for the defensive frailties Arsenal are found with. With the double pivot offering very little space for the opposition, Nacho Monreal and Hector Bellerin should then boast the liberty to join the attack.
Making the unpopular idea feasible
In addition, Theo may also benefit from Aaron playing as a false nine as the English international could then perform what he does the best – getting behind defenders. The eager beaver of the Arsenal roster, Alexis would doubtless maintain the balance while much of their attack appears to emanate from the flanks, thereby making this unpopular idea feasible.
Written by Praveen Paramasivam
Follow Praveen on Twitter @49Praveen
Like O-Posts on Facebook
You can also follow O-Posts on Twitter @OPosts