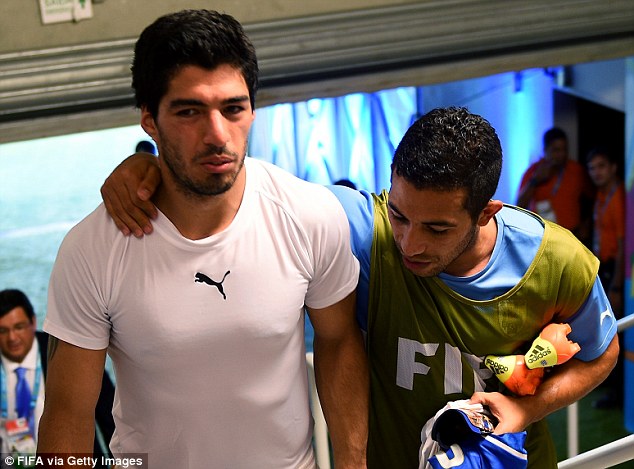 It took a major medical achievement for Luis Suarez to even play at this summer's World Cup, pictured in a wheelchair following keyhole surgery after damaging his meniscus in training. Three weeks later he was back, sitting on the bench as Uruguay lost their opening group game to Costa Rica before 5 days later he was fit enough to eliminate England with two goals in Sao Paulo.
For Suarez it was an emphatic riposte to England's Football Association, the governing body who have handed the striker bans for racism and for biting Chelsea's Branislav Ivanovic last April. "I dreamt this. I'm enjoying this moment, because of all I suffered, the criticism I received. So, there you go" said Suarez, who enjoyed an embrace with the man who, perhaps astoundingly, got him fit enough to play in Brazil, physio Walter Ferreira.
Only five days later and he was to let Ferreira, as well as everybody else who have installed faith in his rehabilitative last 12 months, explicitly down. As he tried in vain to breach Italy's resolute defence, his ubiquitous dark side got the better of him as he sank his teeth into Giorgio Cheillini's shoulder. Minutes later Diego Godin headed Uruguay into the last 16 but Suarez, the man who battled back from injury to play a pivotal role in getting them through group D, wouldn't be going with them.
FIFA expectedly came down heavily, issuing an unprecedented sanction of a four month ban from "all football-related activity". He will not be permitted to enter any football stadium during the period of his suspension which lasts until 26th October for Liverpool as well as Uruguay's next 9 international matches.
Once again Brendan Rodgers will be prevented from having the striker available for Liverpool's start to the season but this time round he will be robbed of a pre-season completely, unable to train with the club as the Reds prepare for their return to the Champions League.
It is an unwelcome replication of history for Rodgers who had to wait until the 25th September for his striker's return last year after he was banned for the incident with Ivanovic. He did go on to finish as the Premier League's top scorer with 31 goals as well as a winner of both the Player of the Season and Writer's Player of the Season awards after a season of undisputed genius nearly took Liverpool to a first title in 24 years. However, both the patience of his club and manager must now be wearing thinner than it ever has before.
Fenway Sports Group, the club's American owners, oversaw the player's racism charge, for which he was banned for 8-games for verbally abusing Patrice Evra, with an embarrassing passivity as they left Kenny Dalglish to lead a flimsy support of the striker. Last summer's handling of Suarez however, the player who reacted indignantly enough to an apparent persecution from British media after the second bite of his career to demand a transfer, was admirable.
Rodgers was given full support as he refused to toe the line of Suarez's want-away camp and such defiance translated onto boardroom level who stood firm after Arsenal triggered his £40 million release clause. Eventually came a full apology and the Northern Irishman was free to reap the benefits of a player who was ready to produce his most relentless form.
So too came the traits that Rodgers was adamant were existent in his striker, "a very, very highly intelligent man off the field" the manager called him, "a real humble guy and so professional." Staff at Anfield regard him as highly popular, a man devoted to his family and to his career and lifestyle, but sadly it can be all too easily forgotten as he steps onto the pitch.
Perhaps his family drives him too much, Wright Thompson's excellent portrayal of Suarez for ESPN found a man so desperate to provide for his wife and two children that he simply can't switch off from the game in fear of losing his dream.
Three separate biting incidents, the first one coming in 2010 when playing for Ajax, are too much to be an unfortunate coincidence and the indulgence of the striker, the attribution of his behaviour to a determined will to win and a footballing education that took place on the streets, even those who attempt to justify or ignore his actions, like Uruguay's captain Diego Lugano did in the aftermath, must now cease.
Uruguay's coach Oscar Tabarez went as far as accusing reporters of having an "agenda" against his striker, an astonishing and toxic refusal to accept that the player just may be in the wrong. The country's own media even tried to portray Suarez as the victim, "Nobody talks about how Suárez was injured in the jaw and the eye".
It must be general consensus to the rest of the globe that biting should have no place in football and that FIFA's ban is a satisfactory punishment for a player who must now take full responsibility for his actions.
The size of Suarez's talent is big enough to push him to the boundaries that are occupied by the game's elite but his career is at risk of infamy if he does not learn to control and curb his rage. He can be a player of ferocious energy and irrepressible drive but it has too often proved unrestrained, these next four months must be spent positively channelling that aggression in order to ensure that his genius is not drowned out by controversy.
Sponsors have lined up to end their association with Suarez and Liverpool may yet be forced to relinquish the striker in the face of previously vehement interest from Real Madrid and Barcelona.
Whatever the Uruguayan's next move, there has to be an acceptance that it is him causing his own problems and that only he can work to stamp that out. A career of the lustre that his majestic ability deserves can still be salvaged if he is willing to wake up to his demons.
Reacting to his player winning the PFA Player of the Year award in April, Rodgers said "he was a star of the last World Cup for different reasons – a great save [the handball against Ghana] – but I think his talent will do the talking this time. It's a remarkable turnaround for a player who has been vilified – and some may see he brought it on himself – but it's great to see someone change and to be stood up there getting this award."
It is amazing now just how wrong the manager's prophecy could be, Rodgers another man duped into believing that Suarez could stay away from uproar. Individuals like Liverpool's coach will remain pragmatic and wise enough to believe that the player of Suarez's ability still warrants their support but very slowly that will begin to evaporate should he permanently stay just seconds away from meltdown.
Starting with the next four months, Suarez must do all he can to realise and alter that before it really is too late and he suddenly finds himself walking alone.
Written by Adam Gray
Follow Adam on Twitter @AdamGray1250
Please like O-Posts on Facebook
You can follow O-Posts on Twitter @OPosts