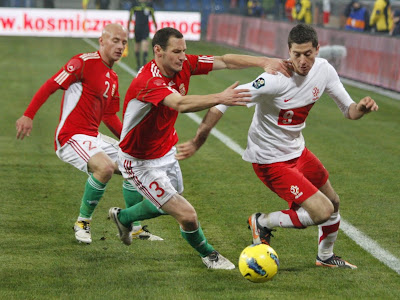 Is Robert Lewandowski a viable replacement for Robin Van Persie?
With the domestic seasons drawing nearer for European sides, transfer rumors have gone into overdrive, with one of the dominating sagas surrounding Arsenal Football Club: specifically about captain Robin van Persie. 


With the tabloids picking up on the uncertainty of the captain's uncertain future at the club, many high profile targets have been linked in the past week. One of the more feasible transfers reported by news outlets is the purchase of Polish international and Dortmund target man Robert Lewandowski.


Despite their differences in position, style, and capabilities, the inform striker is more than capable of carrying a team's attacking threat with power and technical prowess. The question is, is he a viable replacement for the hottest striker in Europe?


At 23, Lewandowski has won the Bundesliga twice on the trot and the DFB Pokal once, playing alongside some of the most exciting youngsters in world football. Coming off his second season in a Dortmund shirt, the in form striker banged in 22 goals in 34 appearances, an average of 0.65 goals per game. 


Like the former Montpellier man Olivier Giroud, Lewandowski is most comfortable in the classic number 9 position. While at first glance he may not seem a perfect replacement for the Dutchman, a deeper analysis reveals otherwise. First, let's have a look at the basics of their game, by the numbers.


Player                  Robin van Persie      Robert Lewandowski


Appearances                 37 (1)                               34
Goals                             30                                    22
Assists                            9                                       8
Shots per game avg.      4.6                                    3.5
Successful pass %         78.6 %                             70.6 %
Dispossessed avg.           2.4                                    2.5
Avg. Key passes             2.4                                      1
Avg. Successful Dribbles 1.1                                   1.4




Seems like a landslide, right? Wrong. Arsene Wenger has created a lineup tailored for the needs of Robin van Persie, where Lewandowski is left to do a lot more of the grunt work. 


Let's take a look at two of the pitfalls of the current Gunners skipper: aerial ability and discipline. Lewandowski won 79/185 aerial duels in the Bundesliga, an average of 2.3 per game with a success rate of 43%. 


This is an impressive stat for a player of Lewandowski's stature, considering he is at a physical disadvantage in Germany. The striker is 6 centimetres shorter and 6 kilos lighter than the "average' 1.90 cm, 84 kg defender in the Bundesliga. 


Van Persie in contrast, won a mere 28/95 of his arial duels, an average of just 0.7 per game with a success rate of just 29%. Note also that he's at a physical advantage to Lewandowski and the average defender of the EPL - standing 4 centimetres taller and weighing virtually the same as the Dortmund striker - and being almost 6 centimetres taller than the average 182 cm defender in the EPL. 


These stats make it clear to see that Lewandowski is a force to be reckoned with in the air, a quality van Persie has continuously lacked..


In any competitive league, every shot counts. Taking 174 shots and scoring 30, RVP has a conversion rate of 5.8 shots to every goal. Robert Lewandowski took 119 shots and scored 22 goals, making him the more clinical of the two with a conversion rate of 5.4 shots to every goal. 


This means that if both players were to take 174 shots, Robert Lewandowski would have been this year's Golden Boot winner with 32 goals. Lest we forget that these shots don't include headed attempts, an aspect of the game in which Lewandowski is far superior. 


It would be a rather safe prediction given the provided arial statistics that the Polish international could add a few more to the projected goal with his head.


Both strikers are of a respectable height and weight to influence the game from a physical standpoint, however it is Robert Lewandowski who is the more effective in this domain. 


The Dortmund frontman picked up 70 fouls, had 19 tackles, but only received 4 yellow cards. On the other hand however, Robin van Persie picked up 30 fouls from 20 tackles, yet received 8 yellow cards. 


This means that despite being the rougher of the two, Lewandowski can get away with disrupting play through fouls far more often (17.5 fouls per card) than the more aggressive Dutchman can (3.5 fouls per card). 


The fact that Lewandowski can disrupt play from farther up the pitch while contracting only half the penalty of van Persie is invaluable. This means that he can stop more attacks from the neutral or offensive sections of the pitch before they even start, an intelligent way to prevent more free kicks in dangerous areas within range.


Now, let's have a look at a few of Lewandowski's weaknesses, namely passing technique/vision While he does average more successful dribbles than van Persie (1.4 compared to 1.1) his main problem is knowing when and where to pass the ball when he runs into trouble. 


Both players are the spearheads in their respective attacking lineups, however their roles differ in their approach on goal. 


Van Persie has a tendency to drop deep into midfield to create space for flanking wingers and an overlapping fullback, whereas Lewandowski is a target for crosses and through balls for him to run onto, forcing him into a more consistently advanced role. 


Van Persie's "false 9" role affords him the time and space to create chances for others, explaining his healthy average key pass rate of 2.4 per game. Lewandowski isn't too far shy though, averaging 1 key pass per game. 


This may not seem comparable, but when you consider that Lewandowski can often be isolated far up the pitch, he has shown some potential in becoming a creative centre-forward instead of just an out and out striker.


The worst aspect of Lewandowski's game compared to the Dutchman is his passing; namely accuracy in completion. Robin van Persie has made more successful passes than Lewandowski has even attempted, with the Arsenal forward completing 811/1032. 


That's 77 more completed passes than Lewandowski's total attempted passes -734- of which 518 were successful. While certainly well behind in creative play, Lewandowski is slightly better on the ball than his Dutch adversary: he achieved 49 successful dribbles and was dispossessed 85 times, whereas van Persie achieved 42 successful dribbles and was dispossessed 90 times.


Despite Robin van Persie being a fantastic player, you have to wonder how much he has left in the tank. A 28 year old player who has had several recurring injuries in the past could be one tackle away from a calamitous topple from the top, and perhaps Arsène Wenger recognizes this. 


Should he receive £25m for him and reinvest this in the signing of Robert Lewandowski, he has pulled of a masterstroke. A player who's won two major honors in Germany with a good injury record who has yet to hit his prime can be had for the same price as a striker whose time is clearly ticking. 


What do you think: Is Robert worth it?




Written by Anders Marshall
Follow me on Twitter @MarshallArsenal


Please like O-Posts on Facebook
Follow the site on Twitter
A site that displays various opinions, insights, reports, etc from a host of talented writers, covering various clubs and leagues.