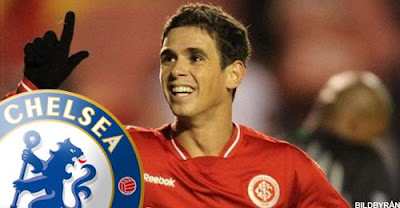 Taken from the Blue Champions
After weeks of speculation, Chelsea have completed the signing of 20 year old Brazilian midfielder Oscar from Internacional for a fee thought to be in the region of £25 million, quite a considerable price. 


So is he worth it? Can he be a top player who will play a key role? In this article, I will explore the case for and against.


Oscar began his career at União Agrícola Barbarense before moving onto Sao Paulo, a club whom he played for between the ages of 13 and 18. During this time, Oscar impressed many with his flair and was rumoured to have appeared on many European clubs' radars while at Sao Paulo. 


Oscar did eventually leave Sao Paulo in 2009, choosing to move to another Brazilian club Internacional, a move that led to Oscar becoming a prominent member of Brazil's under 19 team, and later the under 20 team. 


Oscar's earliest major success was his hat trick against Portugal in the FIFA under 20 world cup in 2011, and led to scouts from Chelsea and reportedly Tottenham travelling to Brazil to watch the midfielder. Chelsea's offer came in after a superb 2011 season for Oscar where he scored 13 goals and got 10 assists in 44 games. 


So what exactly are Oscar's attributes and what will he offer to the new look Chelsea? Well, if there is one top player the Brazilian can be compared to, it is none other than Andres Iniesta. Oscar's passing is excellent and as I've already mentioned, he chips in with a few goals as well. Some have also drawn parallels to Kaka and even Chelsea's own Frank Lampard so he's quite a rounded player.


As rounded as Chelsea's latest purchase is, he will enter his new club quite low down in Chelsea's deep midfield pecking order. It's difficult to see how Roberto Di Matteo will suddenly decide to play Oscar, a 20 year old from Internacional above the likes of Raul Meireles, Michael Essien, Frank Lampard, and Ramires amongst others. 


Fellow new arrival Marko Marin will also be expected to feature more regularly due to his superior stature before joining Chelsea. Oscar will undoubtedly have to work for and earn his potential spot in Chelsea's team next season.


One question that remains on the lips of most Chelsea fans is will Oscar make an impact this season or will he be confined to only games in the early rounds of the league cup. Well, it's difficult to say for sure, but I believe Oscar is ready to play quite regularly. 


Some would say that Chelsea will keep their exciting new talent on hold until they are sure he's ready to become a regular starter like they have done with the likes of Romelu Lukaku and Josh McEachran but I believe due to Oscar's flair, Chelsea will really benefit from Oscar's talent. 


So please Roberto, give Oscar a chance like Andre Villas Boas did last season with the promising Oriol Romeu but didn't with Romelu Lukaku. You may reap the benefits of the £25 million man.




Written by Joshua Sodergren
Follow me on Twitter @chelsealad1365


Please like O-Posts on Facebook
Follow the site on Twitter
A site that displays various opinions, insights, reports, etc from a host of talented writers, covering various clubs and leagues.