Taken from So Foot

Age: 24 years old (08-01-2022)
Height: 180 cm
Weight: 71 kg
Nationality: Spain
Total contributions for club and country in 2011/2012


Total appearances: Started 38 (11 as a substitute ) of those 11, he made 2 substitute appearances for Spain.


Scored 15 goals in all competitions this past season, of all those goals he only scored 7 in La Liga from 36 appearances, in the UEFA Europa League that's where he seemed to enjoy his best goal scoring form he hit the back of the net 6 times in 9 games. 


He got only one goal for Atletico in the Spanish Cup (Copa del Rey) in 2 games and also scored for Spain after coming on as a substitute for Roberto Soldado against Serbia. He also won a penalty in that match, as Spain went on to win 2-0 as he made a huge impact from the bench.
Key attributes 
Can play anywhere in attack
Likes to play short passes


With the transfer window already in full swing and with Robin van Persie still non-committal to Arsenal for next season, Arsene Wenger has moved quickly in this window to add reinforcements in the case that the inspirational skipper, who has had a Euro tournament to forget, might decide he wants to leave and join the blue half of Manchester, or go to Juventus and lead the line for the Serie A champions. 


The early signings of Lukas Podolski(from Koln) and Olivier Giroud (from Montpellier) are a clear sign he has learnt  his lessons from last season's late panic buys. Rumours are that Arsene Wenger is also looking at young Atletico forward Adrian Lopez whom, according to AS in Spain, the Gunners are prepared to offer around €12 million for the highly rated striker, but the problem is his release clause stands at €18 million.


Adrian only joined Atletico Madrid last season as a free agent after Deportivo La Caruna was relegated to the second division. He signed a 4 year contract to the club and has formed a lethal partnership with strike partner Rodamel Falcao.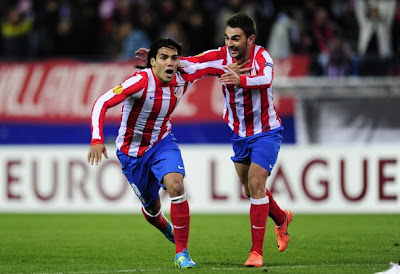 Taken from Daylife
Adrian may be best remembered for the Uefa European under 21 Championship that Spain won, leading the line playing alongside the likes of Juan Mata (Chelsea), Thiago Alcantara (Barcelona), Javi Martinez (Athletic Bilbao), David De Gea (Manchester United). He was the tournament's top goal scorer with 5 goals as well and was voted into the team of the tournament.




Where he might play 


Now with the additions of Podolski and Giroud to the Arsenal attack, I'll look at where he might play if he were to be signed by Arsenal, with the assumption that Robin van Persie will leave as I don't see Arsene Wenger signing him unless the captain leaves. 


If that's the case, then we have possibility of seeing the Arsenal line up in their traditional 4-3-3 consisting of :


Sagna – Koscielny-Vermaelen-Gibbs/Santos
Adrian/Walcott-Giroud- Podolski
If RVP stays, we might see a 4-2-3-1
Sagna – Koscielny-Vermaelen-Gibbs
Adrian/Walcott-Robin Van Persie-Podolski


Adrian may be used to give Walcott a challenge for his place and would bring a different threat to that of Walcott, and can also be shifted across to play on the left if Podolski is injured or is not performing.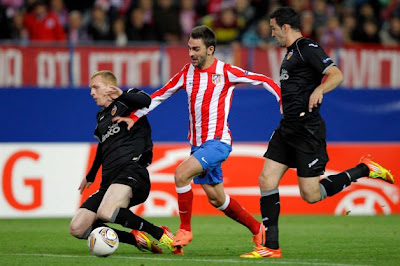 Taken from Stamford Advocate
Although it would give Wenger headaches on who to start, it's a headache all the top managers have and competition for places always brings the best out of players.




Written by Thapelo Macloed
Follow me on Twitter @offside_soccer


Please like O-Posts on Facebook
Follow the site on Twitter
A site that displays various opinions, insights, reports, etc from a host of talented writers, covering various clubs and leagues.