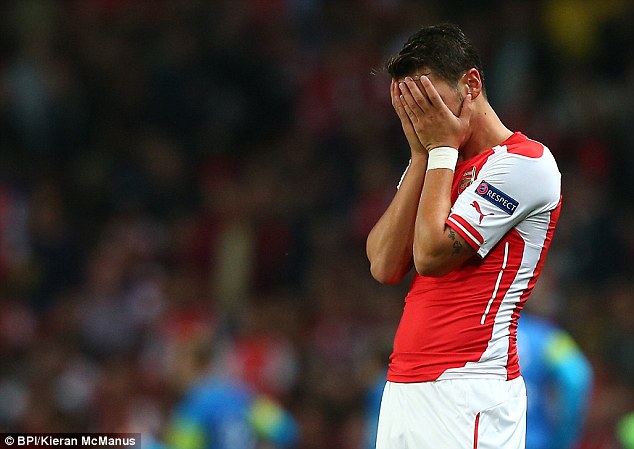 Alexis Sanchez is the heartbeat of Arsenal. He is solely responsible for why Arsenal were still mathematically alive at finishing top four in the Premier League.
But he seems destined for a move away from the Emirates, as Arsenal lack the quality to win silverware other than the FA Cup, or be a true contender in England and in Europe. The only way the Chilean stays is a massive pay raise, and Arsenal should 100% do it—no questions asked.
As Sanchez keeps the heart beating at Arsenal for the time being, there's a major clot in Arsenal's arteries, and that clot is Mesut Ozil.
Mesut Ozil is no doubt a talented player—a world-class player and a world champion.
He has also provided many great memories and moments with his passing, skill, and vision playing in the Premier League against the likes of Bournemouth, Stoke City, and West Ham.
But that's exactly the issue. His almost never plays well against the likes of Tottenham, Manchester City, and Chelsea. Even in the Champions League, he is a world-class player against FC Basel and Ludogorets, but bang average against Bayern Munich.
Goes missing against big teams
Arsenal are paying a player that disappears like a deer when it sees a bear in the big moments.
According to Oulala.com, Mesut Ozil, at the time the stats were published this past February, had played 27 games against the other top six in England—Manchester United, Manchester City, Chelsea, Tottenham, and Liverpool—since his transfer from Real Madrid in 2013 for £39.95m.
During those 27 games, he has only managed seven goals and five assists—a ratio of .44 assist or goal per game.
To put it into perspective, in his 43 sub-par games this past season (8 goals and 9 assists), which include the Champions League, FA Cup, and the Premier League action, he has a ratio of .59 assist or goal per game.
There's a noticeable difference in his play. In fact, the gap is huge.
It is not a fluke, but that's the way he is.
Those numbers do not lie, but that's not all. Oulala.com—stats published this past Feburary—go further that just illustrating Ozil's poor personal stats. When Arsene Wenger plays Ozil against the other top six, they have a winning percentage of just 19—five wins, 12 draws, and 10 losses.
Ozil has also yet to beat arch-rivals Tottenham having drawn 4 times and now losing twice after the recent Spurs' defeat of Arsenal 2-0.
Performs when Arsenal are dominant
When the lights are at their brightest, rather than shining bright, Ozil shudders. His ratios reflect that of a bench player.
If you compare the statistic from assist/goal per game to games with an assist/goal, he was .57 better this past season (2016-2017) than the 27 games against the other top six—a difference of more than an entire half of football.
He only performs when the games are played on Saturday in the middle of England against Stoke. Arsenal will simply overmatch the opponent and Ozil has the freedom to do whatever he pleases.
But when it's Wednesday night and against Bayern Munich, he wants no part of the action.
It has long been said "Ozil is not a big player" and it is completely true. Mesut Ozil does not lift the team up like Alexis Sanchez.
Maybe it's best for Arsenal to cut their losses
With one year left on his contract, Arsenal need to start figuring out what to do with the World Cup winner.
At 28 years old, he is still in the prime of his career and an asset. But Arsenal should sell him.
Many clubs across Europe would love the opportunity to have his services. He might want to go back to Germany, so let him.
It could give Arsenal a fresh start by changing out the FA Cup-only winning mentality and adding more cash resources to either pay Sanchez or buy talents that want to challenge the elites of the game.
Arsenal are in a win-win type of situation, and how often has that been uttered in the last several years.
It boils down to this: if Arsenal are a big, or even an elite club in the global game, why play and invest in a small-time player?
Written by Steven Jotterand
Follow Steven on Twitter @StevenJotterand
Like O-Posts on Facebook
You can also follow O-Posts on Twitter @OPosts