The start of the Serie A season is fast approaching and over the summer there has been quite a few changes to not only Inter's squad but also to most of, if not all the top teams in Italy. We still have over a month left of the mercato to go too so there may be many changes still to come.  
I am really excited for the start of this season's campaign with Inter having many fresh faces ready to do battle in our sacred colours of Black and Blue, and also with the young and talented Andrea Stramaccioni officially at the helm we can be sure of some entertaining and exciting football for the Nerazzurri in the coming months.
In the pre-season so far there have been quite a few Inter players that are making a good impression and I hope to see them stamping their authority over the Italian league throughout the season, some of the names that have been impressing the most are:
Coutinho
Taken from Goal.com
Our young Brazilian attacking midfielder spent the second half of last season on loan at Espanyol and during this time has come on in leaps and bounds in his confidence on the ball and his ability.


Now back with Inter he has dazzled Interista with his fantastic performances throughout our pre-season and even won the player of the tournament award during the Tim Trophy against our traditional rivals AC Milan and Juventus.


Fredy Guarin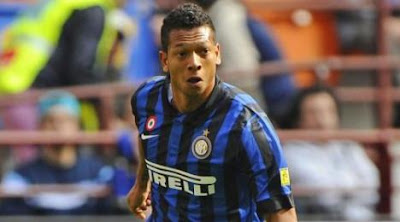 Taken from Footballcracy
Fredy spent the second half of last season on loan with us from Porto but spent much of that time recovering from a bad injury, but the few appearances he did make was enough to convince the Inter management that he belonged in the Inter squad. 


Over the summer Guarin has lost a bit of weight and in the preseason is looking focused and driven to do well in the squad. 


In my opinion he is going to prove to be a very important player for us and will become the engine of our new look squad and formation, I would even go as far as to say that if he can prove himself well enough he may even inherit Javier Zanetti's captains armband in the future.  


On an additional note after watching his performance in the friendly against Celtic I was very impressed with his tenacity when chasing the ball and he didn't stop running for the whole match, in this way he reminds me a lot of the footballing legend Edgar Davids who was famous for displaying similar qualities.  


My one criticism would be that he either needs to work on his long shots or look for better passes instead before trying them.


Ibrahima M'Baye


Taken from Tumblr
The young Senegalese defender has been promoted to the first team from the Primavera squad that won the Next Gen Series last season and has looked very promising at right back in the pre-season. 


Despite him only being 18 I'm hoping he will be given plenty of chances to prove himself in competitive matches over the coming months especially if Maicon does leave as expected, I think it will help him grow as a player and eventually maybe even emulate his hero, Giacinto Facchetti, whom he has paid tribute to by choosing the shirt number 33.


Obviously I have faith in all our players to do well and I could go on all day about them but in my opinion these three will be the ones to watch for us this season (out of the squad we have at the moment).
Serie A Fixtures


The upcoming Calcio season could be one of the most exciting and closely fought campaigns we have seen in recent years with a lot of clubs moving away from the stereotypical defensive style of play to a more flowing, attacking and modern style, this is partly down to clubs like Inter and Roma employing attacking minded and forward thinking tacticians like Andrea Stramaccioni and Zdeněk Zeman who employ entertaining tactics like the 4-3-3 and 4-2-3-1. 


My first prediction of the season is that the top three spots this year are going to be fought over by Inter, Roma and Juventus and the Scudetto could go to any of them, though obviously I'll be backing Inter to claim their 19th Scudetti 😉 


I also think that the under-acheivers of the season will be AC Milan who this summer have lost a wealth of talent and experience and I think are heading in to a performance slump like the one Inter has faced for the last couple of seasons.


For my season predictions I'm going to go through the opponents and give my thoughts on how we will fare in both legs (I'm not considering other competitions in this, it is purely Serie A) as well as predicting how many points Inter will have accumulated by the end of the season.
Pescara - Away 26/08/12 - Win
                Home 13/01/13 - Win
Pescara would've been a worrying fixture for me if they still had Zeman in charge and the talented youngster Marco Veratti was still in the squad but luckily for us the Delfini have neither any more with Zeman at Roma and Veratti making the move to the French club PSG.  


So this should be an easy (ish!) win for the Nerazzurri maybe two or three goals up by full-time in both fixtures.




Roma  - Home 02/09/12 - Draw
              Away 20/01/13 - Lose


Our first home game of the season will also be our first real test of the season against Zeman's revamped Roma, already in the pre-season Zeman has worked wonders with Roma and with players like Mattia Destro and Lamela (Who I think Zeman will get the best out of)  this could be a difficult match for Inter. 


So much so I think it will end in a high scoring draw with both sides going all out for the winning goal. I think in the away leg  with home advantage the Giallorossi might just sneak a victory over us.




Torino - Away 16/09/12 - Win
             Home 27/01/13 - Win


Newly promoted team, Torino, of course have plenty of top flight history, so shouldn't be taken too lightly. I do however think we'll have enough about us to take three points from the away fixture without too much trouble and again when the two sides meet at the Guiseppe Meazza, Inter should dominate over the Turin outfit.




Siena - Home 23/09/12 - Win
            Away 03/02/13 - Win


I can't see Siena giving us too much trouble on home turf, especially as they no longer have their star striker of last season, Destro, and even when Inter travel to the away fixture I can't imagine there being any surprises for us.




Chievo - Away 26/09/12 - Win
              Home 10/02/13 - Draw


When Inter travel to Verona to take on the Flying Donkeys, Cheivo we will have to be cautious as they always have the ability to catch the big teams by surprise and cause an upset, though I have faith that Stramaccioni will anticipate this and come away with a hard-fought three points. 


Back on our home ground I expect to see Chievo to play ultra defensive and on the counter attack which ultimately will see them hold Inter to a well deserved draw.




Fiorentina - Home 30/09/12 - Win
                   Away 17/02/13 - Win


On the last day of September Inter are back at home against Fiorentina, but without Riccardo Montolivo I don't think Vincenzo Montella's team can match Inter, especially if the rumours are true and they lose their talented youngster Stevan Jovetić too. 


So again should be three points to our total with pretty much the same outcome when Inter take on the Viola in the reverse fixture.




Derby Della Madonninna: Milan - Away 07/10/12 - Draw
                                                       Home 24/02/13 - Win


The 7th October is the first Derby Della Madonninna of the 2012/13 season with Inter as the visitors. 


As I've said earlier I expect Milan to struggle this season, unless some big signings come in, but that doesn't mean this match will be a walk over for Inter! 


As any fan of the Milan Derby knows all previous form stands for nothing in this match and anyone can take the bragging rights at the end of the day but I do feel that in front of the Rossoneri crowd we will only manage a draw. 


The reverse fixture with the Nerazzurri at home will once again be the usual mixing pot of passion, emotion and tension on the pitch but in front of our own fans we will triumph once again confirming for another season that Milano is indeed black and blue.




Catania - Home 21/10/12 - Win
               Away 03/03/13 - Win


For some reason we struggled against Catania last season which is shocking to be honest, the home fixture saw us draw to them after previously losing the away fixture last season. 


This season however I'm sure we can put that right again with two wins for La Beneamata.




Bologna - Away 28/10/12 - Win
                Home 10/03/13 - Win


The end of October marks a busy period for Inter with 3 matches in a week. the first of these is on the 28th October away at Bologna who we should be able to beat convincingly and take home three points, and again when they travel to Milano in March I can't see them being a match for us and we should take another victory.




Sampdoria - Home 31/10/12 - Win
                    Away 17/03/13 - Draw


Just three days after the first Bologna match in a midweek fixture Sampdoria come to the Guiseppe Meazza to take us on. 


The recently promoted side are a bit of a tricky one when you consider that although they spent last season in Serie B but not that long ago in the 2009/10 season they finished in a Champions League spot so they are a club that is capable of producing the results needed, but again Inter should win this fairly comfortably. 


I think the away trip could end in a surprise for Inter seeing Sampdoria holding on to a draw on their home turf.




Derby d'Italia: Juventus - Away 04/11/12 - Lose
                                             Home 30/03/13 - Win


The first game of November is a really bad draw for Inter in my opinion just four days after playing Sampdoria we travel to Turin and the Juventus stadium.  Unfortunately this will probably mean a defeat for Inter! 🙁 


Just writing that makes me feel physically sick and is something that really pains me to admit but our players are likely to be tired after already playing two games within seven days of this one and Juventus have got a very strong squad so I just can't see us beating them on their home turf. 


The reverse fixture back at the Guiseppe Meazza at the end of March will be a completely different matter though with Inter showing a great strength and tenacity to overcome our old enemy in front of the Interisti faithful!




Atalanta - Away 11/11/12 - Win
                  Home 07/04/13 - Win


When Inter travel to their Lombardy neighbours, the other Italian Nerazzurri club, Atalanta for the week 12 clash I really can't see them causing us any major problems and again when we play host to them later in the season.  All in all this should be a fairly comfortable six points for Inter across the two matches.




Cagliari - Home 18/11/12 - Win
               Away 14/04/13 - Win


Cagliari are generally a mid to lower table team and even though they managed to hold us to a draw in their home fixture last season they shouldn't cause Inter any major problems on either fixture this season.




Parma - Away 25/11/12 - Draw
               Home 21/04/13 - Win


Parma are another one of those teams that have the potential to cause an upset for Inter, especially in their home fixture which will be played on November 25th which could possible end in a draw. 


When Parma travel to Milano on 21st April though it should be a comfortable win for Inter.




Palermo - Home 02/12/12 - Draw
                Away 28/04/13 - Lose


Palermo come to the Meazza on the second day of December and is the first of a tough last five fixtures in the reverse on 28th April.


I think Palermo could possibly hold Inter to a draw in Milano and possibly even beat us when we travel to Sicily, even though they are considered to be a mid table team they have got a strong setup and have the ability to cause upsets to the bigger teams.




Napoli - Home 09/12/12 - Win
              Away 05/05/13 - Lose


Napoli for the last few seasons have finished within the top 5 places in the table and as such should be approached with caution, even though they've lost Lavezzi to PSG they still have a strong squad, boasting stars such as Marek Hamšík and Edinson Cavani.  


Inter will have to play well to take away the three points when they host them on the 9th December. Inter travel to Napoli at the beginning of May and I think they will be unfortunately returning home empty-handed with Napoli taking the win at their home ground.




Lazio - Away 16/12/12 - Win
           Home 08/05/13 - Win


On 16th December we travel to Rome to take on Lazio who shouldn't cause us too many problems both on their home turf and also when they visit us on the 8th May. 


By no means will these be easy fixtures especially so close to the half way mark and end of the season but Inter should be the stronger team.




Genoa - Home 22/12/12 - Win
             Away 12/05/13 - Draw


The Rossoblu in my opinion tend to be one of them clubs that in recent times have under-acheived and have become what I consider to be one of Inter's feeder clubs, with players like Thiago Motta and Diego Milito coming to Inter from them.  


This however proves that they do tend to have quality players in their squads so although we should beat them when we play them at home, the return leg in the penultimate round of the season could be a frustrating one for us and I think they will probably be able to hold us to a draw.




Udinese - Away 06/01/13 - Draw
Home 19/05/13 - Draw


The Zebrette are a club that always frustrate me as I feel we should be able to easily beat them but they always manage to cause us problems on the pitch, this is in my opinion mainly down to their ability to discover young talent (Alexi Sanchez a few years back for example).  


This season's draw with Udinese is a bit of a mixed blessing because the first meeting which will be at the Stadio Friuli comes after the winter break so we will have had a bit of a rest and be refreshed to take them on (maybe even with new squad members) but the reverse fixture at the Guiseppe Meazza is the final game of the season and will be really tough for us.  


For these reasons I think the best we can hope for against them is a draw in each fixture.


So where does that leave us at the end of the season? 


If my predictions come true Inter's stats for the 2012/13 season would be:
 
Win- 25
Draw- 9
Loss- 4
Total Points- 84
In theory 84 points should hand Inter their 19th Scudetti and once again make La Beneamata the champions of Italy! 


Is this a realistic prediction?


I do believe that my predictions here are completely achievable with our current squad but ideally Inter do need to make a couple more quality signings this summer to reinforce our weak points in the team. 


In my opinion we need a center back and a fast striker, the center back is needed because although we have got five players already for just two places only Silvestre is a consistent performer, both Chivu and Samuel should only be considered backups and Ranocchia and Juan Jesus still need to prove they are ready to be our first choice in defence.


The need for another striker speaks for itself with the expected departure of Pazzini we are left with just an aging Milito and two unproven youth strikers in the form of Livaja and Longo as his back up.  


Of course if push came to shove we could use Palacio as a striker but I get the impression that Stramaccioni wants to use him in the attacking midfield mainly so a fast striker with an eye for goal would be a perfect purchase to fill the lone striker role in our 4-2-3-1 formation.


Of course anything could happen between now and the start of the season but as things stand I'm feeling fairly confident that the Nerazzurri are back on the up and we can expect to see a return to the Inter we know and love!




Please check out the latest Olympics 2012 offer by Dafabet where you can win a $50 bonus!




Follow 'il Padrino' on Twitter - @Don_Nerazzurri and check out his website at www.NerazzurriWorld.com


Please like O-Posts on Facebook
Follow the site on Twitter
A site that displays various opinions, insights, reports, etc from a host of talented writers, covering various clubs and leagues.