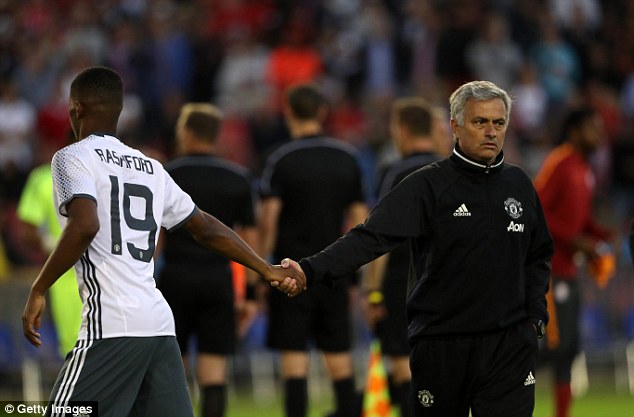 Spare a thought for Marcus Rashford.
The teenager who burst onto the scene last season dramatically enough to salvage a shred of credibility from the dying embers of Luis Van Gaal's regime and claim a place in England's Euro 2016 squad has so far sat on the side-lines of Jose Mourinho's bright new dawn.
So stung by the criticism of an apparent neglect of youth was Mourinho at his unveiling as Manchester United manager that he came prepared with a file containing the list of 49 players he had apparently promoted during his career.
Any suspicion that the likes of Timothy Fosu-Mensah, Jesse Lingard, Cameron Borthwick-Jackson and Rashford, rare shining lights in Van Gaal's final season of drudgery, would be lost to the Mourinho modus operandi of high-investment and a short-term desire to win, the Portuguese swiftly attempted to dash.
Mourinho previewed the visit of Southampton on Friday by claiming that taking the reins at United marked "the pinnacle of my career" while insisting that his best years as a manager were still to come.
"I would say 15 more years as a manager" he added, and it did not require a wise man to work out that he would wish to spend it with United.
The demand to establish a dynasty – Rashford treatment in question
A big part of the United boardroom's decision to hand the job to Mourinho was the desire for the 53 year old to establish a dynasty, breaking the habit of short-termism that saw him fail to surpass the three-year mark with Porto, Real Madrid, Inter Milan and in two spells at Chelsea.
The manager was aware he had to placate those concerns quickly, and in he came complete with a booming smile and a devotion to the famed academy.
With his era just three games old it is absurd to poke holes at Mourinho's youth policy, but it's not hard to imagine eyebrows beginning to frown at the sight of Rashford sitting patiently on the bench.
Both of Mourinho's first two league games have been wrapped up comfortably long before the end and at Bournemouth on the opening day Memphis Depay, pushed towards the precipice under Van Gaal, was preferred ahead of the talented 18 year old.
There is a sense that Rashford will have to wait patiently to play competitively for Mourinho and given the early form of Zlatan Ibrahimović, who turns 35 a few weeks ahead of Rashford's 19th birthday, it is hard to argue.
Perhaps Mourinho's strategy is to field his strongest, most reliable options in order to seek momentum, a trait missing from the United vocabulary for too long, in the first few weeks of the campaign before he explores the wider areas of his squad.
The instant Ibra impact
With 4 goals in his first 3 games Ibrahimović's impact has, even by the extraordinary expectation level he has set himself in a glittering career, been profound.
Few could have imagined that the 34 year old, having answered Mourinho's call following the end of his spell at PSG to accusations that he was mainly motivated by one last bumper pay deal, would adapt to the Premier League so hastily.
If against Bournemouth, despite driving in a sumptuous long-range goal, he was largely peripheral, against Southampton he was the commander in chief.
Paul Pogba was a marauding presence in midfield on his long-awaited debut, but the show's headline act was taken away from him by the veteran in attack who duly set the example with a fine display befitting of his flawless self-belief.
The Swede offered United forward movement that was bewilderingly absent during the dog days of Van Gaal and once he climbed high to power home Wayne Rooney's cross, adding Jose Fonte to Leicester's Wes Morgan in a growing list of aerial victims, it was clear that Mourinho has forged something that can ignite Old Trafford once again.
The touches and the flicks were clever, each one of them cheered by a United crowd that is already beginning to adore their new number 9, and the force of his personality was felt when he assumed penalty duty once Luke Shaw was felled in the box.
Rooney, long established as United's spot-kick taker, offered no argument and Mourinho clarified post-match that Pogba and Rooney had designated responsibility to Ibrahimović.
The Swede thrashed it past Fraser Forster and the match was done.
'More than a player'
One cannot imagine anybody in the United team questioning Ibrahimović's authority as he stepped up to take the kick, but with such respect comes duty and the 34 year old flourishes with it.
It was Ibrahimović, in the late stages of Friday evening's win with the result secure, organising the defensive line as Jordy Clasie prepared to swing in a free-kick.
When Dusan Tadic hit the side-netting with a follow-up effort after the ball was half-cleared, the Swedish striker was leading the inquest into how the chance was given away.
Pogba may have cost the big money, but Mourinho's most effective deal may not have cost him a penny.
The wages will be high but Ibrahimović's influence, it is plain to see, will reach far beyond the pitch.
"More than a player" is how the Portuguese coach described him after the win at Bournemouth.
"His table for meals is surrounded by kids - Luke Shaw, Marcus Rashford. They are the guys with him at the table", Mourinho said. "He knows what he can be for them. Forget that he is 34, the body and the mentality is not of 34. He is at the top of his qualities."
A player worth admiring and learning from, especially for the likes of Rashford
The Swede will have to stay at that level if he is to fire United to the title that he believes they can win.
Having already won titles in Spain, Italy and France, scoring almost 400 goals in the process, it is a legitimate aim.
Mourinho had mentioned on Friday night that Rashford's time may come in September, but for the time being there aren't much better places for an emerging youngster than casting admiring gazes towards an in-form Ibrahimović.
Written by Adam Gray
Follow Adam on Twitter @AdamGray1250
Like O-Posts on Facebook
You can also follow O-Posts on Twitter @OPosts