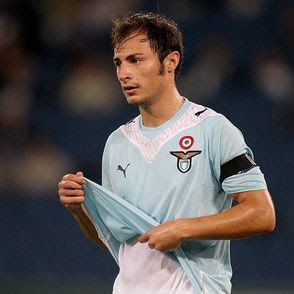 Taken from the Belfast Telegraph
In the topsy-turvy transfer window, many players from various clubs have been linked with some of the biggest sides on the continent. One of these players is a relative unknown to many, especially those who don't follow Serie A. This player currently plies his trade with capital-based side, Lazio. He's Romanian international defender, Stefan Radu.
Radu, aged 25, is a versatile defender who can play either as a center back or left back. He has regularly played in the latter position under Edy Reja for the past two seasons, and has impressed there. 
Radu is excellent position-wise, solid tackler and defender, and is known for his reliability and consistency. He isn't a flashy player, a useful attacking outlet but better defensively. He's a hard worker, battler, strong tackler who gives his all for the team. 
He has played over 90 matches in 5 seasons with the Bianconeri, ever since his move on loan from Dinamo Bucharest in the winter of 2008, and that represents a bit of a concern; Radu doesn't play much. The Romanian played just 21 games last season with Lazio, a season plighted by injury problems and I don't believe Arsenal or Manchester City, two clubs recently linked, or any other for that matter would want to take such a risk. 
He also lacks a bit in pace, but I don't think that'd be much of a problem since he redeems it with his excellent positioning and composure, and reads the game well. 
I don't believe Manchester City need a new left back since they have Gael Clichy, who did well last season and also have Joleon Lescott who's played there before with Everton. Arsenal might be in more need of Radu's services, but I don't think the club can afford another injury prone player especially as they've one in Kieran Gibbs. They'll probably want go for someone with a better injury record, despite Radu's quality and consistency.
If Radu can sustain his fitness and avoid injuries, then he'll be a great signing for any top club. I hope he can. 
Written by Omar Almasri
Follow me on Twitter @OAlmasri or @OPosts
Please like O-Posts on Facebook
Follow the site on Twitter
A site that displays various opinions, insights, reports, etc from a host of talented writers, covering various clubs and leagues.