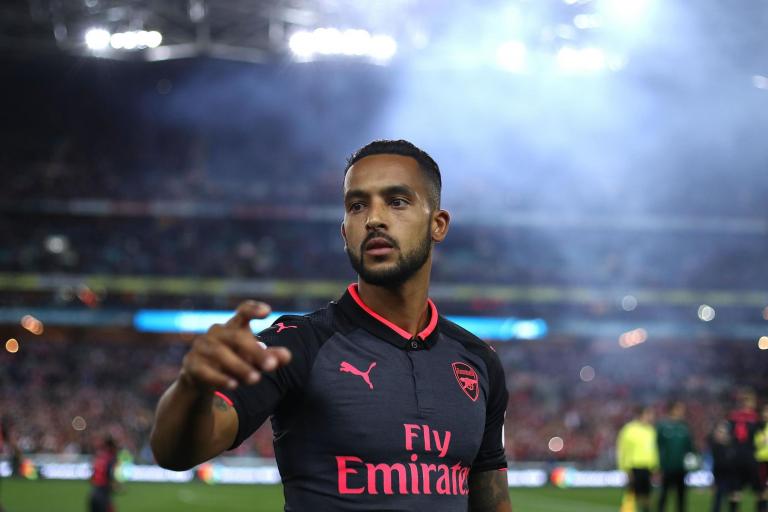 In Arsenal's recent 5-2 Emirates Cup friendly victory over Benfica, in which Theo Walcott bagged two goals, he showed a creative side to his game that many did not know existed.
The England winger created numerous good chances for his teammates, however he also missed a golden opportunity to complete his hat-trick with only the keeper to beat by blazing over the bar.
This accurately represented Walcott's career at Arsenal as a whole over the past 11 years, and is the reason that the winger has not escaped the wrath of the fans.
However, the Benfica game was not surprising for supporters. Gunners fans have become accustomed to wondering if Walcott has turned a corner after a good spell, only to then witness him disappear for months.
Arsene Wenger is very loyal to his players, and does not believe in revolution, but rather in evolution. It is the belief of the manager that excessive signings can unsettle and weaken the team.
Over-patient
The Arsenal manager's loyalty has attracted criticism that he is not ruthless enough, and he has been exceptionally patient with the speedy winger.
The boss has been waiting and hoping that Walcott could deliver on the promise that has been shown occasionally during an underwhelming career thus far.
Arsenal signed Walcott in 2006 as a 16-year-old with massive potential in a £12.5m deal which made the winger the most expensive 16-year-old signing of all time, until the recent signing of Vinicius Junior by Real Madrid from Brazilian Serie A side Flamengo in May for a whopping £39m.
It was expected that Arsenal would regain this expenditure in abundance through the England international's contributions towards the team. However, 11 years have passed and Walcott has struggled to live up to the high expectations of the fans.
Does not fit with the system
Last season, once Wenger implemented the 3-4-2-1 formation, he dropped the 28-year-old from the line-up.
If Arsenal are to stick with this formation, which is likely and they should considering the positive impact it had on the performance of the team towards the end of last season, then there is no need to hang onto a player who has failed to reach expectations for 11 years.
Walcott does not fit into this system because he does not have an obvious starting position, especially now that he no longer considers himself to be a centre-forward and it seems that Wenger concurs with this.
Furthermore, the Arsenal winger does not have the defensive attributes to play as a wing-back, and does not possess the technical quality to carry the ball and play through-balls when playing behind the striker.
These are not the positions to utilise the qualities of Walcott. Walcott plays in wide positions and the new formation requires players who are more central.
Lemar over Walcott
Arsenal are reportedly interested in Monaco winger Thomas Lemar, and have had three bids of £30m, £40m and £44.7m rejected for the Frenchman.
The signing of the versatile Lemar would make him a certain starter in the Arsenal team and would push Walcott further down the pecking order, making him surplus to requirements.
Lemar's position is similar to Walcott's, however his approach differs greatly from the Englishman's. The Frenchman is much more astute than Walcott and does not rely on pace, albeit it is fair to say he does not lack it by any means, but he is also a tricky winger who possesses the intelligence to open up opposition defences.
The glimpses shown by Walcott in the Benfica game cannot sway the loyal Wenger from acquiring the services of Lemar with hopes that the Englishman may have turned a corner.
Lemar has been identified as a priority in order to bolster Arsenal's attacking areas and the deal must be seen through.
Walcott will turn 29 during this season. For a player who relies so much on pace, can he evolve into a player who can blossom in their 30's? This is questionable.
Questions over his character
Following Arsenal's defeat at Selhurst Park last season, Walcott said that Crystal Palace "wanted it more", and Wenger stated that Walcott's comments were "unacceptable".
Walcott was captain in that game and featured much less during the rest of the season. Although this may have been due to tactical changes because that particular loss sparked the change in formation, it does also raise questions about Walcott's character.
Perhaps Wenger had seen something in Walcott's character which he did not think was particularly helpful to the team, especially at times when they are battling for something.
For his sake, he must move on
It must be noted that Walcott is not a bad player by any means, he just simply does not have a place in the Arsenal team. All the implications are that Wenger will be sticking with the 3-4-2-1 formation this season and Walcott does not fit into this formation.
There are respected Premier League teams such as Everton and West Ham United interested in Walcott, and if he was to move to any of these teams, especially at West Ham alongside Andy Carroll, he could very possibly flourish and prove a lot of doubters wrong.
World Cup 2018 is next summer and it is perhaps in the best interests of Walcott as well as Arsenal if they part ways.
Walcott wishes to represent England at the World Cup and to have an impact internationally and a potential move to West Ham, a club which is rebuilding and would guarantee him playing time, may be the best move for the winger.
Written by Sina Latif
Follow Sina on Twitter @_sina93
Like O-Posts on Facebook
You can also follow O-Posts on Twitter @OPosts