One of the debatable decisions Arsene Wenger has had to face last season was who to play in left-back. Life-long Arsenal fan Kieran Gibbs fought it out with Brazilian signing Andre Santos. Both are loved by fans, for different reasons. 
Gibbs was thought to be 100% ready to play week-in-week-out for the Gunners, but over the years injuries have haunted him terribly. Hence the signing of Brazilian star Andre Santos. 
Have your say. Who should be Arsenal's first choice left-back?!
Kieran Gibbs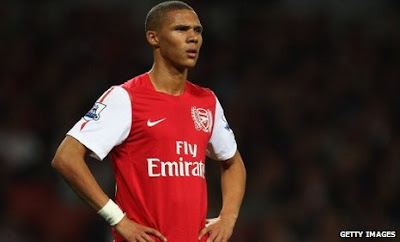 Taken from Arsenal HF
The younger of the two, Kieran Gibbs looked the new heir to the Arsenal left-back spot. He looked like he had absolutely every trait in the book. Pace, stamina, determination, he looked like he was undoubtedly a suitable full-back for the gunners. 


Most know, though, that his downfall is injury. This is why Wenger decided to bring in Santos, as Gibbs' unreliability was something that the manager couldn't be content with.


In all competitions, he started 19 games, coming on twice. He scored twice, gaining two yellow cards. Arsenal prevailed as winners in 11 of his 19 games. He also won more ground duels then his rival Santos. 


Gibbs showed his tremendous potential to be a future Arsenal legend when he showed his qualities and flourished in games such as Newcastle (h), AC Milan (h) and West Bromwich (a) where he made a courageous last minute tackle that saved our season, denying Jones to secure a suitable farewell to soon-to-be England manager, and Brummy fan-favourite Roy Hodgson.


Strengths: In my opinion, Gibbs' best strength is determination. He suffered many setbacks in his career, and in the lowest part of his career when he slipped on the emirates turf allowing Ji-Sung Park to score but he bounced back straight away. He also showed it in the last challenge of the season vs West Brom. Some other notable strengths are pace, crossing, running and stamina.


Weaknesses: There aren't many, but Gibbs is very low on confidence. He often plays the easy pass instead of running forward himself. Also, his decision making is very questionable but as many know, this comes well naturally with game-time, training and experience. He is also unlucky with injuries, but this is beyond his power to control.
Andre Santos


The opposing left-back is the ever-present Brazilian gooner Andre Santos. Santos engraved his name into Arsenal's 2012/13 season very quickly. His samba-style of play, and loving, jolly attitude has made him a fan-favourite. Every gooner enjoys watching him play, and his natural Brazilian skill makes him a joy to watch. 


7 years older than Gibbs, Santos made a fairly impressive 17 appearences, scoring a memorable-goal against Chelsea. Every Arsenal fan was extraordinarily happy with the deadline-day signing, although not many had watched him more than 5 times. 


He has been capped 11 times for the Brazilian national team, which says a lot. The style of play attracted viewers from allover the world. Along with the brilliant footballing ability, Santos is also a quality man. 


According to the likes of Theo Walcott and Mikel Arteta, his light-hearted humour and ever-happy facial expressions bring joy to everyone on the training ground. 


Stats-wise, Gibbs is better, but Santos' biggest trait over Gibbs is aerial duels, in which Santos has won more. This is essential to any Premier League player. His best games were against Olympiakos in the Champions League and Chelsea in the Prem, although defensively, he looked shaky in the first half.


Strengths: Santos is always trying his best for Arsenal, and for a full-back, he is fairly tall, enabling him to rise-above the average Premier League winger. In his half, he scored a vital goal against West Brom, showing just what that thunderous left-foot of his can do. 


I'm sure every viewer of him would agree that his quick-feet, skill and flair are his best traits. He nutmegs players for fun and keeps the ball like he's in the park.


Weaknesses: He is fairly heavy for the average Premier League player, which is why he isn't very agile or quick. Also, his lack of focus and concentration costs him and the team quite a lot. He kept Yakubu onside for an important goal against Blackburn, and is often found in an unnecessary position such as left-midfield or central-midfield.
In my opinion we have two sublime left backs here at Arsenal. In my honest opinion, Gibbs is the more suitable to start; he is a lot thinner, has a lot more pace and a lot more stamina. Also, Gibbs' more Premier League experience makes his positional play a lot better. 


When Gibbs is injured, though, I'm sure most would be content with Santos playing at left-back (or wherever) and I for one love watching Santos dancing on the ball and embarrassing opposition players trying to take the ball off him. 


Who would you rather play as left back?
Win percentage (Including sub appearances) : 57.89%                        
Ground duels won: 63%                                                                     
Aerial 50-50s won: 55%                                                                     
Mins per interception: 45.76                                                                
Mins per loss of possession: 69
Andre Santos
Win percentage (Including sub appearances): 76.47%
 Ground duels won: 61%
Aerial 50-50s won: 90%
 Mins per interception: 26.29                                                           
Mins per loss of possession: 136


Thanks for reading and please leave a comment.




Written by Deano Spyrou
Follow me on Twitter @DeanoAFC44


Please like O-Posts on Facebook
Follow the site on Twitter
A site that displays various opinions, insights, reports, etc from a host of talented writers, covering various clubs and leagues.