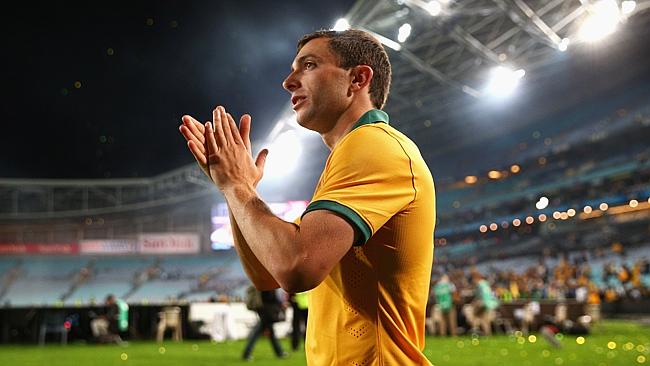 Name: Tommy Oar
Position: Winger
Age: 23
Country: Australia
Club: Out of contract
Although he has an Asian Cup winners' medal, A-League Young Player of the Year medal and FIFA U-20 World Cup Goal of the Tournament to his name already, Tommy Oar has yet to reach anywhere near his full potential as a footballer.
The good news for the 23 year-old winger, who began his professional career with the Brisbane Roar, is that he has already proven himself capable of adapting to the rigours of European and international football.
After spending two productive years in the A-League and following a dazzling debut for Australia in an Asian Cup qualifier against Indonesia, Oar was promptly snapped up by Dutch outfit FC Utrecht in 2010.
He has since spent five years with the Eredivisie side, during which he has matured as a footballer and added versatility to his game.
I was fortunate enough to attend the match against Indonesia, where Oar alerted overseas suitors to his considerable talents with an irrepressible display: he twisted, turned and wreaked havoc, showing a willingness to run at defenders that has become a cornerstone of his game.
During his time in Holland he has also been forced to play in a number of different positions, showing a tactical flexibility that should serve him well in future.
Though he hasn't proved prolific in front of goal, Oar's main attacking weapon is the quality of his final ball. Whether from open play or set-pieces, his ability to pick out team-mates has been the source of a number of crucial goals at club level.
Oar's boundless energy and ability to isolate defenders makes him one of Australia's most exciting players to watch, and though he failed to make his mark at the 2014 World Cup, it has been as an impact player where he has been used to greatest effect.
Starting off as a more traditional winger, the Queenslander has added complexity to his game and has most recently linked with a move to Dutch giants Ajax – a testament to his growth as a footballer.
Written by Chris Paraskevas
Follow Chris on Twitter @Cparaskevas
Like O-Posts on Facebook
You can also follow O-Posts on Twitter @OPosts