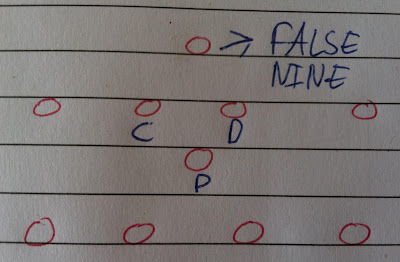 Source: From the Banks of the River Irwell
The last few seasons of watching Pep Guardiola's Barcelona dominate European football also saw a distinct change in the role of players in some positions. Namely Lionel Messi, although not solely Messi and not only players at Barcelona. 


Cristiano Ronaldo, Theo Walcott, RvP, Thomas Muller, Karim Benzema, Cesc Fabregas and Clint Dempsey, to name a few have all seen changes in their roles at their clubs. 


The "False Nine" formation which takes a very specific approach to football, however, remains the preserve of football's highest elite for one obvious reason, which will be discussed later.


Many moons ago, Robin van Persie was a snotty little winger. Once signed by Wenger, RvP morphed into what surely must be considered one of the most effective strikers in today's game, as his haul of 38 goals and 10 assists in all competitions (2011-2012 season) suggest. Robin's metamorphosis from winger to striker is not an uncommon thing and it happens the other way around just as often. 


Goran Pandev and Rodrigo Palacios, both in Serie A, have flittered between both roles. Theo Walcott went the other way to RvP, becoming RvP's go to guy for assists last season on the right wing (11 in all competitions) while chipping in 9 goals. 


Those stats suggest Wenger knows a thing or two about square pegs and round holes. Obviously Wenger is not the only manager to switch things this way, it happens at every club in the world but only a few stand out as ruthlessly effective….


Whereas most of the names mentioned in the intro have performed admirably in new positions over the last two seasons or so (Benzema striker to left wing and back, Dempsey right wing, striker or attacking midfielder, Muller wherever Bayern put him and Cesc in central and attacking midfield as well as forward roles for Barca), we've not seen such an effective force as either Cristiano Ronaldo or Leo Messi when charged with roles they'd never played before. 


We all stand, astounded by the sheer natural ability of those two artists. When speaking of attacking football nobody, not one other player, is at their level (give Neymar a few years). Ronaldo, as a precocious little winger developed a lethal eye for goal under Sir Alex Ferguson's boot wielding hand. 


Since moving to Madrid he has literally been ridiculous with his goal scoring (71 goals, 16 assists in 64 games 11/12 season alone. What!?) All these goals have come not just from the wing but from a strikers position also. 


So prolific is this man that Gonzalo Higuain and Karim Benzema were, at times, replaced as the main striker. Ronaldo's stats, for one season only remember, are terrific. However, one half man, half football programmed cyborg has done even better. You already know its Leo Messi. 77 goals. 27 assists. 70 games. 11/12 season only. 


Much like the joke about where some bloke's pet tiger sleeps, where does Messi play? Anywhere he wants. This man, were it not for David Villa's broken leg, would have kept him out of the team anyway. So effective is Messi as a natural goal getter, or goal maker, that Pep Guardiola was inclined to effect a new footballing mentality on the world.


Finally for you readers, I make it to the "False Nine." There's a specific reason you won't see Stoke playing this formation. For that matter, you won't find many teams at all trying this unless there's an injury crisis. 


Does Italian football look as though it could get rid of it's iconic goal poachers? Do you think Brazilian Ronaldo should have been anything other than that fearsome striker? What about Cantona or Ian Wright? 


The funny thing about those three strikers is that they are all retired. RvP, Wayne Rooney, Luis Suarez are all part of a newer breed of player. The need for diversity and fluidic football cries out for multitaskers. 


Capable on the wings or sat behind the traditional strikers role, an extra set of skills will see you play more games for your club. Leo Messi, in my opinion, transcends this desire. It is natural to this man.


Messi…. Transcends a new style and breed of footballers (Source: The Guardian)
Little wonder then, that with Xavi, Iniesta, Cesc et al vying for spots in the Barca lineup alongside Messi that Pep saw fit to change things for us all. 


"Why have a striker at all?" Pep probably mused, "When, in reality, they provide far less workrate to a team than having ten midfielders and a goalie?" 


I jest about that quote, it's fake.  But even so, Mascherano and Adriano have been called into defence at times so there were eight midfielders in the lineup at points during the season! 


My point is; there's only really two players at this point in time capable of operating effectively as that false number nine. Cesc tried it with Spain at Euro2012 to arguable success. 


Certainly he is no Messi or Cristiano Ronaldo. The movement towards more versions of a false nine are coming slowly but surely. Until more CR7's and Messi's rock up to the pitch the transition will be slow. 


There were fears that 4-5-1 would have killed the attacking game when it replaced 4-4-2 for the elites. Alas, it has not. So perhaps a false nine will elevate the game even further?


(All player stats gleefully poached from ESPN Soccernet.)




Written by Alex Phillips
Follow me on Twitter @alexthenac


Please like O-Posts on Facebook
Follow the site on Twitter
A site that displays various opinions, insights, reports, etc from a host of talented writers, covering various clubs and leagues.