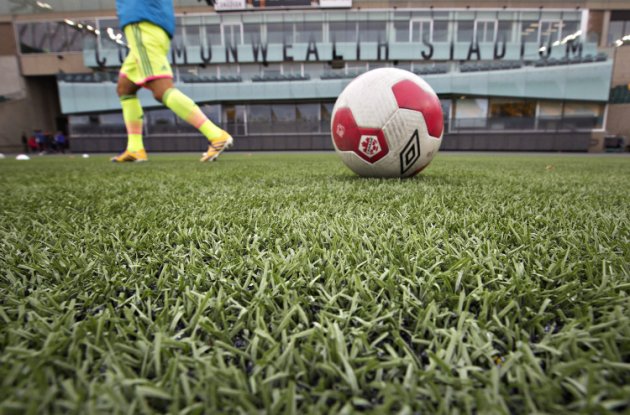 Due to the climate in certain countries, the debate surrounding the use of artificial grass has grown ever bigger. Recently, the debate has risen to a higher profile than previously with the Women's World Cup planned to be carried out on artificial turn in arenas located in Canada. Sparking debates on whether not it should be used, FIFA's secretary general has said that he believes the Men's World Cup could be played on artificial grass "sooner rather than later".
This belief is thought to be shared between him and other members high up in the FIFA governing body.  Obviously there will be divided opinions on such a large step in football, because some of the purist fans will not appreciate the change of surface from natural to artificial. However, others will understand that it offers countries with unsuitable climates for good quality natural grass more opportunities to host larger competitions – such as the World Cup.
Artificial grass is a fairly modern development in technology; it is an artificial turf made up of lots of synthetic fibres so that it looks similar to natural grass as much as possible. Often artificial grass is chosen by homeowners with artificial grass companies like Forever Green Lawns, so that they can cut down on maintenance and have a green lawn all year round.
Recently though, it has become part of a debate as to whether or not it can be used in professional sports such as football. The theory of integrating artificial grass into the sport comes with Canada hosting the Woman's World Cup, and having planned to use artificial grass instead of natural grass due to the country's climate.
As many of you might expect, when you start introducing a new turf into any sport – there will be negatives and there will be positives. FIFA has obviously identified the positives to outweigh the negatives in some situations, its doubtful that artificial grass will ever become the main playing surface, but it does offer a certain amount of pros as an alternative.
With artificial grass it offers you a playing surface that you can use in almost any conditions, low maintenance, not patches, and most of all it thrives no matter what the country's climate is. Some lower league clubs might currently be spending a high amount of their revenue on maintenance and keeping their pitch up to scratch, however with this new technology it will allow lower league clubs to have a pristine playing surface every match with very little maintenance compared to natural grass.
With that in mind, paying maintenance fees is not a big deal for clubs in the higher tears of football, with large revenues being created each and every year. That being said, when a large club meets a smaller club that might mean playing on artificial turf.
At such a high level in any sport the smallest differences in playing surface can make a big impact on athletes performance. For example, in golf, the length of the grass makes a huge difference on the behaviour of the golf ball when it bounces or rolls etc.
Another example is tennis, tennis courts are usually grass or clay – each surface feels different under the feet of the athletes and the tennis ball reacts slightly different on the different turfs.
So in football, would the playing surface make a difference in the teams performance and could it offer a noticeable advantage to those who use artificial grass consistently.
Taking this into account will be the people who sit right at the top of FIFA's governing body. Over the course of the Woman's World Cup they are likely to see how artificial grass plays out on a world stage, most likely dictating whether or not we see artificial grass in football a lot in the future.
Written by Aedan Kiernan
Like O-Posts on Facebook
You can also follow O-Posts on Twitter @OPosts