Hey guys. Just to introduce myself, I'm Craig Player. I'm an opinionated Arsenal fan and an aspiring sports journalist. I just write up my views on the goings on at Arsenal football club. Follow me on Twitter - @c_player42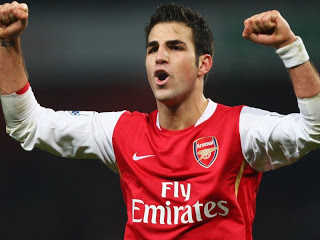 Cesc Fabregas. The man, the machine, the first name on Wenger's team sheet. The single player that one of the most famous clubs in Europe relies on. But what are they without him?
I am sure every Arsenal fan will agree with me when I say I am sick to the core with the transfer rumours surrounding our captain. Will he, won't he? Is his heart somewhere else? That I'm not sure of, but I am sure of one thing. Our club is built around Cesc. Some say he is not a leader, including his team mate Denilson. In the last 3 seasons, Arsenal have won 61% of League games Cesc Fabregas has started and 43% when he hasn't. Leader. Cesc is the single player in the Gunners squad that can make something out of nothing – make defence into attack, attack in to a goal. Towards the end of every season, Cesc is hit with an injury. Isn't it funny that it is at that time that our season starts to crumble….? It's quite worrying.
Let's say he leaves. Barcelona snap him up in a cut-price deal and the Spaniard is finally happy. Who will fill his boots? The contract rebel Nasri? I do believe that Nasri's strongest position is central midfield, but I just don't think that he is the player that would step in and dictate the Arsenal play. To be honest, I think Samir is over-rated. He had a good run at the start of the season, scoring for fun. But he disappeared? He wasn't as much of an intergral part of the Arsenal set up. Cesc, however, manages to pull some sort of trick out even when he is off form. Nasri just doesn't quite live up to the expectations of our captain's replacement. All of that, of course, is if he stays.
In a nutshell, we need Fabregas. He is our captain, and he chooses to influence people by means of the way he plays, not by talking. It would be a bitter blow to any of Arsene Wenger's plans to see him move to Barcelona. It is evident that when he is injured, no-one can step up in the team. For the above reasons, I think that selling Cesc would take the club back, not forward.
Craig Player.
A site that displays various opinions, insights, reports, etc from a host of talented writers, covering various clubs and leagues.