Another day goes by, with more transfer news, speculation, gossip, and rumors surrounding the Gunners. There are some interesting news today, especially concerning Fabregas's future, so without further ado…. here is the Arsenal Transfer News Roundup.
Arsenal Reject Fabregas Bid
Fabregas…. Barca offer rejected
Many reports are filtering around, stating that the Gunners have rejected a formal bid from Barcelona. The bid is said to be around 31 million pounds. In my opinion, a low, pathetic and a joke of an offer. The offer is way off Arsenal's estimated valuation of around 50 million pounds. I'm going to say this again, if Barcelona don't pay up, then they can piss off.
Link to the article: http://www.mirrorfootball.co.uk/news/Arsenal-Cesc-Fabregas-Barcelona-Gunners-REJECT-formal-31million-bid-article751995.html
Vela Not Leaving the Gunners
Vela…. staying a Gunner
After recent speculation and rumors suggesting that Vela will leave the Gunners, his agent spoke out, denying the speculation and stating that Carlos Vela is staying a Gunner.
Here is what he said:
"I have had eight conversations with Arsenal, the most recent was last Friday, and Carlos is an Arsenal player, he will stay at Arsenal and is not for sale."


I believe that this is good news, I've always liked him and I believe that he has the ability to be an excellent player for the Gunner. Hopefully, he'll get more playing time, especially with Bendtner likely to leave.


Link to the article: http://www.skysports.com/story/0,19528,11670_7002133,00.html


Arsenal to Bid For Scott Parker


Parker…. interesting the Gunners


Interesting news today suggesting that the Gunners are interested in bringing in one of the best players last season, West Ham's Scott Parker. The report states that the Arsenal will bid for the England international by the end of the month. If this report is true, then I believe that Parker, if he can carry and continue his excellent performances from last season, will be an excellent signing for the Gunners.


Link to the article: http://footybunker.com/arsenal-pip-tottenham-hotspur-to-defensive-midfielder/4748 


Here is a short video of Scott Parker, during his time at West Ham:










Arsenal Considering Making Surprise Move For Diarra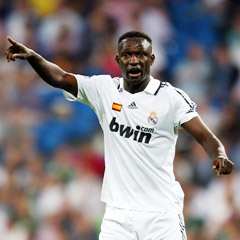 Diarra…. Wenger considering surprise move for the Malian international


Another interesting piece of news, as a report suggests that Wenger is considering making a move for out-of-contract Malian international, Mahamadou Diarra. The report states that Diarra will be offered a one year deal, worth around 50,000 pounds a week. 


Mahamdou Diarra, has long been linked with a move to the Gunners and was once considered, one of the best in his position in Europe. However, he has suffered from numerous injury problems and loss of form, so he's a risky signing in my opinion. But, if Diarra can get himself back to fitness and form, he could prove to be a shrewd signing, not only by providing competition for Song, but also providing guidance to young, rising players like Emmanuel Frimpong.


Link to the article: http://www.eyefootball.com/news/9735/Mahamadou-Diarra-to-Arsenal?/


Here is a short video showing why Diarra was considered one of the best in his position in Europe:








What do you think? Should Wenger go for Scott Parker? Do you think that Wenger should make an attempt to sign Diarra? Do you agree that the reported offer for Fabregas is pathetic? Please share your thoughts and opinions.




Cheers and take care,


Omar
A site that displays various opinions, insights, reports, etc from a host of talented writers, covering various clubs and leagues.