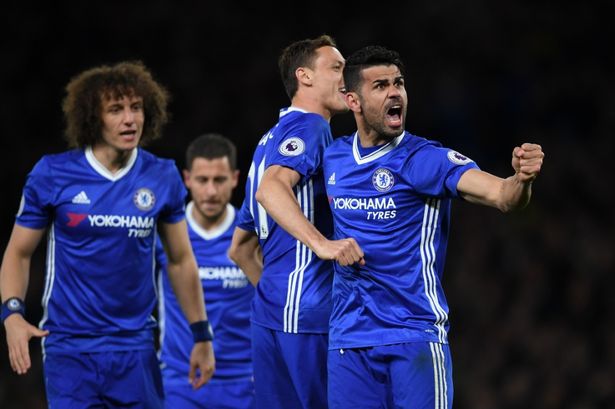 As a Blues fan, I was still vivacious from our victory over an in-form Spurs team. All victory over spurs is a blessing.
And I hope Tottenham fans will be humbled by the loss and accept we are the best team in London. That being said I was expecting another superb performance.
Southampton made two changes after their last defeat in the Premier League.
In my opinion, it was a good decision to play Fàbregas over Pedro.
With both Pedro and Willian on the bench as a fan I was at ease with the selection the Gaffer had at his disposal.
These players offer both attacking and defensive qualities which can both push and control the game for us.
Kanté was the focus pre-match, after winning the PFA's Player of the Season award.
Huge game
This game was a huge game for us, as we stumbled in a few games prior and needed a bit of stability to continue our reign.
I was a bit concerned for Diego Costa as he hasn't found the back of the net in the last 5 games.
That stat was shelved as he had a fine cut-back in the 6th minute to provide our deadly assassin Hazard with a sumptuous goal.
Unfortunately, our ex-player Romeu had a tap-in in the 24th minute.
I then was starting to get annoyed with my team. It should not be this close.  
Why was he so open? It was important for Southampton to maintain the scores at 1-1 before the second half if they had any chance of winning the game.
Scoring at the stroke of half-time
I looked immediately for a response from Chelsea.
In what was the last play of the first half, our bully Diego Costa miskicked a bicycle kick that what headed into the bottom corner by Cahill.
That was his fifth of the season.
Fabregas masterclass
Second half began and we were on it.
Cesc had a good amount of time to pick out a player in the box and he found our warrior, Costa.
Finally, he broke his duck by giving us a bit of breathing room with his header in the 53rd min.
Say what you critics want about him, but Costa was made for the Premier League.  And that was Fabregas' 103rd assist.
Southampton's confidence shattered
I was now more relaxed and expected Chelsea to finish the game strongly and ruthlessly.
Southampton looked shattered. They pressed less and less and seemingly surrendered to Chelsea's dominant control.
The main concern for me in the match was our defending on set-pieces. We were outplayed in almost every set-piece Southampton threw at us.
Conte really went at them after we nearly conceded from a set piece in the 69th min. I also joined along with him screaming at my discontent with our defending.
They looked clueless, unsure who should mark who. A bit of work is required in that area Conte, even though you have done a remarkable job so far.
Standing ovation
In the 76th minute, Cesc was substituted for Pedro. It was an absolute perfect game for him, job well done.
I even rose from my seat to join Stamford Bridge in giving him a standing ovation.
Fraser Forster had a brilliant save in the 81th min from a cheeky shoot from the reigning PFA player of the year.
In the 85th minute, our captain John Terry came on to a standing ovation for one of his final appearances in a Blues jersey.  
Well-fought victory
Our seven-point lead over Spurs was fully sealed after a fantastic goal by Diego Costa. He bullied his way through as usual after a few one-two plays inside the box.
The fans immediately saluted Conte after another fine performance from the Spain international.
We conceded a consolation goal in the final seconds of the game to another former blues Ryan Bertrand. In the end, it was a well-fought victory.
Now, I wait to see the response from Tottenham.
Written by Rogel Maxie
Follow Rogel on Twitter @djfresh876
Like O-Posts on Facebook
You can also follow O-Posts on Twitter @OPosts