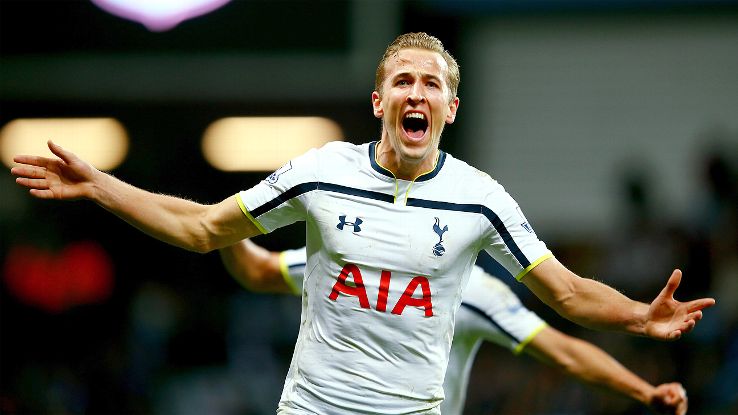 23 year old Harry Kane has stomped the branding of 'one season wonder' completely into the ground after overtaking Everton's Romelu Lukaku as the Premier League's highest goal scorer.
The Hotspur hero has slammed home a whopping 26 goals this season, despite being restricted to only 29 appearances after ligament damage to his ankle. The front man made a rapid recovery and was back in the starting eleven after only a few weeks.
Even though Spurs kept their form during his absence with goals from rising stars Dele Alli and Heung-Min Son, the return of their striker added that little pinch of spice back into the mix.
Tottenham's 6-1 win against Leicester showed us how supreme they are on the pitch and they were truly unlucky not to be the ones wheeling away with this year's silverware. But it was Kane's lightning double brace performance against the previous champions that secured his place at the top of the scoring grid.
Closing in on Shearer
After just four Premier League campaigns, Harry Kane is on track to seriously endanger Alan Shearer's record of 260 goals scored. With being twelve years Shearer's junior when he scored his final goal, the London lad has plenty of time to get his 75 goal tally up to and beyond the three figure target.
Whilst he's still only a young man, Kane has the potential of over another decade of football in line for him which means more goals and more glory ahead. After this season's showcase, the offers are going to be coming in thick and fast to try and snatch up the ever improving striker.
The inevitable interest from the La Liga top two and the Premier League giants will definitely give him something to think about, but the passion in his eyes when he steps out in that number 10 shirt tells me he's more than happy where he is for now.
Growing stronger
So they missed their chances of lifting the trophy by a whisker, but the squad is growing stronger and leering closer behind the newly crowned Chelsea. The top six this season are all going to return to the grounds in absolute sublime condition and everyone wants the title for their own.
The next battle for the glory is going to be one to remember. But as this season closes, Tottenham and their fans say an emotional goodbye to White Hart Lane but definitely not to Harry Kane just yet.
Written by Georgia Goulding
Follow Georgia on Twitter @gjgoulding
Check out her excellent football blog: Football, Findings and Fiction
Like O-Posts on Facebook
You can also follow O-Posts on Twitter @OPosts