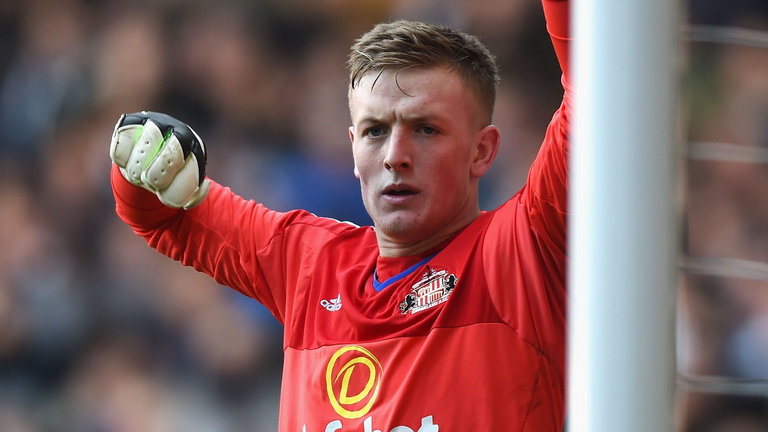 With Sunderland's relegation having been confirmed it is understandable that other top flight clubs are now circling like vultures to pick at the bones of the carcass left behind on Wearside.
One such high demand target is goalkeeper Jordan Pickford, who after taking his chance under Sam Allardyce last season has gone from strength to strength this term.
Sunderland's defence has been consistently poor throughout the course of the campaign but Pickford has kept them in matches single-handedly.
The English stopper's saves have been impressive but it is his footwork which makes him the complete package for any team looking for a new number one.
Goalkeeping issues
Ronald Koeman has had a largely successful spell on Merseyside since arriving last summer but one area of consistent concern has been in between the goalposts.
Maarten Stekelenburg was a surprise signing, especially when it became clear Joe Hart was available, and has struggled to hold down his position with backup Joel Robles making 17 appearances in the Premier League.
Ahead of the transfer window this is a position of focus for the Dutch coach and reports already suggest the Toffees have all but secured the 23-year-old's signature with an £18 million offer.
When you look at both parties involved it is difficult to see this potential transfer as anything but a perfect match.
Quality
Pickford has shown he is a Premier League quality goalkeeper with the potential to perhaps be one of the elite stoppers in the division given a little more experience. Dropping down a level for Championship football will do him no favours whatsoever.
Now moving to a top flight team where he will be battling for the starting position isn't sensible either, but at Goodison Park there is a need for a first-choice, reliable keeper and Pickford is exactly that.
It also must be said that the club are in a period of positive transition.
They are on an upward curve following the former Feyenoord coach's arrival and the influence of Farhad Moshiri's finance but the likely departures of Ross Barkley and Romelu Lukaku are likely to take some of the pressure off the team next season.
Nobody will be anticipating Champions League qualification next year and to a degree Pickford will be afforded the chance to play without stakes that perhaps would come along with him making the move to Stamford Bridge or Anfield.
Smart business
Not only would Everton be addressing a position of need within their squad but it would be a smart business decision too.
A fee of £18 million in the current climate is barely significant; especially when you consider the fact Pickford is likely to be England's first-choice keeper in the near future.
If he is handed the opportunity to keep playing and developing it is almost certain more reputable clubs will register their interest years down the line. This would be an opportunity for Everton to more than double their money on the player should things go well.
Koeman's system relies upon playing out of defence and as I've mentioned before, this is one of the youngster's strengths.
He is adept with either his right of left foot and can find both full-backs with ease. When Seamus Coleman returns to full fitness, this is something that could add a totally new dimension to the team's attacking play.
A boost for the club's defence
It wouldn't be fair to label Everton a team that struggle in defence but there could be improvements. Irrespective of the gradual introductions of Mason Holgate and Matthew Pennington, it is an ageing unit and there have been issues with composure that stems from the goalkeeping position.
Everton performed admirably at Old Trafford in April and were minutes away from securing a vital 1-0 win. However, they panicked in defence and ended up crumbling in the face of United pressure with Ashley Williams handling a goal-bound shot to gift the hosts a penalty.
The nerves simply took hold of Everton's defence and it is vital to have a presence in goal who can help prevent this from happening.
Pickford has shown himself to be a leader at Sunderland and this is a role he relishes as he made clear in a recent interview with the Sunderland Echo.
"You have to be a leader as a goalkeeper, I feel like I am [a leader] in the team even though I'm only young. I try my best to help the lads," he explained.
Ready for the step up
Everton are set for a busy summer and their guaranteed participation in the Europa League next season is likely to aid their pursuit of targets.
Pickford is ready for the step up and Goodison Park presents the perfect opportunity for him to forward his career in the same way that the Academy of Light graduate presents Everton the ideal opportunity to end their goalkeeping concerns for the foreseeable future.
Written by Chris Winterburn
Follow Chris on Twitter @Chriswin4
Like O-Posts on Facebook
You can also follow O-Posts on Twitter @OPosts