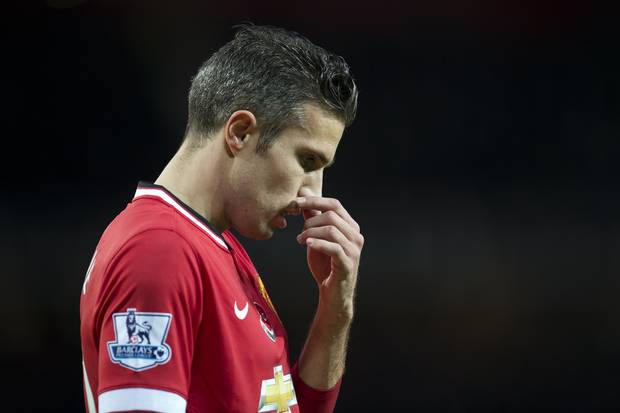 Since his acrimonious £23 million move from Arsenal, Robin Van Persie has scored 3 times for Manchester United in the five games he has played against his former club.
This Sunday afternoon, in what will be a significant game for both clubs in the bid to avoid an August play-off for the Champions League, he will be especially motivated to produce his best form against the club he served for 8 seasons not only for pride in face of the vitriol he will inevitably draw from visiting supporters still bitter over his exit, but also because he finds himself standing nervously on the precipice at Old Trafford.
A campaign in which he has netted just 10 goals from 28 appearances has culminated with reports that his manager Louis Van Gaal may be willing to sell the striker in the summer. Only 2 of those goals have come in 2015 and his strike rate has elevated to 208.5 minutes per goal from 120.1 when he fired to United to the league title in 2012/13 and the 132 he was running at during his season under David Moyes. The amount of chances he has created for others has also declined rapidly, from the 72 opportunities he carved out during his title-winning campaign, he has made just 27 this term.
The comparisons are of course skewed by the 38 games he managed 2 seasons ago when he won that title, hitting 26 goals in the process, but the Van Persie of now is a shadow of the one unleashed in Sir Alex Ferguson's final season. Injuries have begun to take hold, restricting him to only 18 starts under Moyes's doomed reign and while Van Gaal has been able to utilise him more, the Dutchman has failed to get him firing regularly again.
The manager has tried desperately, often moving his captain Wayne Rooney to a deeper midfield role to fit Van Persie in as the lone striker, but to no avail. Vital contributions came in games with Southampton and Liverpool in December but after a poor run of form in which included dropped points at Tottenham Hotspur, Stoke and West Ham, Van Gaal may have viewed the injury his striker picked up against Swansea as a blessing in disguise as he witnessed Van Persie leave the Liberty Stadium on crutches in February.
United strung together 6 straight wins following that defeat in Wales and Rooney, restored to a main striker, played an integral role to the upturn in form, scoring twice. Anaemic attacking displays resulted in Chelsea and Everton breaking that run and Van Persie returned to the line-up for the game with West Bromwich Albion, only to produce a rusty display which saw him miss a penalty as well as produce a series of fine saves from goalkeeper Boaz Myhill. The game followed a theme similar to the loss at Swansea; of United dominating but being let down by strikers failing to take their chances.
"We are creating chances all the time, but we have to improve our finishing" was Van Gaal's verdict after the loss to West Brom and it seems like Van Persie, as well as Radamel Falcao who is unlikely to have his loan spell from Monaco converted to a permanent one, could be a fall-guy as the manager clears room for a summer revamp.
Exciting 21 year old winger Memphis Depay has already been snapped up for around £25 million from PSV Eindhoven and Van Persie will be hoping he will get the chance to play alongside his international team-mate by earning a one year extension to his current deal that expires in 2016.
It is customary practice at Old Trafford to offer players in their 30s deals of only one year and Van Persie, who is 32 in August, wants to stay, though he is not clear where exactly his future lies. "It is not up to me," said the striker back in January. "For the moment I am staying here for 18 months. That is it really. I can't look into the future. I don't know what is going to happen after that. We shall have to wait and see."
The Dutchman missed the 1-2 away win at Crystal Palace at the weekend and now only has 2 more games, the meeting with Arsenal as well as a trip to Hull City on the season's final day, to prove his case to Van Gaal.
Bayern Munich's Robert Lewandowski, Real Madrid's Gareth Bale and Edinson Cavani of PSG have all been linked to add some bite to United's attack as Van Gaal prepares to splash his gargantuan cash reserves as the club return to the Champions League while aiming to once again challenge for the Premier League title. Van Gaal may decide there is to be no room for Van Persie and his £220,000-plus wages and relinquish his fellow countryman.
Few would have foreseen Van Persie marginalised by Van Gaal barely 10 months since the pair high-fived each other at the side of the pitch in Salvador as the striker led his manager's carefully-crafted plan to demolish Spain at the World Cup. The vast majority of onlookers viewed that as the prelude of what was to come in Manchester, the restoration of Van Persie to the beast that drove United to their most recent league title under the manager he once said he would "walk on fire" for.
Driven only by results, Van Persie is unlikely to find the same overriding loyalty forthcoming from Van Gaal.  That is if he doesn't haunt his former club once again.
Written by Adam Gray
Follow Adam on Twitter @AdamGray1250
Like O-Posts on Facebook
You can also follow O-Posts on Twitter @OPosts