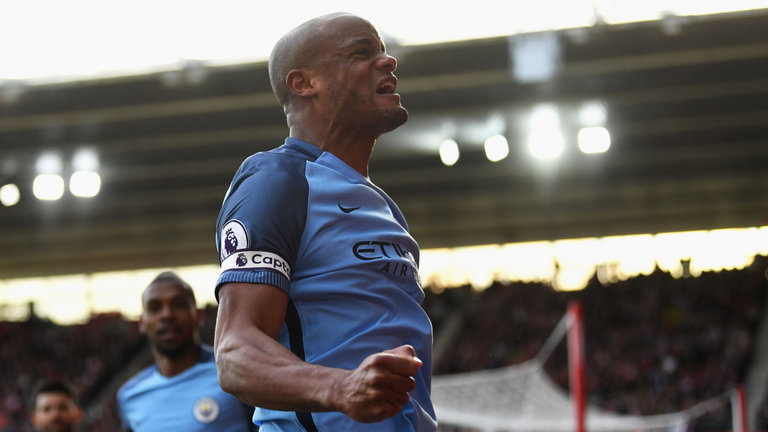 Manchester City have struggled defensively all season long with it actually hindering their ability to put together a sustained charge at the Premier League crown.
Vincent Kompany's return in the past fortnight has however improved the Blues significantly at the back with the Belgian's strengths simply serving to highlight the club's defensive weaknesses.
There were few football fans across the country that begrudged Kompany his moment in the sun on Saturday afternoon as he wildly celebrated firing a header past the helpless Fraser Forster to hand City a lead at St.Mary's.
Kompany stated after the match that the feeling he enjoyed after scoring was a mixture of pure relief and elation and then warmed himself to our hearts even more when he spoke of how worthwhile it made his injury struggles seem.
"I would have liked to be injured less in my career but every single time I've put in the hard work; I don't complain and I feel like giving something back to the fans and the team. If I had to work 15 years for one moment like this then I would do it without a problem," he explained to BT Sport.
Improvement
Whilst his comeback has been important on a personal note it has in fact improved the Blues with their defensive solidity so much more impressive than without the Belgian in the team.
Nicolas Otamendi looked more composed with a partner who could take charge of the entire backline beside him whilst Jesus Navas at right-back even appeared more comfortable.
It is interesting to wonder just how much better the season could have been for Pep Guardiola if the club captain had been available for the entire campaign.
Calamities like the one played out at the Stade Louis II almost certainly wouldn't have happened with City inexplicably outnumbered in their own penalty area when defending a set-piece with them actually set to progress through to the quarter-final at that point.
At 31 years old with such a horrendous injury record it is clear that the £7 million signing from Hamburg isn't a long term solution at Eastlands but he is absolutely the benchmark for the club's other defenders to look to.
Team must do better defensively
For all their attacking talents it is almost certain that Guardiola will not lift the Premier League trophy until his team improves defensively, it is just impossible to do so.
John Stones has a lot of natural ability as a defender but has been hamstrung by playing in a system that offers him very little protection.
Manchester City need to build around Stones rather than throwing £30-40 million on a new central defender each summer with both Otamendi and Eliaquim Mangala on balance disappointments since their respective arrivals.
If you could guarantee an injury free season out of him then there would be no better partner for Stones than Kompany for one year. With that unlikely it might well fall on Guardiola to use Kompany sparingly and target improvement in another specific area to allow Stones to develop and grow.
Pep needs another Busquets
Barcelona swept away all before them throughout the height of the Guardiola era, which has come to define an entire generation of the sport and one of the key components of that success was the emergence of La Masia graduate Sergio Busquets.
Busquets was so effective in a holding midfield position that he has almost added a brand new strand to the role based upon his skill-set.
He shielded Barcelona's defensive line perfectly and made them so difficult to penetrate from open play.
Manchester City need that player and Guardiola should be looking to sign one in the summer.
The two obvious standout candidates that are attainable are William Carvalho and Steven N'Zonzi with both physically overpowering and technically gifted enough to contribute in both phases of the game.
As with many players past their peak years it would be sensible to manage Kompany's game-time over the next 12 months. He can't play every match so perhaps he plays in domestic fixtures and sits out the Champions League group matches the team are likely to be involved in.
With the addition of a truly defensive minded shielding midfielder Guardiola would hand Stones more protection and make Manchester City more defensively solid.
Kompany's influence would only further serve to help that if used sparingly.
Needs to focus on Stones' progression
From this point is where Guardiola can then truly implement his philosophy to the latter.
Being defensively strong with a much improved John Stones will allow the team to play out from the back confidently and truly dominate teams in the way the Barcelona of 2009-2011 did.
Guardiola has tried to do too much too soon at Eastlands and has forgotten the blocks that allowed for his success at the Camp Nou.
Saturday's victory over Southampton gave a glimpse of how positive the future could be and it is now down to the coach to arrive at that point.
Written by Chris Winterburn
Follow Chris on Twitter @Chriswin4
Like O-Posts on Facebook
You can also follow O-Posts on Twitter @OPosts