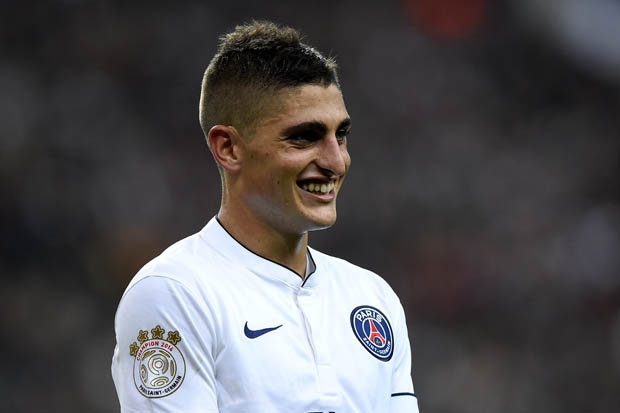 An interesting rumor out today. Arsenal are reportedly eyeing PSG's Italian playmaker Marco Verratti.
As reported by The Week:
"Meanwhile Caughtoffside reports that Arsene Wenger was doing more than just watching his boys take on Paris Saint-Germain last night in their Champions League clash at the Emirates. He was also running the rule over Marco Verratti. It's believed the Gunners "were alerted last month after a reported row" with PSG boss Unai Emery.
Rumours suggest the Italian midfielder is considering his options and one of those could be a move to the Emirates with Wenger a long-time admirer of the 24-year-old playmaker who, judging by his own goal last night, quite likes the Gunners.
The interest in Verratti may have been sparked because Santi Cazorla is not going to be at the Emirates for much longer, at least he won't be if the Daily Star is correct.
The paper says that the Spanish playmaker is "wanted by Juventus and AC Milan" and he could be gone as early as January. The 31-year-old is increasingly injury prone and with his contract set to expire in the summer, the Star says Wenger could sell Cazorla in the new year rather than see him leave on a free in June."
Should Arsenal make a move for him?
In my opinion, Verratti is a quality footballer who can dictate the play of a game and posesses excellent passing vision and range.
He can play in an advanced role or, much preferably, as a deep-lying playmaker similar to a certain Andrea Pirlo or even Xavi as the excellent Michael Cox contends.
With Arsenal possessing a plethora of midfielders, you wouldn't assume the club are necessarily in need of another. However, one key figure comes into mind: Santi Cazorla.
Despite the Spaniard's importance to the Gunners as underlined by their recent shabby performances, he seems to struggle to stay fit and at 31 doesn't seem to have too many years left for him at the top.
Verratti would be the perfect replacement. Unlike physical enforcers like Xhaka and Elneny, the Italian is of a different mold. Someone who can control the pace of a game and get things moving on the attacking front.
Yes, I know Ramsey and Wilshere are still in the club's books, but their progress seems to have stuttered in recent times.
And at 24, Verratti's still in his groove, in his prime, and continues to step it up a notch every season.
Written by Omar Almasri
Like O-Posts on Facebook
You can also follow O-Posts on Twitter @OPosts