After a season of shocks and surprises, the 2016/2017 season has been a bit more predictable.
The top 6 is what we thought, the three teams who went down are not surprising while everyone else has had finished in or around where we expected bar the odd exception.
With the only thing left to decide is who finishes in fourth, most managers have begun assessing their seasons and began planning for next year. So where do they begin? What does each club need to do to improve on their season?
Here, we're going to take a look at each of the 20 sides and analyse their season and how to the move forward for next season.
Arsenal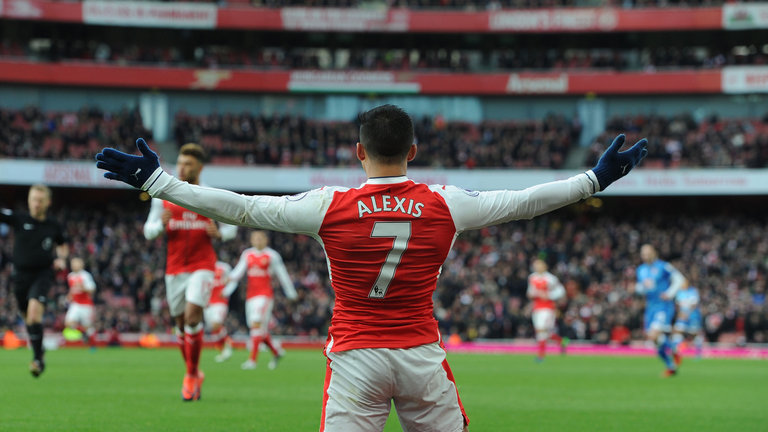 Summary
Nothing surprising from Arsenal here. The only surprise you could say is how dramatic their downfall was.
Arsenal are a weak side who are easy to bully and lack the mental strength to challenge for the title, this we already knew. But the way in which they crumbled was a bit startling.
But with Conte, Pep and Jose coming in and Liverpool and Spurs showing signs of improvement, Arsenal were always going to struggle.
Player of the Season – Alexis Sanchez
Young Player of the Season – Alex Iwobi
One to Watch – Alex Iwobi
What do they need?
Reinforcements. Arsenal need to bring in characters, leaders. I look at that Arsenal team and while I see quality players, I see no leaders.
Sanchez, Özil, Cech are top players who could get into most teams but if they are to finish higher than 4th, they need leaders.
Where do they need to strengthen?
Cover at centre half, a leader in the middle and a top class centre forward.
Koscielny is good enough, Mustafi has shown promise but Gabriel is not up to scratch.
Xhaka can pick a pass, shoot and is not afraid of a battle. He just needs to be controlled. Welbeck, Giroud and Iwobi are not 20 goals a season strikers.
Who should they go for?
Benedikt Howedes (FC Schalke O4), Blaise Matuidi (PSG), William Carvalho (Sporting Lisbon), Alexandre Lacazette (Lyon).
Howedes would provide great competition for Mustafi and Koscielny but it's his presence that Arsenal need. Currently captain of his club side, he has the qualities that would hold Arsenals weak back four together. Having recently agreed to sign team mate Sead Kolasinac and with several German internationals at the club, Howedes would be an ideal fit for Arsenal.
Matuidi and Carvahlo provide strength, power, tenacity and defensive solidity. Both a similar types of players and with Arsenals system, there would only be room for one.
Finally, Lacezette and Arsenal has been a move that's been rumoured for years at this stage. Lacazette has not only scored goals in France but in Europe as well. I think he would be a perfect fit to the system and has the potential to be the 20 goal a season striker Arsenal desperately crave.
AFC Bournemouth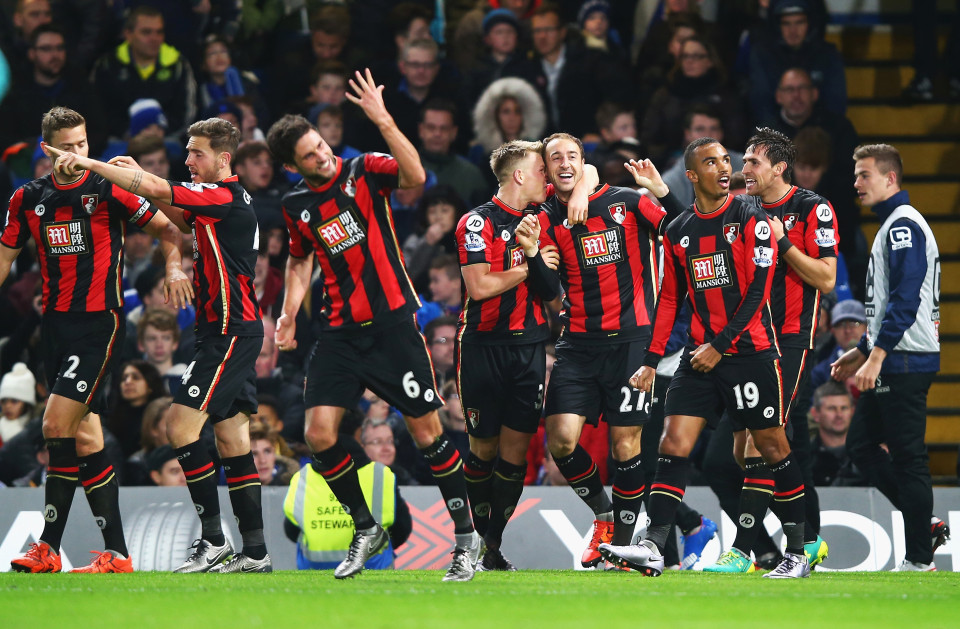 Summary
An inconsistent season for the Cherries but a successful one. For a club the size of Bournemouth, staying in the league is their number one target.
A strong run to the end of the season has seen them only lose 2 out of 11 games which were to Spurs and Chelsea. Eddie Howe has his team in 10th place ahead of the final round of fixtures and if they can secure a top half finish, it would cap an amazing season.
They will be looking at their defensive record as they have conceded two or more goals on 23 occasions this season.
Player of the Season – Josh King
Young Player of the Season – Ryan Fraser
One to Watch – Josh King
What do they need?
They need to keep their best players such as King and Arter and get Wilson back fit but more significantly, they will need to become defensively solid next season or at least improve in that aspect.
If goals begin to dry up, they will need to their defence to get them out of trouble.
Where do they need to strengthen?
A new goalkeeper, centre half, a centre midfielder and a striker.
Boruc is a classic lower-half table keeper. Good shot stopper but prone to errors, very like Gomes or Randolph.
Cook and Francis are good leaders and good characters but they need a quality centre half if they are to stop leaking goals.
Adam Smith and Daniels have shown glimpses of their quality and Mings has done well since his return so I think they'd be okay at full back.
In front of them, I think they need a protector. Arter and Surman are good technical players that can unlock defences but I think they need a CDM to sit there.
Ibe and Fraser have proven themselves to be very dangerous players but Afobe isn't doing it and Wilson has been severely unlucky with injuries.
Josh King has had a fantastic 2017 but can he do it again next year? I feel another centre forward is what they need.
Who should they go for?
Joe Hart (Manchester City), Ben Gibson (Middlesbrough), Timothy Fosu – Mensah (Manchester United), Jermain Defoe (Sunderland).
Joe Hart won't be City's number one next year. The question seems to be where will he go next.
His wages at City might be too much for Bournemouth but if he was willing to drop his wages, I think it would be a great fit for both parties.
While Middlesbrough were relegated, they were defensively very good this year. They had the 10th best defence in the league and kept 11 clean sheets are large parts of this was down to Ben Gibson's performances. With Boro being in the Championship, it would be a good move for Gibson and would strengthen a shaky Cherries defence.
Fosu Mensah has not played much for Man United but has shown his raw potential. Quick, strong and a good tackler, he needs to get out on loan and get some game time and with Eddie Howe, I think Fosu Mensah would thrive under him.
Jermain Defoe doesn't need explaining. Defoe is a top striker, despite his age and will not be at Sunderland. Considering his available to leave on a free, this one would be a no-brainer.
Brighton and Hove Albion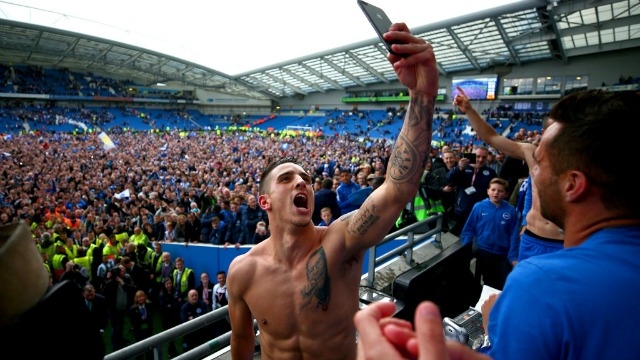 Summary
After many close calls, they have finally achieved the goal of the Premier League. There was no shame in finishing runners up to Newcastle and despite the odd blip, they didn't seem to falter at all and stormed towards the big time.
Chris Hughton knows all about the Premier League and will know what he needs to do if Brighton are to stay up.
Player of the Year – Anthony Knockaert
Young Player of the Year – Solly March
One to Watch – Anthony Knockaert
What do they need?
Like all teams who get promoted, they need to strengthen.
The gap between the Championship and the Premier League is huge and promoted teams need to ensure they sign the right players.
Teams have proven you don't need to sign a lot of Premier League experienced players but players who fit the style of play. Burnley's key signings were Steven Defour and Jeff Hendrick, both players had never played in the Premier League before yet played a key part their success this season.
Brighton need to strengthen in the right areas with the right players if they are to stay up.
Where do they need to strengthen?
Centre half, right back, winger, striker
Shane Duffy and Lewis Dunk have been excellent at the back this year. But as seen at international level, Duffy has been caught out with games against France and Moldova springing to mind.
If Brighton are to stay up, they need to make The Amex a fortress the same way Burnley have done with Turf Moor. They won't do that by leaking goals.
At right back, Bruno has been excellent but at 36, can he sustain the pace of the Premier League and if so, for a whole season? Anthony Knockaert and Jamie Murphy have had excellent seasons and it's great to see Knockaert getting a shot at the Premier League after what happened with Leicester.
But I feel a fast winger who can worry defences wouldn't go amiss, especially someone effective on the counter.
Glenn Murray never got the crack he deserved with Palace in the Premier League so it's great to see him get one with Brighton, but a proven goalscorer to support the 34 year old Murray would strengthen their cause.
Who should they go for?
Curtis Davies (Hull City), Hugo Mallo (Celta Vigo), Adama Traore (Middlesbrough), Jay Rodriguez (Southampton).
Curtis Davies is a proven Premier League centre back. His experience and ability would provide Brighton with a solidity that they would need.
Hugo Mallo has a wealth of experience despite only being 25. His energy down the right flank would provide Brighton with a different option at right full and also provide cover for the aging Bruno.
Adama Traore has raw potential. His pace and ability to beat defenders is frightening but it's his final product that needs work.
Jay Rodriguez has had a rough time since his injury but there's no doubt his ability. A fresh start might be what Rodriguez needs to get back to the form that saw him called up to the England squad.
Burnley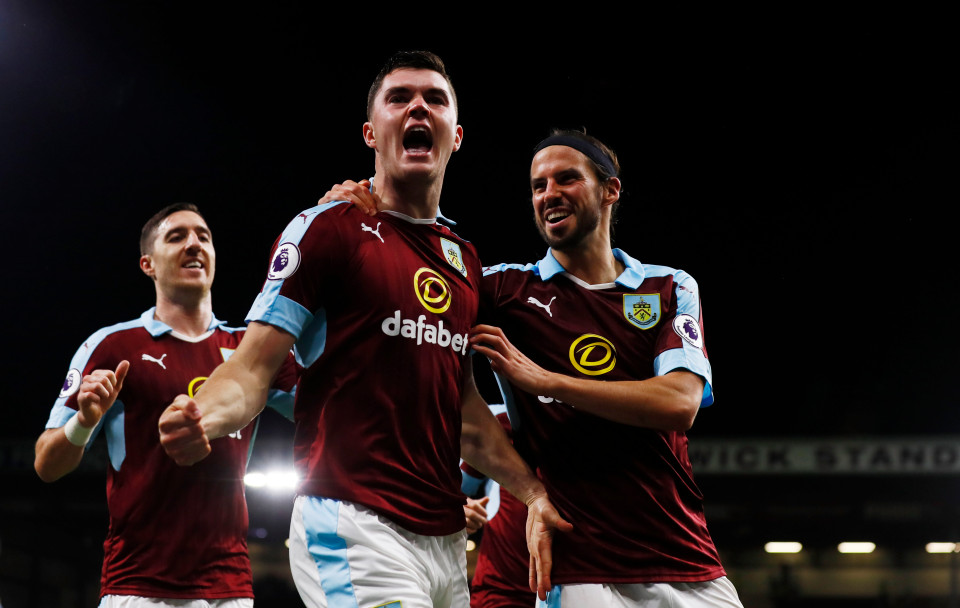 Summary
Third time's the charm for Burnley. Having fought off relegation, Burnley have really been a tough team to break down this year.
Their home record has been fantastic although their away record has been abysmal. However, if you offered the season they've had to Sean Dyche at the start of the season, he would have jumped at it.
Guaranteed safety and the possibility of finishing as high as 11th, a success for all involved at the club.
Player of the Season – Tom Heaton
Young Player of the Season – Michael Keane
One to Watch – Robbie Brady
What do they need?
Like many of the smaller teams, they need to keep their best players. Heaton and Keane have been excellent this season and the latter has strongly been linked with a move away, most notably Liverpool.
If they do this, then all they need to do is improve on their away record. They've only picked up 7 points from a possible 57 on the road this season and have lost 14 of 19.
Where do they need to strengthen?
Centre midfielder, right winger, striker.
Signing Steven Defour was a big plus this season as he provide that bit of class the Burnley team needed. However, one as we've seen over the years, having one quality midfielder isn't enough. I feel they need a player who can unlock defences.
Scott Arfield has created 39 chances in 30 games this season 91% of his passes are forward. However, in Sean Dyche's team, you have to work and run all day and there are not many quality number 10s fit that bill so a box to box midfielder with a creative edge would be better suited.  
Across the midfield, I feel a right sided midfielder is needed. George Boyd has given Burnley some memorable moments and has a great engine but if Burnley are to move forward, they'll need to make improvements.
Finally, every team needs a top striker if they are to stay up and while they have one in Andre Gray, he is not consistent enough. Barnes is a good backup option but not good enough to lead the line regularly.
Who should they go for?
Davy Klaasen (Ajax), Josh Onomah (Spurs) Patrick Roberts (Manchester City), Troy Deeney (Watford)
Davy Klaasen has been a fantastic player for Ajax. His ability to unlock defences is renowned but it's his work rate that has made him a favourite with the Dutch giants. I feel those two key attributes would make him a perfect fit for Sean Dyche's side.
Josh Onomah has shown promise at Spurs. I feel a one year loan is what he needs and I think Burnley could provide him with that. While Burnley need an upgrade on the right side, Onomah isn't there yet but he would be a great player to have for the season.
Patrick Roberts has shown his talent at Celtic over the past two seasons. His ability to take on players, play key passes and chip in with goals is exactly what Burnley need. While he hasn't proven himself in a strong league, I feel he can make the step up to the Premier League.
Troy Deeney has proven he can score goals in the Premier League. He is a talented striker and a leader but clearly isn't in favour with Walter Mazzarri. He needs a move and Burnley need another striker.
Chelsea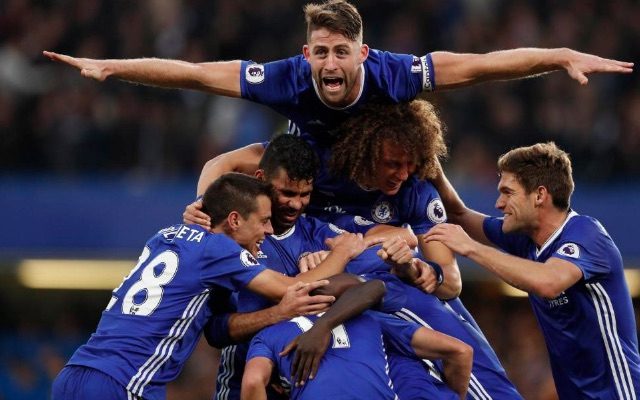 Summary
Antonio Conte couldn't have asked for a better season. A record breaking league campaign has seen them cruise to the title.
A rocky start was quickly put behind them and their 13 game winning streak was key to their success.
The sheer dominance and ruthlessness of the team was unprecedented and unmatched by any of their rivals.
Player of the Year – N'Golo Kante
Young Player of the Year – Kurt Zouma (no young players really to choose from)
One to Watch – Nathan Ake
What do they need?
Depth. Chelsea have had an amazing season but would they have achieved what they have if they were playing in Europe.
Personally, I don't think so.
Conte has only changed his starting line up 38 times this season, averaging one per game. The extra travel and games would have meant more rotations and the like of Hazard and Azpilicueta would not have played every minute of every game.
They have many players out on loan so cover won't be hard to find but will Conte be happy with them or will he spend again. The likes of Marco Van Ginkel, Tammy Abraham, Baba Rahman and Bertrand Traore can add to that cover.
They also need to keep Costa. There are very few players who can match his pace, power, aggression and ability to lead a one man front line.
If he goes to China, they will have to spend big to find a suitable replacement.
Where do they need to strengthen?
In terms of a starting 11, I think they are in great shape. But as already stated, they need cover.
Mourinho's 04/05 and 05/06 title winning sides were excellent but in 06/07 and 07/08, they lost the title based on their depth of the squad. Players like Khalid Boulahrouz, Tal Ben Haim, Claudio Pizarro and Steve Sidwell were not good enough.
Conte needs to invest in squad players to strengthen his squad. Back up in the wing back areas and in central midfield is needed.
I do feel they need a right wing back though. Despite Moses having a great season, he has been caught out, especially against Spurs.
Who should they go for?
Miguel Layún (FC Porto), Joao Cancelo (Valencia), Alexandre Lacazette (Lyon)
Miguel Layún has been a consistent full back for Porto. He created the most goals in the Portuguese league last year and his ability to play on either side of the defence makes his versatility an added bonus. He would be great cover for both Alonso and Moses.
Joao Cancelo is a natural right back but can play as a right wing back as well. His attacking threat, energy and defensive capabilities make him a great candidate for Victor Moses position.
Alexandre Lacazette, as mentioned earlier, is a top centre forward. If Diego Costa is to move, they need a top striker to replace him and there are very few out there but with Lacazette stating he wants to leave Lyon, it would be a great signing.
Written by Andrew Kavanagh
Like O-Posts on Facebook
You can also follow O-Posts on Twitter @OPosts