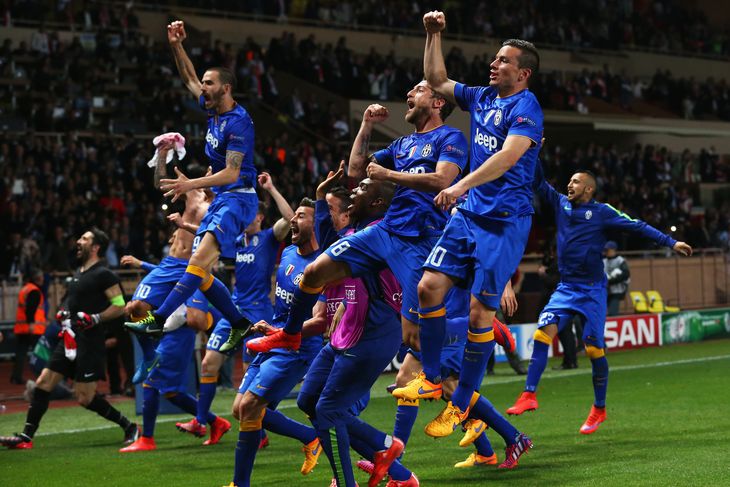 So all the four favourites made it through to semi-finals, but what can we make of what happened?
On Tuesday night:
-  PSG showed the entire football world just how good, bad and limited their team is. Their first half at the Camp Nou was horrifying (entertaining if you are Barca fan), but in the second half, they put Barca under so much pressure that even Messi started diving.  But of course they messed up all the chances they created.
-  David Luiz showed us that he is one of the few players, who have the power to be the worst and the best player in the same game with his immense contribution at the Camp Nou.
-  Despite being on course to win all three titles in France for the second year running, Laurent Blanc is expected to be relieved of his duties at the end of the season. Now what could possibly be the reason? Is it his inability to go beyond the last eight in Europe? Is it the fact that he turned Cavani, a fantastic forward, into Ibrahimovic's favourite left-sided or right-sided sidekick? Is it because he is building his team around Ibrahiselfish? Or just all of the above? Wondering…
-  Neymar spent the entire second half of the game against PSG trying to set up his Boss; sorry, I mean teammate Messi instead of actually creating a goal-scoring chance for his team. Is he expecting a pay raise? From Barcelona, I mean.
-  Luis Suarez did not dive in the entire game against PSG. Maybe there was something wrong with him. But anyway, congrats to him for not diving; and to Neymar as well.
-  Somebody needs to tell Javier Mascherano to stop his falling and touching the face nonsense because no matter how hard he tries it won't get him into Captain America 3, Suicide Squad or any other Hollywood movie. And the new Spiderman role already belongs to Aubameyang so por favor Javier, stop this nonsense.
-  As we all expected and anticipated, Bayern Munich made a fool out of Porto at the Allianz Arena. But the good news and of course the silver lining for Porto is that they didn't concede 7 goals and they manage to score one goal. But despite that, they were ghosts during the entire game. Honestly, did those guys went to Germany to play or did they just go there to be slaughtered?
On Wednesday:
-  Real Madrid finally managed to do the unthinkable; they beat Atletico within 90 minutes. But that was not the only surprise. One of the three surprises was that it wasn't Ronaldo who scored the goal, it was Chicharito. Yes, the king of outcasts, one of the very few players who managed to be the best bench-warmer in not only two different clubs but in two different countries: jersey number 14, Javier Hernandez.
- But if you thought that Hernandez goal was the cherry on top, you were mistaken. And although it has happened before, it has to be the biggest surprise of the week.  So here it goes: CRISTIANO RONALDO MANAGED TO BE UNSELFISH IN FRONT OF GOAL IN THE DYING MINUTES OF A VERY IMPORTANT GAME. Yup, he is the one who gave to vital pass to Hernandez. And that merits a big congrats to CR7. I guess if Messi can dive, Ronaldo can be unselfish. Freaky auarter-finals.
- Despite being the hero for Real Madrid, Hernandez managed to make Arsenal legend Thierry Henry angry for not celebrating with Cristiano, who assisted the goal. Now, I don't know if it is Henry's Arsenal's side or his Barcelona's side talking but what's wrong with running for joy and waiting for your mates to come and celebrate with you? Ronaldo does that for every goal. And no offense to 'King Henry', but how many times has he run to the teammate who assisted him when he scored goals? For what I can remember, he would run slowly and wait for the rest of the team to congratulate him. So with no disrespect to your opinion Thierry, I don't see what's wrong with running for joy.
-  Sticking with Real, Hernandez  heroics might just have allowed Ancelotti to live another day, but Los Blancos boss will be hoping that his boys rediscover their ability to finish off their opponent earlier in the game as the season enter its final stage. And if UEFA 'fair' draw keeps Barca and Bayern apart for the semis to set up 'Europe's most wanted final', Real will be in for a tough end of the season.
- After taking a page from Mourinho's book by not rotating his players, Ancelotti used another trick from the 'Special Book', book of the Special One, by playing a defender in central midfield. What's next? Loaning 30 players?
- After an amazing 2013/2014 season, Atletico Madrid is showing us just how much they have fallen. They went from Champions League finalist and La Liga winners to… just another good team. That's what happens when you sell most of your best players and replace them with excellent but cheap bargains. In football terms, that's called doing an Arsenal.
- After realising how dangerous Monaco can be on the counter, Juventus left their fancy football in Turin and honoured their Italian origin by playing the Italian game; defend with 12 men, with the twelfth men being the coach.  Although it's not many people's glass of Heineken (Champions League sponsor), it's a genius tactic.
Conclusion
With the draw sealed and dusted in Nyon, which have set two gigantic semi-final clashes: Real Madrid vs Juventus and Bayern Munich vs Barcelona. Two matches, both rivalries that evoke memorable moments and tight encounters. They should prove worthwhile as always, no matter the result and outcome.
Written by Christopher Kayembe
Follow Chris on Twitter @SupraKays
Like O-Posts on Facebook
You can also follow O-Posts on Twitter @OPosts