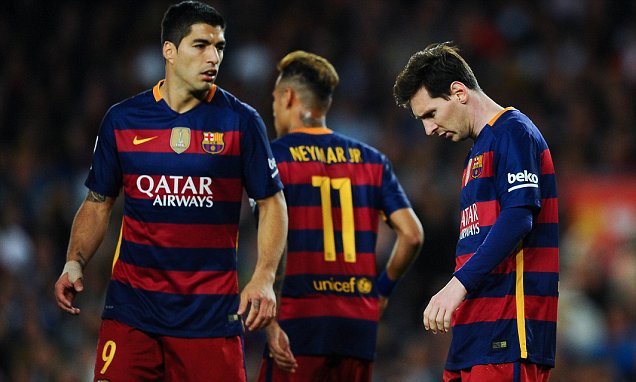 Since the rise to dominance of Pep Guardiola's Barcelona, the club has not endured a fortnight as torrid as the one they have just gone through. Dreams of a repeat of last season's treble have gone up in smoke courtesy of a Champions League exit to Atletico Madrid while three straight league defeats have blown the Primera Division title race wide open.
Barcelona hadn't previously lost three league games in a row since 2003 but their Clasico defeat followed by a 1-0 loss at Real Sociedad and 2-1 defeat to Valencia have left them scratching their heads as to what's gone so badly wrong and given hope to both Madrid clubs in what is now a three-horse title race.
This demise hasn't come via an injury crisis or anything of that ilk with Barcelona at full strength for almost all of their last five matches that have yielded four defeats. Perhaps tiredness is one factor with Luis Enrique's team selection among the most predictable in world football. Everyone knows Barca's strongest eleven and in the majority of games, barring injuries that is what he sends out.
That's all well and good when things are going well and they have been going very well but perhaps the sheer volume of games is finally catching up with this side.
In the manager's defence he was unable to add any players last summer due to the club's transfer ban and surely would have brought in a few extra players to call upon when tired legs started to creep in were that not the case.
Over-dependence on their superstar front-three
Clearly Barcelona are not suddenly a bad side but what the last two weeks has highlighted is their dependence on the front three of Messi, Neymar and Suarez. When at least two of them are on-song, they generally blow even the best teams away but when two or even all them are below their best, as they have been in recent weeks, Barca suddenly become vulnerable.
70 of their 88 league goals this season have come from their three forward players which is an abnormally high percentage which indicates both the brilliance of the trio but also the lack of a goal threat in other areas of the team.
Not only that Barcelona's defensive deficiencies have also become more apparent and they are clearly more noticeable when the side is losing games rather than winning but still conceding goals.
The Catalans are not the sort of team that wins 1-0 and whereas Atletico Madrid have been able to keep winning despite their struggles in the goal department for much of the season thanks to their outstanding defence, Barcelona do not have that luxury.
What needs to be done
The long-term solution to those problems will have to wait till the summer. In the short-term if Barcelona are going to win La Liga and the Copa del Rey then they are most likely just going to have to stick with the same team and hope and pray that Messi, Suarez and Neymar quickly rediscover their form.
It's a simplistic approach but the lack of comparable quality in reserve means it's their best shot at success. Their Champions League exit will allow for plenty of midweek rests and if Barca can come through this week still on top spot then they'd be very confident of still finishing the campaign with a domestic double.
Written by Mark Sochon
Follow Mark on Twitter @tikitakagol
Check out his brilliant blog on all things La Liga, Tiki-Taka-Gol!
Like O-Posts on Facebook
You can also follow O-Posts on Twitter @OPosts