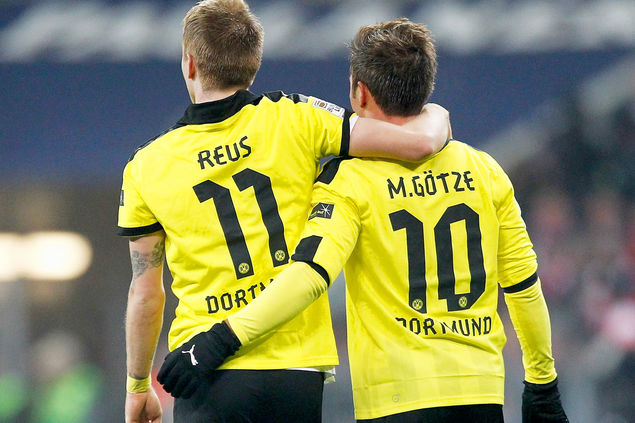 For a while now Mario Gotze has been linked with a move back to his former club Borussia Dortmund, but the return now looks odds on to come to fruition sooner rather than later.
Hans-Joachim Watzke - Dortmund's Chief Executive - disclosed earlier in the week that no agreement had been arrived at, but his opposite number at the Allianz has most recently revealed that a deal could be sealed within the next 24 hours.
And the deal has officially been confirmed with the fee reportedly set at around £22 million and a 4 year contract.
The golden boy
Tagged 'Gotzinho' by the German press- much like Ronaldinho and all the great Brazilian 'inhos'- there was plenty to suggest that the then teenager would be the country's golden boy, and little to suggest that he would be a flop.
In a way he did become Germany's golden boy by scoring the winner in the 2014 FIFA World Cup against Argentina, nonetheless even that didn't seem to convince Pep Guardiola of a deserving place in the pecking order.
The appointment of Carlo Ancelotti won't bring with it a change of fortune either, as the gaffer has given the red light for the talks to transpire.
Mario Gotze was quite a sensation from the outset. Having spent eight years as a youth player with Borussia Dortmund, his elevation to the first team in 2009 was as fated as it was deserved.
Acrimonious departure
However, his departure to Bayern Munich at the height of Dortmund's success was met with a lot of spite and vilification to say the least.
In fact, supporters at the South Stand of the Signal Iduna Park - the largest stand in Europe with a capacity of 25,000 - revealed a banner telling the attacking midfielder to bugger off in the most verbose of ways: a lucid indication that love was lost…a lot of it.
Wise move
With a vast majority of his appearances being as a technical substitute, a move away from Munich will do best for his career more so given that he only has a year left in his current contract.
Shinji Kagawa left Dortmund for Manchester United in 2013, but was unreservedly welcomed back when he rejoined the club two years later.
Fans of the Yellow Wall have over the years proven to be the most receptive, and although there was bad blood during the break up, Mario Gotze will still be accepted with open arms.
Written by Brian Humphrey
Follow Brian on Twitter @brihum
Like O-Posts on Facebook
You can also follow O-Posts on Twitter @OPosts