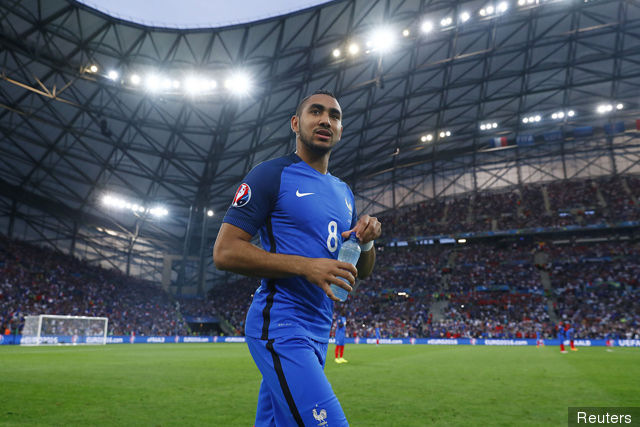 Below is the eighth installment of a Euro 2016 column titled "Footé in France" by O-Posts mainstay and top football writer, Adam Gray.
Another major international tournament and James Rodriguez is at it again. After being instrumental to Colombia's run to the quarter-finals of the Brazil World Cup in 2014, Rodriguez has this time been behind his country's run to the semi-finals of the Copa America.
Los Cafeteros may have been edged out by Chile in Wednesday night's game in Chicago but Rodriguez left his mark in the States by scoring twice in the group stage before creating a series of chances his team-mates simply couldn't convert in the quarter-final with Peru.
Undeterred, Rodriguez keenly set the tone for the ensuing success in the penalty by slotting the first kick home.
Rodriguez will now be tasked with sorting out his uncertain club future at Real Madrid, with speculative rumours linking him with Manchester United abound after a disappointing second season at the Bernabeu.
It was the midfielder's exceptional performances in the World Cup and the wonderful volley he powered home against Uruguay in the last 16 that convinced Real president Florentino Perez to part with the €80 million to sign him from AS Monaco and of course, the hype and excitement generated by Rodriguez's emergence to the fore out in Brazil fitted in perfectly with the 'Galactico' policy Perez is always keen to cultivate.
Rodriguez may have sold many of his JAMES 10 shirts but across two seasons he has done little of note in the white of Madrid. Indulged by Carlo Ancelotti in a first season devoid of trophies, the attacking midfielder found himself out of favour with Rafael Benitez and then Zinedine Zidane.
The Champions League was won under the latter, but Rodriguez had to watch from the bench in Milan as Lucas Vasquez and Isco were thrown on ahead of him.
He ended his second campaign with just 4 goals in the league since November and with his all-round influence declining notably after playing 14 fewer games than he managed under Ancelotti in his debut year.
With Perez's name-based transfer policy usually ruthless (see Angel Di Maria), Madrid may be looking to find Rodriguez, who could be made available for a knock-down price, a buyer this summer, despite Perez's insistence that he is not for sale, with the midfielder's obscene buy-out clause of £380 million lying way out of reach.
Then Perez and his Madrid circus will set their sights on their next star attraction and the next glittering unveiling of a latest 'Galactico'.
Potentially stepping forward to fill that billing may be another creative midfielder enjoying sensational form at a major international tournament, with Dimitri Payet attracting all the links to the Spanish capital without any solid offer or approach being made.
Payet is lighting up Euro 2016 for the host nation France and Zidane is said to be a fan of the creative attacker who will be primed to fill a Rodriguez-shaped hole.
It would certainly be a risky move for Real given that Payet will be 30 by the end of next season and is likely to command a big fee with West Ham now boosted by the insurance of their move to the Olympic Stadium and the cash injection from the remarkably lucrative Premier League broadcasting deal.
It is going to take a sizeable fee to pluck away the poster boy that represents the newly gentrified London club, with owners David Sullivan and David Gold intent on sustaining the excitement surrounding the club as one that can hold onto and attract the bewitching talent of the player that so simply made the Premier League's team of the season in May.
However with Perez having set previous precedents for short-termism with his signings, splashing big-money for a player at the summit of his career isn't going to bother the president, ever the pragmatist when it comes to signing huge-names in the search of tapping into fresh cash revenues, too much.
Payet however must be wary and he can take note from the fate of Rodriguez of just how sudden and sharp the fall from grace can be. The only silverware to the Frenchman's name so far in an eleven year career is a pair of domestic cups he won playing for SS Excelsior on the French Island of Reunion, so he may be tempted at the chance to fill his trophy cabinet before he reaches the autumn of his time. But that comes with the risk of struggling to adapt to the heightened expectation and standard which has seemingly accounted for Rodriguez at the Santiago Bernebeu.
With his armoury of unerringly accurate free-kicks, nimble footwork, glorious dribbling skills and a delivery that is alarmingly consistent, Payet developed into West Ham's main man in a season they finished 7th under Slaven Bilic.
With a minor criticism that he tended not to use his array of talents to dominate games in the Premier League as much as he could, he seems to have upped it a further level in the summer with France, orchestrating their comeback against Romania in the first game before hitting a sensational winner then scoring a glorious second goal in the victory over Albania.
Like at West Ham, Payet has been the player France have turned to in this tournament to guide them through. He is unlikely to be able to thrive off such responsibility at Real Madrid where he will be cast in a supporting role to a host of inflated egos and pampered individuals.
West Ham captain Mark Noble believes he will be playing alongside the Frenchman when the new season kicks off in August, but one suspects that the further a Payet-inspired French team go in this tournament, the more appealing he will become to Perez and his business plan.
Though that circus has already churned through James Rodriguez, the Colombian casting glances at a possible new club. Payet must be careful if he is to tread a similar route.
Written by Adam Gray
Follow Adam on Twitter @AdamGray1250
Like O-Posts on Facebook
You can also follow O-Posts on Twitter @OPosts