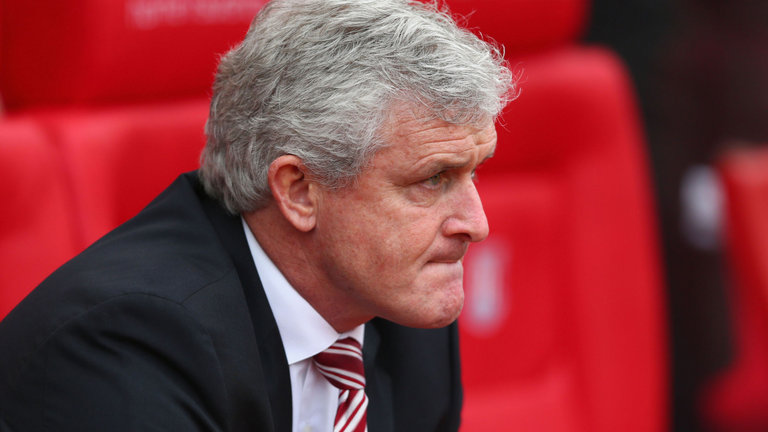 It's not often mid-table teams are discussed; only when they are involved in drastic manager changes or are in an upset over one of the top clubs.
None of which have been occurrences for Mark Hughes' Stoke City this season; an extremely underwhelming performance overall and excluding their last game of the 2016/17 campaign (0-1 victory over Southampton), it is fair to say the club has really not shown much improvement.
Manager bandwagon?
It's easy to say "Oh get Mark Hughes out" but at the same time we must question; is that really what's wrong?
Stoke City fans desperately wanted a change of playing style after a few years in the top flight as the route one football they played was being ridiculed; teams who were defeated by it claimed the tactics were too aggressive and lacked aesthetics. Absurd, but nevertheless.
Tony Pulis was shipped out in 2013 after being the only manager to ever take Stoke City to an FA Cup final (where they lost 1-0 to Manchester City), to be replaced by his fellow Welshman Mark Hughes; hopes were high for Stoke.
After a mediocre season or two from Mark Hughes, it was clear (and still is) that there is something severely lacking.
Pulis stormed onto the scene after taking charge of Crystal Palace in 2014. They shocked everyone including Liverpool who were looking hopeful to snatch the title from Manchester City, but threw a 3-0 lead away to the persistence of Pulis and his men (ending 3-3).
Point being, Tony Pulis is a fantastic manager regardless of his managerial tendencies.
Championship players
Often teams come up from the Championship and with them bring a few players who are not equipped for the Premier League, the worse thing about this is they don't leave the club, and furthermore don't even leave the starting line-up.
The fact Stoke City has a star player in Shaqiri and several other underrated players, who perform every game (Arnautovic, Shawcross, Cameron) yet still don't get the results, does say something about the rest of the players.
Stoke do still have a severe problem of 'Championship quality players' who start games and here goes:
Glenn Whelan
Now let's try to look past the fact he has played 30 games and got 0 goals and 1 assist this season, the 33 year old has really not made an impact in matches he plays in.
He looks very lazy on the pitch and simply does not offer much.
Look at Joe Allen, 36 appearances, 6 goals and 2 assists, nothing mindblowing but he is consistent.
Jonathan Walters
It is extremely hard to class this literal machine as a Championship player, but in my defense I honestly appreciated him back when his engine was fully functioning.
Unfortunately, I have failed to see much of an impact from him as of late when he charges onto the pitch.
Phil Bardsley
Premier League attackers would be delighted to hear that the club has decided to retain him for another season.
As a back-up he is alright, but he really does not provide anything different to the back line.
What Stoke City need
Needless to say a few changes in players are in order, but possibly targeting some quality youngsters or simply some finesse players to really sharpen up the play.
Someone like Shaqiri who you know when they are on the ball something is going to happen, and the best part is that you simply did not know what that 'something' would be.
Stoke tried to get another N'Zonzi in the shape of Imbula who still has potential, yet that lack of aggressive and skillful presence in the midfield really shows.
Overall the fans of Stoke are overdue a change in play style, something or someone to really spice up their style of control and possession. Mark Hughes is renowned for his fancy possession statistics but there aren't enough goals to show for it, maybe delving back into the free transfer market where players like Jesus Navas sit.
And if the rumors of Stoke City placing a bid for Wayne Rooney are true and the deal goes through, that would make for some stunning headline news.
Written by Joshua Arnup
Follow Joshua on Twitter @JoshArnup
Like O-Posts on Facebook
You can also follow O-Posts on Twitter @OPosts