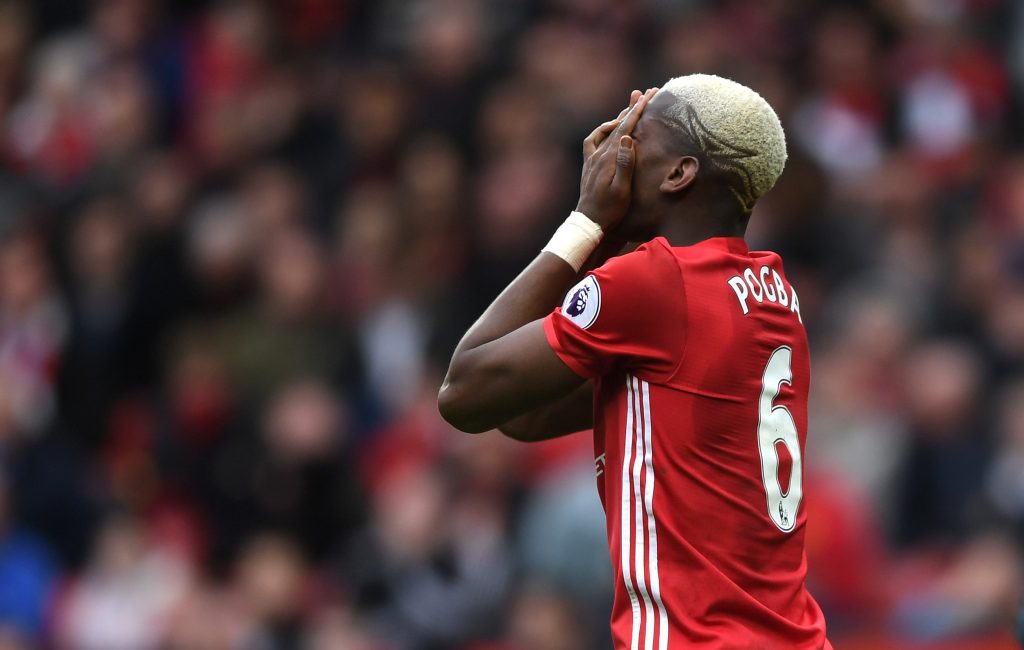 Following a 1-1 draw away in Rostov in the Europa League, it was time for Manchester United to switch attentions to FA Cup.
A tricky trip away at Chelsea was steeped in narrative - Mourinho returning to Stamford Bridge, Chelsea gunning for the double, how United would cope without the suspended Ibrahimovic, and whether the Conte 3-4-3 could be beaten.
The day before the game, rumours flew around that Martial and Rashford were ill, and Wayne Rooney was injured - which would mean Marouane Fellaini up front.
While this was an enticing proposition for fans (watching an aerial duel between Fellaini and Luiz), it was not to be as Rashford declared himself fit to start.
Mourinho lined up in what appeared to be a 4-4-2 formation, but switched to a 5-4-1 without the ball to protect against Chelsea's counter.
Recalls for Matteo Darmian and Phil Jones saw the two complement Chris Smalling and Marcos Rojo at the back, with Ashley Young and Antonio Valencia operating as 'half-backs'.
Fellaini, Pogba and Herrera started behind Henrikh Mkhitaryan and Marcus Rashford.
Starting off on the front foot
Most people expected a classic Mourinho 'bus parking' - however this was not to be the case to begin with.
Chelsea's 3-4-3 is built on the idea of playing out from the back through Courtois and the back 3 of Luiz, Azpilicueta, and Cahill.
While this generally works against a team that stands off, United started off on the front foot and pressed highly.
Cahill in particular was targeted by Antonio Valencia, Ander Herrera, and Marcus Rashford.
It seemed to confuse Chelsea, until Eden Hazard found himself in a central area.
Smalling had gone with him, and Hazard turned him with a dummy and was racing into the box.
His shot was deflected off Darmian and brilliantly parried for a corner by David De Gea.
The resulting corner saw Gary Cahill free, and his shot was destined for the bottom corner until De Gea came through with another strong right hand.
Manchester United's tactic to stop Chelsea was based on the press, but also to 'tactically foul' Eden Hazard every time he received the ball (read: kick him until he went down).
While this may have been one way of approaching the Belgian, it did mean that the referee was sure to take note of the offences.
First warning
The first instance that brought a card out was when Herrera blatantly bodychecked Hazard (and could have no complaints).
Darmian had a nibble too, but it was when Phil Jones cynically brought down Hazard that Michael Oliver decided to have a word.
It seemed that he told Smalling/Jones that enough was enough, and no matter what happened the next foul on Hazard would be a yellow.
Within 30 seconds, Herrera clipped Hazard again and the referee gave him his second yellow on the 35th minute.
Once Mkhitaryan was sacrificed for Fellaini, it seemed that the bus was firmly out of neutral and would roll in.
The bus firmly in place
The Manchester United bus was firmly in place, and leading into halftime it was still 0-0.
Chelsea were clearly getting frustrated and had relied upon the odd moment of magic from Hazard or a long shot from well outside the box.
Half-time came and went without changes, and Chelsea continued where they left off.
Over 70% possession, the ball recycled from wing to wing, and they made the extra man dominance count.
Kante again
The deadlock was broken by the most unlikely of scorers.
N'Golo Kante received the ball just outside the box, and was in space.
He curled a shot around Rojo into the corner to celebrate his 2nd goal against Manchester United at home in as many games - to the delight of the fans.
Mourinho continued to leave things as they were, banking on United getting at least one chance to try and draw level. It nearly came five minutes after the goal.
A hopeful clearance up top, and David Luiz misjudged the ball - Rashford was onto it like a flash.
He drove at Cahill, twisting and turning, and shifted the ball into his left foot.
He did the right thing by aiming for the far corner, but Thibaut Courtois was equal to it with his left foot.
That, most fans felt, was the chance that could have changed the entire tie.
Struggling to kill the game off
Chelsea were trying to kill the game off, but couldn't - either due to profligacy or heroic defending.
Valencia and Rojo in particular were excellent, throwing in blocks and timing tackles exquisitely.
The only drawback was United were just inviting the ball back to them, especially with 10 men and a lack of an outlet.
Content with the result
There were a couple of half-chances towards the end of the second half, but both teams seemed to be happy with the result.
Chelsea to progress onwards in the cup, Mourinho just keen to exit without the need for extra time.
It was a limited game and not fun for the neutral to watch, but a classic Chelsea performance who deserved to go through.
The main focus
For United, the main focus now shifts to the Europa League.
A home tie against Rostov on Thursday is an opportunity to move into the last 8 of the competition- especially vital given the winners get a Champions League spot.
The Premier League also serves as an opportunity, but the form of the teams above them might mean that United finish outside the top 4.
With many key players either unavailable/suspended for Chelsea, they should come back into the team on Thursday night to aid progress.
Talking Points
Paul Pogba's form has been debated at length.
The two arguments are a) he was signed for that much money so should be delivering in the biggest games, and b) he's young, needs time to acclimatise, hasn't had a preseason, and to keep the faith.
The truth (as always), lies somewhere in the middle.
A bit much
While it is true that Pogba has been below expectations this season, asking him to take control of a game away at Chelsea with 10 men and next to Marouane Fellaini is a bit much.
United were completely defensive, with only Rashford up top as any kind of outlet.
He has also played almost every match for United this season, and might be experiencing a dip in form due to fatigue.
Remains important
The fact of the matter is he still remains one of the most important players for Jose Mourinho, and between now and the end of the season he will be expected to rise up and come to the fore in the crunch periods.
Written by Vishakh Chandrasekhar
Follow Vishakh on Twitter @VishC24
Like O-Posts on Facebook
You can also follow O-Posts on Twitter @OPosts