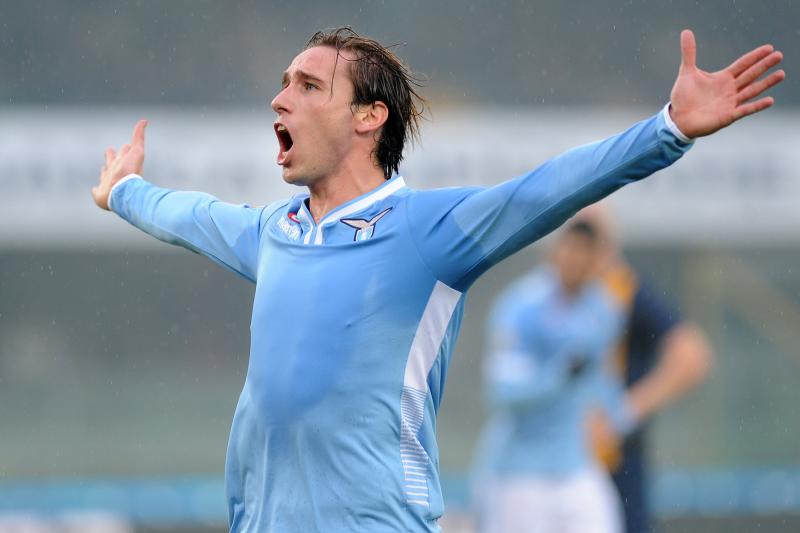 It is easy to notice some players whether it be as a result of a spectacular goal, a dazzling display of skill, a defence-splitting pass or a goal-saving challenge but Argentina and Lazio's midfield engine Lucas Biglia is known for none of these things.
Unassuming and quiet, Biglia may never steal the headlines, but he has proven his qualities time and time again and after playing an integral role in Lazio's return to the Champions League and cementing a place in the Argentina national side.
A gradual development since his early playing days with Argentinos Juniors now has Biglia linked with two of the biggest clubs in world football but why are both reportedly ready to open their cheque books?
Who is Lucas Biglia?
Hailing from the town of Mercedes, 100 Km west of Buenos Aires capital, Lucas Biglia was quickly spotted playing for his local side and incorporated into the renowned academy of Argentinos Juniors. Before making his debut in La Paternal, Biglia had already tasted success with Argentina's under-17s when he was part of the squad that won the South American Championships in 2003 and he later captained the side to a third place finish in the under-17 World Championship, scoring in the 3-2 semi-final defeat to Spain.
Biglia's professional debut for Argentinos followed shortly as they gained promotion back to the Primera but at the end of the following campaign, Biglia made the switch to one of the so-called 'Big Five' in Independiente. In the same year, Biglia avenged the 2003 under-17 semi-final defeat by helping Argentina under-20s to world glory alongside Lionel Messi, Sergio Aguero, Pablo Zabaleta and Ezequiel Garay in the Netherlands.
Eventually after continuing to impress with Independiente, Biglia made the step up to European football with Belgian side Anderlecht paying around €3 million for the 20-year-old ahead of Spanish clubs, Valencia and Villarreal.
It did not take long for Biglia to establish himself at the heart of the Anderlecht midfield and after helping the club to the title in his debut season, the number five was also named Young Professional Footballer of the Year. The club was unable to defend the title the following season but it did not prevent Biglia from being linked with a host of big clubs across Europe.
In spite of the continued speculation, Biglia remained in Belgium for seven seasons, notching close to 300 appearances and lifting four league titles. That is not to say that the continued rumours didn't affect Biglia with his relation with supporters at times strained over his desire to leave and test himself in another league.
That opportunity finally arose in July 2013 fresh off winning another Belgian title, when Lazio provided a route out and a step up to Serie A. The switch to one of Europe's top leagues did not faze the defensive midfielder and the Rome based club have steadily improved, culminating in them finishing third last season and returning to the Champions League.
Making the most of the opportunity to replace Fernando Gago in Argentina's midfield has only enhanced Biglia's reputation but whether it is for La Albiceleste or for Lazio, his understated work often goes unnoticed surrounded by more highlight-reel-friendly attacking players.
Every side, however, needs someone to do the less glamorous jobs and so this summer might just see Biglia take another step in his career progression.
Could Madrid or Man Utd turn to Biglia in midfield?
Biglia is no stranger to transfer rumours, but at 29 years of age he is now perhaps running out of time if he is to represent one of Europe's biggest clubs and as such it is unsurprising to find him at the centre of such speculation again this summer.
Unlike the dazzling displays of Brazilian Felipe Anderson or Italian international Antonio Candreva, Biglia went somewhat under the radar during Lazio's very positive 2014/15 season but it has not prevented Manchester United and Real Madrid being strongly linked with the Argentine defensive midfielder. It is little wonder with a Champions League campaign to prepare for that Lazio are keen to retain the services of their number five.
Italian newspaper Il Messaggero claims that a lucrative new deal has already been tabled but Biglia's agent, Enzo Montepaone has so far kept his cards close to his chest: "Soon I will be in Italy to speak to (Lazio president Claudio) Lotito. I am not giving too much space to the rumours (of a new contract). I will shortly speak with the club's leadership and then we will see."
Lazio may well need a bumper new deal to keep hold of Biglia if the rumoured offers from Manchester and Madrid are anything to go by. The values vary but United have been credited with an £18.6 million bid and Rafa Benitez almost immediately made Biglia a Real Madrid target after taking over this summer.
La Gazzetta dello Sport reports that Lazio are holding out for in excess of £21 million (€30 million) but Real are confident of striking a deal for less than this amount. Biglia may not be the most obvious Real Madrid signing given his lack of flair but just as he would in Manchester, he could provide an excellent ball-playing shield in front of the defence.
What would Biglia bring to either side?
Solidity and efficiency would be two words that Lucas Biglia would bring to any side and perhaps these are not the most eye-catching of terms and somewhat downplay his role but nonetheless they are crucial.
Since partnering Javier Mascherano for Argentina, the national side has looked far more compact and Gerardo Martino admitted during the Copa America that with Biglia, as opposed to Ever Banega or a more forward thinking midfielder, Argentina are a more solid outfit. At club level, it is very much the same with Biglia allowing those more attacking midfielders to enjoy the freedom while he sits deeper.
The statistics back this up too, with only Udinese's Brazilian midfielder Allan averaging more tackles per match in Serie A last season. However, Biglia is not the destroyer type of defensive midfielder and although his timely interceptions and tackles are a feature of his game so too is his passing. Only three players averaged more passes per match than Biglia and yet he still maintained a pass completion rate of 88%.
Despite having a good range of passing, Biglia focuses more on efficiency and protecting possession of the ball. Knowing when and who to give the ball to but also when to hold is a vital part of the central midfield and Biglia not only excels in this department but is also comfortable when asked to push further forward.
Madrid have a wealth of attacking options available and perhaps could benefit from a player willing to sit and do the 'simpler' tasks while Manchester United are continuing to build a side that could mount a serious title challenge. With Michael Carrick's career slowing down and injuries taking a toll, Biglia could provide an important role in front of Louis van Gaal's defence.
Will either actually come back to Lazio with a firm offer? Who knows, but both could do a lot worse than signing Lucas Biglia.
Written by Peter Coates
Follow Peter on Twitter @golazoargentino
You can check out more of his excellent work on Argentinian football through his website, Golazo Argentino
Like O-Posts on Facebook
You can also follow O-Posts on Twitter @OPosts