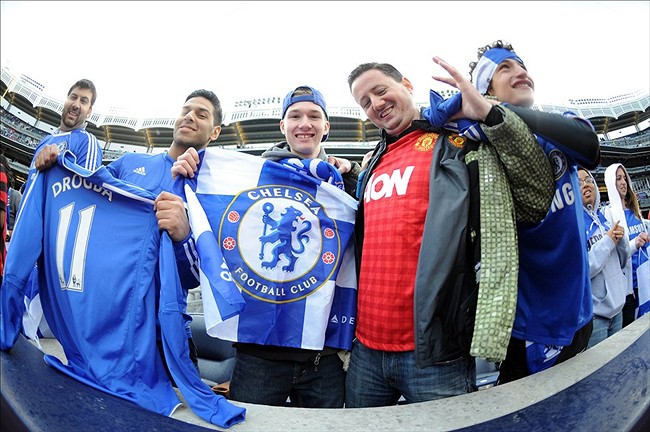 Here comes the weekend… On the Football front.
Here comes another weekend of… OK let's me just step right in:
- Starting in England:
 The game everybody (unless you hate those teams or you just don't care) is talking about this weekend is the derby between 'one goal margin' Chelsea and 'the former outcast and out positioned' Manchester United. With Mourinho's boys  doing everything to win the title and Van Gaal's army trying to finish the season on a high, this looks like it's gonna be a cracker…Or just an ordinary game. We never know with those teams.
- Manchester City will be hoping that their recent… run of amazing nonsense will end when they meet 'used to be fancied' West Ham. With both teams hoping to grab the three points in order to… well for City is to finish in the top 4 , for West Ham to justify their large spending last summer. This game is announcing itself to be a real fight for redemption for both teams.
- Liverpool meets Hull City on Sunday and with The Reds on the road to recovery and the Tigers at the door of relegation, we will probably witness another routine win for Liverpool. Or for Hull, we never know (even though we already do).
- Arsenal: with the Gunners in an amazing form, who can stop them? A team that can manage to defend well and put Arsenal defenders under pressure. Is Sunderland that team? Maybe. Or maybe not. No offense to the Black Cats but it looks like they going down. No offense if you are a Sunderland fan. Or a Chelsea fan.
- Moving to Spain:
And honestly speaking, the only game that looks tricky this weekend is Barcelona vs. Valencia (even though Barca is at home). No offense to Valencia but this looks like slam dunk  for Enrique's team. When it comes to rest of the game, its looks like business as usual.
Although it will be interesting to see how Ancelotti will mix his regular starting 11 and Castilla Senior (Real bench-warmers).  And when it comes to Atletico, it's obvious that ordinary football fans just don't care anymore.  But I do. Lol. No offense if you are an Atleti fan.
-Moving to Italy:
Realistically speaking, there are just a few questions that we should be asking ourselves: Will Juventus drop points to give Roma false hope? Will Salah score again? Will Napoli transfer their Europa League form in the League? Will Roma loose again? And of course which bench-warmer or which finished player will be linked to the two Milan clubs.
- In Germany:
Again just a set of questions: Will Bayern score 7 or just 3 goals? How will Kevin De Bruyne influence Wolfsburg's game? Will he score? Will he assist? Or will it be both just like every week? And for the rest of the teams (Leverkusen and Monchengladbach), good luck in your Champions League quest and all the best in your development of future Bayern players.
- And in France:
PSG have a chance to avenge their defeat to Barcelona by bullying Nice, Lyon can keep on enjoying top spot while it last (although we know it won't), Marseille can close the long gap to PSG with a win over mid-table Nantes, Monaco can show the world that they as bad as we think with a positive result against Rennes.
- Conclusion:
Before I check out I just want to point out something: Regardless of what happens between now and the end of the season, City must do a major overhaul this summer, from Pellegrini to Boyata. Coz if they don't, they will most definitely end up in the longest trophy-less spell in the history of trophy less spell. We might be looking Arsenal trophy-less run 2.0.
Supra Checkin' Out.
Written by Christopher Kayembe
Follow Chris on Twitter @SupraKays
Like O-Posts on Facebook
You can also follow O-Posts on Twitter @OPosts