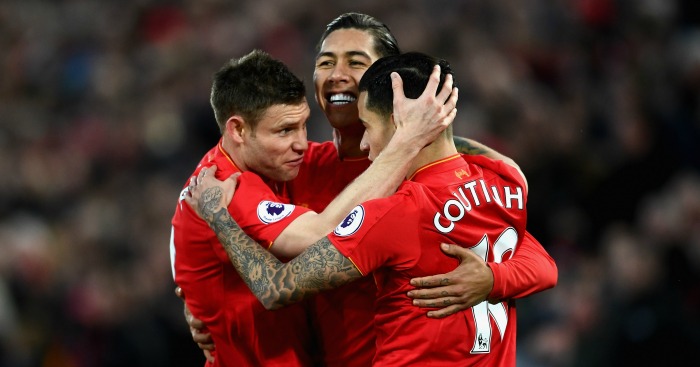 Arsenal's credentials to cope with tough away trips were put to the test when they travelled to the North West of England to play against Liverpool on Saturday.
Both teams knew a win would further advance their chances of attaining Champions League qualification, and quite possibly mount a late Premier League charge: with Liverpool particularly keen on repeating their heroics on the opening day of the season in which they drubbed the Gunners 4-3 at the Emirates.
Reds run riot
The Reds were inherently good on the day, blitzing past an Arsenal team further weakened by the absence of the injured Mesut Ozil and the rested Alexis Sanchez.
Trailing with two first half goals by Roberto Firmino and Sadio Mane, Arsene Wenger effected changes at the break, finally bringing on the maligned Alexis.
It was through the Chilean that Arsenal dished out some punishment of their own, with the 28-year old providing an assist  for Danny Welbeck.
With Liverpool still playing at full throttle, the Reds put the result beyond reach for the visitors with an injury time strike through Georginio Wijnaldum.
Impressive run against top six teams
For all the vilification received after loses to Bournemouth, Wolves and Leicester City, Liverpool have- contrary to popular dispositions- the best record against the top six sides in the Premier League bar none.
Of the 52 points amassed in the Premier League this season, 19 of them have come against the top guns: some of their most emphatic wins coming against Chelsea, Tottenham, Manchester City and the double over Arsenal.
Chelsea are second having collected 13 points against top oppositions, while Spurs and the Manchester clubs are fourth and fifth with 9, 7 and 6 points under the circumstances.
There's no prize for guessing who occupies the last spot, as Arsenal have the worst record against the top six sides; garnering an abysmal 5 points from fellow title challengers.
Victory came as a much needed reprieve for Jurgen Klopp who got hot under the collar after elimination from the FA and EFL Cups at the hands of Wolves and Southampton respectively.
What next for Liverpool?
Down and out of all cup competitions, the Reds should endeavor to emulate similar ground breaking performance against the weaker Premier League opponents in order to uplift their hopes of making Champions League football next season.
What better way to do so than against visiting Burnley this coming weekend.
Written by Brian Humphrey
Follow Brian on Twitter @brihum
Like O-Posts on Facebook
You can also follow O-Posts on Twitter @OPosts