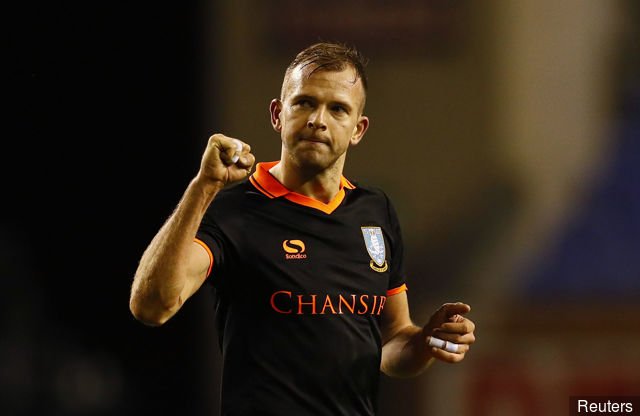 'Jordan Rhodes, Super Jordan Rhodes' went the refrain from the Ewood faithful as the Scottish striker banged in the goals for the Rovers.
But fast forward two years and Rhodes is a fixture of Sheffield Wednesday's bench, having only managed 3 goals in 16 outings for the Owls.
He is currently on loan at Hillsborough, having joined from Middlesbrough in January after a big money move from Blackburn the year before.
So is Rhodes a flash in the pan who wasn't good enough for the Premiership, or are their other forces at play?
Qualities
Rhodes is perhaps not the fastest player in the world, but more than makes up for it with his footballing brain and quick change of pace.
He's adept in the air and good at holding up play, making him ideal playing upfront on his own or in a partnership.
His strength has been questioned, especially as defenders tend to give a bit more room for players to operate in the Championship.
Impressive goal-record
What can't be denied is goal-record; in 378 senior appearances he has scored 191 goals.
Jordan Rhodes began his career plying his trade at Ipswich Town, where after several loan moves to Oxford, Rochdale and Brentford respectively he joined Huddersfield Town for around £350,000.
Despite only being at Brentford for 3 months and suffering a broken metatarsal he scored 7 goals in 14 appearances, earning the PFA's Fan's Player of the Year for League Two.
Three seasons with Huddersfield town resulted in 87 goals in 148 appearances, although it wasn't all plain sailing; in the 2011 season's League one play-off final, Terrier's boss Lee Clark benched Rhodes, with the game ending 3-0 to Peterborough.
Huddersfield were promoted via the play-offs the next season, with Rhodes very much in the shop window.
Questionable fee
After a very public wooing by Blackburn Rovers he signed for a club record fee of 8 million pounds.
Although clearly a talented striker there were many questions around such a price tag, especially as Blackburn had just been relegated from the Premier League.
To say Rhodes won over the nay-sayers is a colossal understatement. His debut season for Rovers brought 28 goals, and in a campaign that had four permanent managers probably kept the club from relegation.
Rhodes was joined in Lancashire by fellow striker Rudy Gestede, an international for Benin with which he formed an effective partnership.
The pair combined to score 81 goals in two seasons, helping to propel Rovers to within touching distance of the play-offs.
This of course brought plentiful attention from both fellow Championship high-fliers and Premiership clubs.
Promising, but tough venture
Gestede signed for Aston Villa, then fighting for survival in the top flight. Rhodes netted a further 11 goals before joining Middlesbrough in January for 9 million pounds.
Once again it was a very public affair, Rhodes himself voicing his frustrations as an initial deal broke down before he joined the Teesside outfit as they chased promotion.
The signs were promising as Rhodes' uncle Steve Agnew a coach at the club.
Rhodes scored 6 important goals to help Middlesbrough to promotion but found life in the Premier League tough.
Aitor Karanka preferred newly signed Spanish starlet Negredo to be his sole striker, Rhodes making 6 appearances, only two of which were starts, and scoring zero goals.
Even the harshest critic could say that Rhodes has failed to prove himself in the top division when he hasn't been given a decent chance.
His former teammate didn't fare much better, relegated back to the Championship and failing to make much of an impression, scoring 10 goals.
Welcoming move
This was made all the more bizarre when their roles were switched, Gestede heading to the Teesside and Rhodes joining Championship club Sheffield Wednesday on loan.
That deal seems to have the striker signing permanently at the end of the season, with the high chance of a return to the top flight with Wednesday fifth as it stands.
The Owls were previous suitors of Rhodes and fans seemed to be delighted that the club had finally got their man.
In the scoring department however he has again struggled, only contributing 3 goals in 16 appearances.
Commentators have spoken of Rhodes' commitment and selflessness in helping fellow strikers Steven Fletcher and Gary Hooper get among the goals.
He has also spoken of how much he is enjoying his Hillsborough stay, in contrast to his dark days at the Riverside.
Still can deliver
Wherever Wednesday end up next season Rhodes will surely have an opportunity to show he can be among the goals again, and at 27 years old he is still in his prime.
While Middlesbrough fans may be disappointed they won't be able to revive the Rhodes-Gestede partnership, and Blackburn fans will mourn the absence of both strikers from their goal-depleted team, Jordan Rhodes will try and prove he can be super once more.
Written by Matthew Robson
Follow Matthew on Twitter @TheRobsonator93
Like O-Posts on Facebook
You can also follow O-Posts on Twitter @OPosts