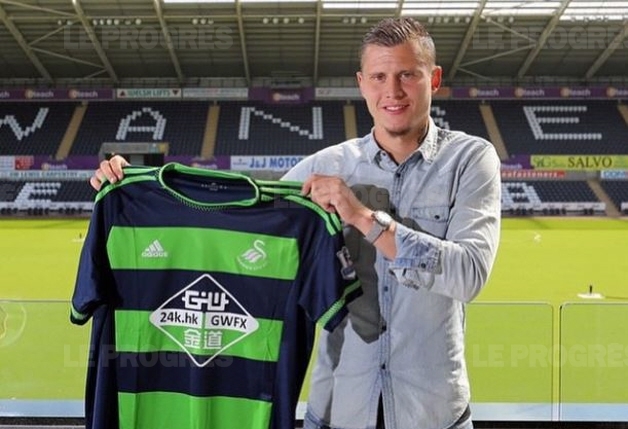 Garry Monk's Swansea was one of the success stories of the Premier League in the recently concluded season. In his first full season in charge at the club certainly, the Swans finished eighth, their highest-ever position in the Premier League, and recorded a record-breaking 56-point tally.
The Wales club did well enough to ensure players in and outside England are excited at the prospect of joining a club that could well "do a Southampton" next season and compete for a top 6 finish. What Swansea need at the moment is sustainability and that can be ensured by having a bigger squad not only to make sure absentees don't ruin their season, but also to avoid complacency within the squad. The addition of Franck Tabanou from Saint Etienne is a perfect example of that.
The Swans lacked depth in the left-back position following Ben Davies departure to Tottenham Hotspur, and Tabanou has been brought in to ensure Neil Taylor has some competition in his role.
The 26 year old started his professional career at Toulouse where he made his way up the youth ranks to firmly establish himself as the senior team's first choice left back as a 20 year-old.  He made 163 appearances for the club in all competitions, scoring 16 goals, before being bought by St. Étienne in 2013.
He was the club's first choice left back for two seasons and amassed 82 appearances in all competitions over the two years. A chance to play for an ambitious side in the English Premier League saw the full-back moving to Swansea for £3.5 million last week.
Tabanou is a modern full-back who enjoys the attacking side of things more than the defensive side. He is a threat for the opposite full-back as he is constantly running up and down the left flank and tying things up with the other attackers.
He likes to cut inside and take things closer to the box. The fact that he had five assists – most by a defender in the league –cements the fact that he can contribute to the attack, and do it with efficiency.
His weakness area is defence. Tabanou did make a club-high 72 interceptions last season but his attack mindedness makes him a bit vulnerable while defending. Constantly trying to move up the flank, he leaves his position too easily and if the ball gets lost, he is found out and it adds more pressure on the defenders and can also invite crosses from the opponents.
A mere 1.6 tacklers per game is not a stat to boast for any defender. Neil Taylor, who is also considered as a player who doesn't help the back line a whole lot, averaged 2.2 tackles per game last season
Tabanou does look like a slight upgrade on Taylor, but it is more about ensuring there are two good players for the same position. In Tabanou, Swansea have found a hard working player, who is a complete menace in the attack and could cause a lot of damage on the left flank alongside fellow Ligue 1 arrival Andre Ayew.
Written by Aakriti Mehrotra
Follow Aakriti on Twitter @Aakriti1
Like O-Posts on Facebook
You can also follow O-Posts on Twitter @OPosts