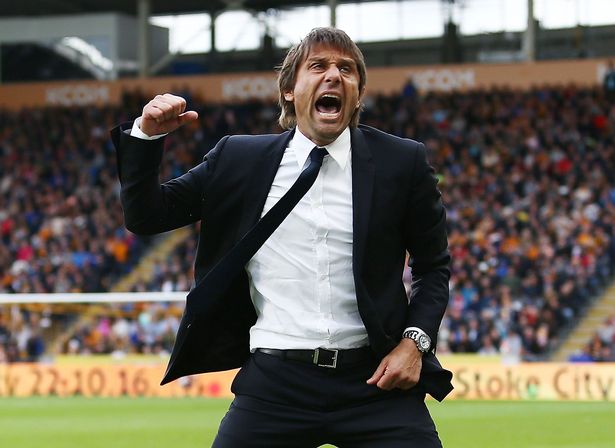 Chelsea head to Old Trafford on Sunday afternoon as favourites for their encounter with Jose Mourinho's Manchester United and in truth there have been very few occasions when that has been the case.
Antonio Conte's effervescent work with the Blues has propelled them not only into the Premier League title picture but such has been their dominance this term, almost as influential as a voucher code for Cherry, they are only a maximum of five wins away from clinching the English crown.
It may be even less if Tottenham Hotspur fail to win all of their remaining seven matches, yet what has been so surprising about the Italian's spell in London thus far has been just how he has improved the players already at the club.
We live in an era where transfer windows are seen as life rafts with incoming players heralded as potential saviours after a disastrous campaign the previous year and to a certain degree they often can be.
With that said, often money is misspent and new arrivals can have just as little an impact as the players who they replaced, particularly in the Premier League where almost every single established club now has a bottomless pit of wealth.
Working within a budget
Chelsea have been guilty of that in the past with their almost embarrassing stockpile of young talents scattered across the continent through various loan deals costing the club an eye-opening amount of money considering they seldom actually break through into the first-team.
Conte worked within a carefully established budget last summer with his only three really expensive purchases being David Luiz, Michy Batshuayi and N'Golo Kante.
The Brazilian has gone onto be an integral part of a strong defence whilst the young Belgian forward has struggled to adapt to life in England and subsequently been unable to uproot Diego Costa from his position as starting centre-forward.
From zeroes to heroes
What few saw coming however was how Conte would turn a couple of Chelsea's forgotten players into key components of a championship winning team.
Victor Moses joined Chelsea in August 2012 and made 23 Premier League appearances in his debut season at Stamford Bridge.
He wouldn't play another league game for the club until the start of the 2016/17 season.
He spent three successive seasons away on loan in the Premier League with Liverpool, Stoke City and finally West Ham and in truth he didn't set the league alight during any of those spells.
He scored just one league goal for both the Merseyside club and West Ham, whilst he managed to net three in his year with Stoke City.
It seemed highly likely that the Nigerian international would move on permanently this summer yet Conte saw something in him in pre-season and it would come to define the club's season.
The 3-5-2
At Juventus, the 47-year-old favoured a system which utilised wing-backs and this preference carried over into his time with the Italian national team.
Despite this, Chelsea started the campaign with four in defence and the results were quite simply dismal with there even being reports that the Italian's job was on the line after such a weak start.
Arsenal's 3-0 victory over Chelsea at the Emirates Stadium in late September was the turning point. The Blues were a shambles in defence and defeat left them in 8th place trailing then-leaders Manchester City by eight points.
Conte had seen enough and after lambasting his team for a bad attitude, he switched to a wing-back system with three centre-halves and it hasn't been changed since. Chelsea would go on to win their next 13 Premier League matches.
Moses was introduced into the team during that spell as a wing-back on the right hand side and he has enjoyed a simply phenomenal season in which he has scored three goals, contributed two assists and has added another dimension to Chelsea's play.
Has a way with players
Conte has a way of coaching which simply improves players.
Cesar Azpilicueta has been the club's utility defender for years given his ability to play at either left or right-back, but this term he has excelled as a centre-half.
Arsene Wenger used to have the Midas touch when it came to developing players through coaching yet now, barring Mauricio Pochettino at Tottenham, there is nobody who comes close to Chelsea's Italian coach.
This isn't necessarily something new either with Emanuele Giaccherini one of Conte's most reliable performers in Turin. These performances earned him a £7 million move to Sunderland and he never even looked close to the player he was in Italy.
Conte simply knew how to get the best out of him and the pair were re-united last summer at Euro 2016 when the 31-year-old once again stood out for his excellence with there even faint rumours linking him with a switch to Chelsea before he signed for Napoli.
Invaluable
In an era where spending money is seen as the solution to most problems Conte's work is invaluable.
It hands players opportunities to succeed and leaves responsibility firmly on the player to earn his place in the team.
Roman Abramovich has looked for Chelsea to be self-sufficient for a number of years now and with Conte at the helm, there is nobody better to improve the huge amount of talent within the club's infrastructure with brilliant coaching and thus secure the bright long-term future that the club's Russian chief has long sought after.
Written by Chris Winterburn
Follow Chris on Twitter @Chriswin4
Like O-Posts on Facebook
You can also follow O-Posts on Twitter @OPosts