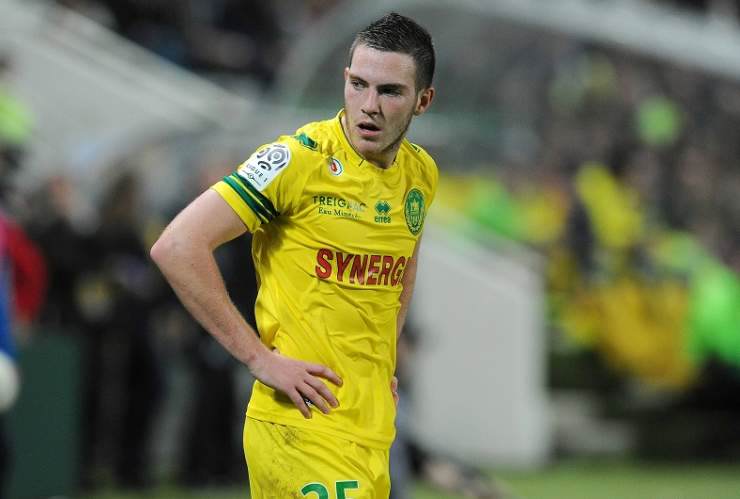 Aston Villa seem to be on the Newcastle path as they close in on the fourth arrival from Ligue 1 and arguably the most exciting or as exciting as Amavi - Jordan Veretout.
Veretout was a standout performer in the first half of the 2014/15 season. In the first 18 games he scored six times and grabbed three assists, a praise-worthy feet for any footballer. He was instrumental in helping Nantes stay in the top half of the table. His form dipped towards the second half of the season as he only scored once more along with giving three assists in the next 18 games for Nantes.
But for a player who is still not a finished article – and it would be wrong to say that he is – Veretout did remarkably well last season and just at 22, was a leader for the French side.
He has been linked with Atletico Madrid, Inter Milan, Newcastle and most recently Liverpool and Tottenham Hotspur. However, it is Aston Villa who seem to be landing him.
He has made 130 appearances for Nantes in his career which shows how much experience he already has and it is no surprise that a call from Premier League has come his way after a promising second season in top flight.
The Frenchman can play anywhere in the midfield and has been used both ahead and behind the centre midfielder role. Arguably, he is best in a box-to-box role, but he can perform well even when he plays slightly behind in a holding position. He averaged 2 tackles and 1.3 interceptions every 90 minutes last season which shows that he does more than decently in the defensive facet. 1.5 shots, 2 key passes and 1.2 successful dribbles per 90 minutes indicate he is equally good in his natural attacking side of things.
He has got excellent skills and techniques and importantly works very hard. He has great potential, but it is still not yet realized.
Tim Sherwood and Aston Villa need to make Veretout play one role and it should be his preferred playmaker and box-to-box role. With Gueye already there, someone who is developed and perhaps in the peak of his career, it makes no sense to place Veretout in the holding role.
He should play in the heart of the midfield, or slightly ahead, as his style of play can ensure Villa dominate the crucial second third of the pitch. Basically, Veretout can no longer afford to be a jack of all trades. He has to decide or it must be decided for him, where he wants to establish himself in the midfield.
The youngster quietly goes about his game and life and isn't one who particularly wants the limelight. He wants to focus on his football and break into the senior France side.
Competition is immense at the moment but there is no reason why he won't get under former Nantes graduate Deschamps, if he can become a regular at Villa.
Written by Aakriti Mehrotra
Follow Aakriti on Twitter @Aakriti1
Like O-Posts on Facebook
You can also follow O-Posts on Twitter @OPosts