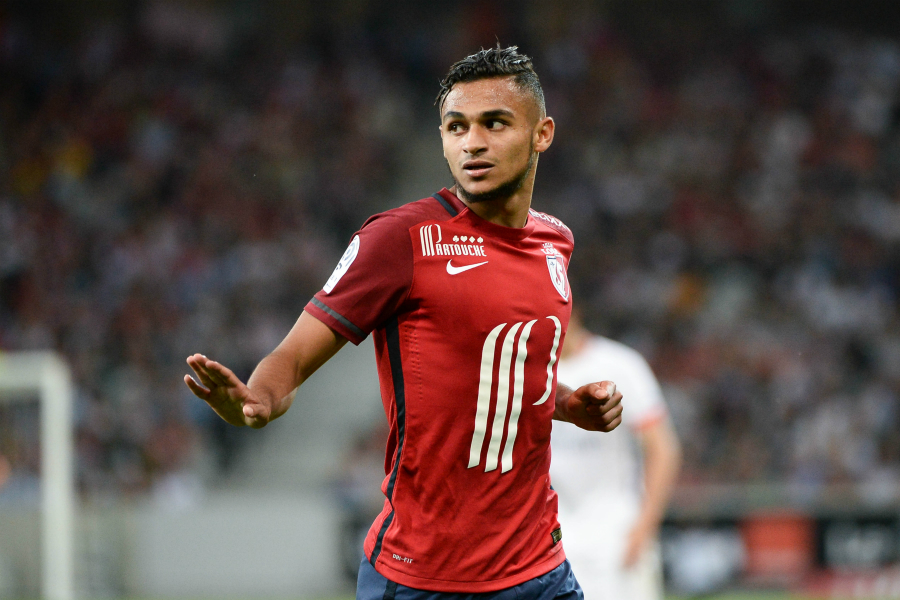 Rumours are emerging that Arsenal are in contention to sign Sofiane Boufal from Lille. The Moroccan attacking midfielder has had a breakout season with the Ligue 1 outfit, scoring 12 goals in all competitions, 11 in the league, and 4 assists.
In addition, he won the Ligue 1 Best African Player award.
Boufal is a versatile player, who can be deployed all across the advanced midfield, both as a winger and an attacking midfielder. He has excellent dribbling skills, good ball retention and has an eye for goal.
However, he tends to hold on to the ball for too long at times, his defensive contribution is minimal, and his discipline is questionable, as he was sent off twice and got 10 yellow cards.
What would he bring to the table?
Boufal is definitely an Arsene Wenger type of signing, with great potential to improve as the likes of Mahrez and Payet have done in the premier league with their respective clubs.
He could be deployed in the right wing for Arsenal, a position that was lacking last season, owing to Oxlade-Chamberlain's injury woes and the seemingly mistrust of Walcott and Campbell to do the job effectively.
The Gunners could also benefit from his eye for goal, as he tends to shoot 1.7 times per match, and his 11 goals as a midfielder is a good return.
One of Arsenal's setbacks last season was the inability to see out games with a second goal, and failure to score in three consecutive matches between January and February.
Olivier Giroud epitomised this poor form by drawing blanks in 15 consecutive matches, this drought would have been less serious had there been a supportive goal scorer.
His match availability would also be of great importance to the Gunners, as he was involved in 27 of 38 matches for Lille. Arsenal suffered major injuries to key players last season, with Jack Wilshere, Tomas Rosicky, Santi Cazorla, Oxlade-Chamberlain and Danny Welbeck missing huge chunks of the season, while other key players such Alexis, Mesut Ozil, Aaron Ramsey and Theo Walcott also missed out on a considerable number of match days.
Room for improvement
Boufal's age suggests room for improvement, and his future is looking bright, as he even made his International debut for Morocco in March this year. Therefore he is one to keep an eye on for the next couple of years.
However, it is still hard to see how he would break out in an Arsenal side with a wealth of talent. The number 10 role is tough to break into, with Mesut Ozil, Ramsey and Wilshere all in contention and as a winger he will always come second to Alexis, Oxlade-Chamberlain and Iwobi, who broke into the first team last season. Therefore, he might struggle to acquire game time.
In terms of priority, there are positions that must first be strengthened by Arsenal. A striker and centreback should be prioritised, and Boufal seems to fall under a luxury player for now.
Conclusion
All in all, he would be a decent signing with time in his hands, a squad player who would be much needed, and who knows?
He could easily walk into the Arsenal starting 11 sooner than I think.
Written by Julius Musya
Follow Julius on Twitter @jsmusya
Like O-Posts on Facebook
You can also follow O-Posts on Twitter @OPosts